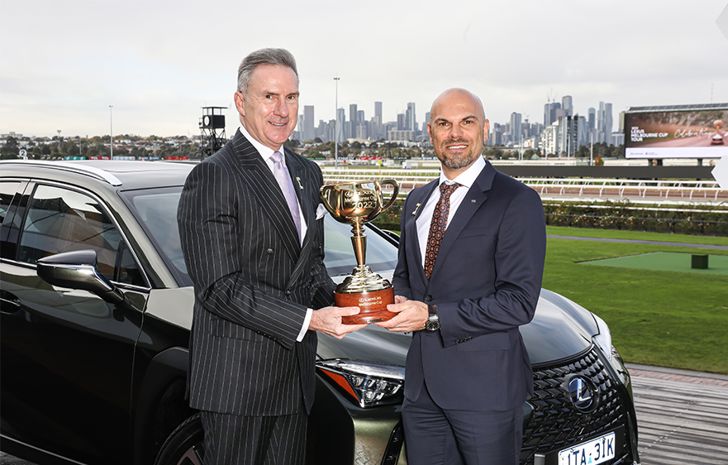 Lexus extends partnership as Principal Partner of the Victoria Racing Club
8 June 2022
•
Written by
VRC
Victoria Racing Club (VRC) and Lexus today announced a two-year partnership extension which will see Lexus continue as the club's Principal Partner.
The announcement was made today at the official launch of the 2022 Lexus Melbourne Cup Tour, which celebrates its 20th edition when it hits the road in July.
Since the tour's inception in 2003, the three-handled Cup has travelled far and wide across Australia and the world, travelling over 760,000 kilometres, visiting more than 560 destinations, engaging with tens of thousands of people and raising hundreds of thousands of dollars for local fundraising initiatives A record 90 communities applied to host this year's tour, with the final route spanning three countries including Australia, New Zealand and Singapore.
The iconic 18 carat gold trophy will travel to 33 destinations across Australia, including visiting Cloncurry in outback Queensland, Devonport in Tasmania, Maffra in Eastern Victoria and as far as Newman in the Pilbara region of Western Australia.
This year's Lexus Melbourne Cup Tour will also include a number of overseas destinations, including Singapore as well as Auckland and Cambridge in New Zealand.
The Lexus Melbourne Cup will also make appearances at various country race tracks for heats of the Melbourne Cup Carnival Country Race Series, which culminates in a $500,000 final on Kennedy Oaks Day.
The destinations were revealed at an official event at Flemington Racecourse today, where VRC Chairman Neil Wilson was joined by Lexus Australia Chief Executive John Pappas and a number of special guests, including three-time Melbourne Cup-winning jockey Glen Boss, Lexus Ambassador Emma Freedman and Lexus Melbourne Cup-winning trainer Danny O'Brien and wife Nina O'Brien.
Dual Melbourne Cup-winning jockey and Cup Tour stalwart John Letts, who this year celebrates the 50-year anniversary of his first Cup win aboard Piping Lane was also in attendance along with destination representatives from across Australia and New Zealand.
Mr Wilson said the extended partnership with Lexus was a strong endorsement of the club and the VRC's landmark community event, Lexus Melbourne Cup Tour, was an important part of the relationship.
"As custodians of Australia's greatest sporting and cultural icon, we very pleased to continue our longstanding partnership with Lexus," Mr Wilson said.
"The Lexus Melbourne Cup is the jewel in the crown of Cup Week and sharing the iconic trophy with people as part of the tour is more important than ever.
"The Lexus Melbourne Cup Tour has only continued to grow in popularity, with a record-breaking number of applications from towns and communities across the world for its milestone 20th edition.
"To be celebrating the 20th anniversary of both the tour and our partnership with Lexus is testament to the significance of the Lexus Melbourne Cup and all that this event represents."
Fittingly this year also marks 20 years of Lexus' partnership with the VRC, which has seen the luxury automotive brand create exhilarating entertainment, culinary and design experiences at the Melbourne Cup Carnival since 2003.
Lexus strengthened their association with the VRC in 2018 when they were announced as principal partner, securing naming rights to the Melbourne Cup race, Melbourne Cup Day and the Melbourne Cup Tour.
The partnership extension also sees Lexus secure naming rights to a number of golden ticket races which will provide the winner direct entry into the $8 million Lexus Melbourne Cup. This includes the Lexus Andrew Ramsden on Andrew Ramsden Race Day, the Lexus Bart Cummings on Turnbull Stakes Day and the Lexus Hotham Stakes on Penfolds Victoria Derby Day.
Chief Executive of Lexus Australia John Pappas said the continuation of the VRC partnership further underlines Lexus' position as a leading luxury lifestyle brand and its commitment to supporting iconic Australian events.
"It is a wonderful long-term partnership that has brought premium experiences, innovation and flair on the track, while bringing communities together throughout Australia in celebration of an event that belongs to all Australians," Mr Pappas said.
"We are therefore thrilled to continue as principal partner through to the end of 2024, with naming rights to the Lexus Melbourne Cup and important lead-up races, and of course the Lexus Melbourne Cup Tour Sweep which shares the excitement of the Cup with the people."

The Lexus Melbourne Cup Tour National Sweep has also become an important addition to the tour in recent years.
Introduced in 2019, the sweep sees 24 rural and regional tour destinations across Australia allocated a barrier for the Lexus Melbourne Cup, with the town which draws the barrier of the Cup-winning horse presented with a cash prize of $50,000 to be contributed to a nominated charity for a local community initiative.
Tour destinations will be supported by the VRC to plan and host a range of memorable community events during the Cup's visit.
For further information about the 2022 Lexus Melbourne Cup Tour please visit MelbourneCupTour.com.au.
System.Web.HttpException (0x80004005): Error executing child request for handler 'System.Web.Mvc.HttpHandlerUtil+ServerExecuteHttpHandlerAsyncWrapper'. ---> System.NullReferenceException: Object reference not set to an instance of an object.
   at ASP._Page_Views_Partials_googleAd_cshtml.Execute()
   at System.Web.WebPages.WebPageBase.ExecutePageHierarchy()
   at System.Web.Mvc.WebViewPage.ExecutePageHierarchy()
   at System.Web.WebPages.WebPageBase.ExecutePageHierarchy(WebPageContext pageContext, TextWriter writer, WebPageRenderingBase startPage)
   at System.Web.Mvc.RazorView.RenderView(ViewContext viewContext, TextWriter writer, Object instance)
   at System.Web.Mvc.BuildManagerCompiledView.Render(ViewContext viewContext, TextWriter writer)
   at Umbraco.Web.Mvc.ProfilingView.Render(ViewContext viewContext, TextWriter writer) in D:\a\1\s\src\Umbraco.Web\Mvc\ProfilingView.cs:line 25
   at System.Web.Mvc.ViewResultBase.ExecuteResult(ControllerContext context)
   at System.Web.Mvc.ControllerActionInvoker.InvokeActionResult(ControllerContext controllerContext, ActionResult actionResult)
   at System.Web.Mvc.ControllerActionInvoker.InvokeActionResultFilterRecursive(IList`1 filters, Int32 filterIndex, ResultExecutingContext preContext, ControllerContext controllerContext, ActionResult actionResult)
   at System.Web.Mvc.ControllerActionInvoker.InvokeActionResultFilterRecursive(IList`1 filters, Int32 filterIndex, ResultExecutingContext preContext, ControllerContext controllerContext, ActionResult actionResult)
   at System.Web.Mvc.ControllerActionInvoker.InvokeActionResultFilterRecursive(IList`1 filters, Int32 filterIndex, ResultExecutingContext preContext, ControllerContext controllerContext, ActionResult actionResult)
   at System.Web.Mvc.ControllerActionInvoker.InvokeActionResultFilterRecursive(IList`1 filters, Int32 filterIndex, ResultExecutingContext preContext, ControllerContext controllerContext, ActionResult actionResult)
   at System.Web.Mvc.ControllerActionInvoker.InvokeActionResultFilterRecursive(IList`1 filters, Int32 filterIndex, ResultExecutingContext preContext, ControllerContext controllerContext, ActionResult actionResult)
   at System.Web.Mvc.ControllerActionInvoker.InvokeActionResultWithFilters(ControllerContext controllerContext, IList`1 filters, ActionResult actionResult)
   at System.Web.Mvc.Async.AsyncControllerActionInvoker.<>c__DisplayClass3_6.<BeginInvokeAction>b__4()
   at System.Web.Mvc.Async.AsyncControllerActionInvoker.<>c__DisplayClass3_1.<BeginInvokeAction>b__1(IAsyncResult asyncResult)
   at System.Web.Mvc.Async.AsyncResultWrapper.WrappedAsyncResult`1.CallEndDelegate(IAsyncResult asyncResult)
   at System.Web.Mvc.Async.AsyncResultWrapper.WrappedAsyncResultBase`1.End()
   at System.Web.Mvc.Async.AsyncControllerActionInvoker.EndInvokeAction(IAsyncResult asyncResult)
   at System.Web.Mvc.Controller.<>c.<BeginExecuteCore>b__152_1(IAsyncResult asyncResult, ExecuteCoreState innerState)
   at System.Web.Mvc.Async.AsyncResultWrapper.WrappedAsyncVoid`1.CallEndDelegate(IAsyncResult asyncResult)
   at System.Web.Mvc.Async.AsyncResultWrapper.WrappedAsyncResultBase`1.End()
   at System.Web.Mvc.Controller.EndExecuteCore(IAsyncResult asyncResult)
   at System.Web.Mvc.Controller.<>c.<BeginExecute>b__151_2(IAsyncResult asyncResult, Controller controller)
   at System.Web.Mvc.Async.AsyncResultWrapper.WrappedAsyncVoid`1.CallEndDelegate(IAsyncResult asyncResult)
   at System.Web.Mvc.Async.AsyncResultWrapper.WrappedAsyncResultBase`1.End()
   at System.Web.Mvc.Controller.EndExecute(IAsyncResult asyncResult)
   at System.Web.Mvc.Controller.System.Web.Mvc.Async.IAsyncController.EndExecute(IAsyncResult asyncResult)
   at System.Web.Mvc.MvcHandler.<>c.<BeginProcessRequest>b__20_1(IAsyncResult asyncResult, ProcessRequestState innerState)
   at System.Web.Mvc.Async.AsyncResultWrapper.WrappedAsyncVoid`1.CallEndDelegate(IAsyncResult asyncResult)
   at System.Web.Mvc.Async.AsyncResultWrapper.WrappedAsyncResultBase`1.End()
   at System.Web.Mvc.MvcHandler.EndProcessRequest(IAsyncResult asyncResult)
   at System.Web.Mvc.MvcHandler.System.Web.IHttpAsyncHandler.EndProcessRequest(IAsyncResult result)
   at System.Web.Mvc.HttpHandlerUtil.ServerExecuteHttpHandlerAsyncWrapper.<>c__DisplayClass3_0.<EndProcessRequest>b__0()
   at System.Web.Mvc.HttpHandlerUtil.ServerExecuteHttpHandlerWrapper.<>c__DisplayClass5_0.<Wrap>b__0()
   at System.Web.Mvc.HttpHandlerUtil.ServerExecuteHttpHandlerWrapper.Wrap[TResult](Func`1 func)
   at System.Web.Mvc.HttpHandlerUtil.ServerExecuteHttpHandlerWrapper.Wrap(Action action)
   at System.Web.Mvc.HttpHandlerUtil.ServerExecuteHttpHandlerAsyncWrapper.EndProcessRequest(IAsyncResult result)
   at System.Web.HttpServerUtility.ExecuteInternal(IHttpHandler handler, TextWriter writer, Boolean preserveForm, Boolean setPreviousPage, VirtualPath path, VirtualPath filePath, String physPath, Exception error, String queryStringOverride)
   at System.Web.HttpServerUtility.ExecuteInternal(IHttpHandler handler, TextWriter writer, Boolean preserveForm, Boolean setPreviousPage, VirtualPath path, VirtualPath filePath, String physPath, Exception error, String queryStringOverride)
   at System.Web.HttpServerUtility.Execute(IHttpHandler handler, TextWriter writer, Boolean preserveForm, Boolean setPreviousPage)
   at System.Web.HttpServerUtility.Execute(IHttpHandler handler, TextWriter writer, Boolean preserveForm)
   at System.Web.HttpServerUtilityWrapper.Execute(IHttpHandler handler, TextWriter writer, Boolean preserveForm)
   at System.Web.Mvc.Html.ChildActionExtensions.ActionHelper(HtmlHelper htmlHelper, String actionName, String controllerName, RouteValueDictionary routeValues, TextWriter textWriter)
   at System.Web.Mvc.Html.ChildActionExtensions.Action(HtmlHelper htmlHelper, String actionName, String controllerName, RouteValueDictionary routeValues)
   at Our.Umbraco.DocTypeGridEditor.Web.Extensions.HtmlHelperExtensions.RenderDocTypeGridEditorItem(HtmlHelper helper, IPublishedElement content, String editorAlias, String viewPath, String previewViewPath, Boolean isPreview)
   at ASP._Page_app_plugins_doctypegrideditor_render_DocTypeGridEditor_cshtml.Execute()
   at System.Web.WebPages.WebPageBase.ExecutePageHierarchy()
   at System.Web.Mvc.WebViewPage.ExecutePageHierarchy()
   at System.Web.WebPages.WebPageBase.ExecutePageHierarchy(WebPageContext pageContext, TextWriter writer, WebPageRenderingBase startPage)
   at System.Web.Mvc.RazorView.RenderView(ViewContext viewContext, TextWriter writer, Object instance)
   at System.Web.Mvc.BuildManagerCompiledView.Render(ViewContext viewContext, TextWriter writer)
   at Umbraco.Web.Mvc.ProfilingView.Render(ViewContext viewContext, TextWriter writer) in D:\a\1\s\src\Umbraco.Web\Mvc\ProfilingView.cs:line 25
   at System.Web.Mvc.HtmlHelper.RenderPartialInternal(String partialViewName, ViewDataDictionary viewData, Object model, TextWriter writer, ViewEngineCollection viewEngineCollection)
   at System.Web.Mvc.Html.PartialExtensions.Partial(HtmlHelper htmlHelper, String partialViewName, Object model, ViewDataDictionary viewData)
   at System.Web.Mvc.Html.PartialExtensions.Partial(HtmlHelper htmlHelper, String partialViewName, Object model)
   at ASP._Page_Views_Partials_grid_editors_Base_cshtml.Execute()