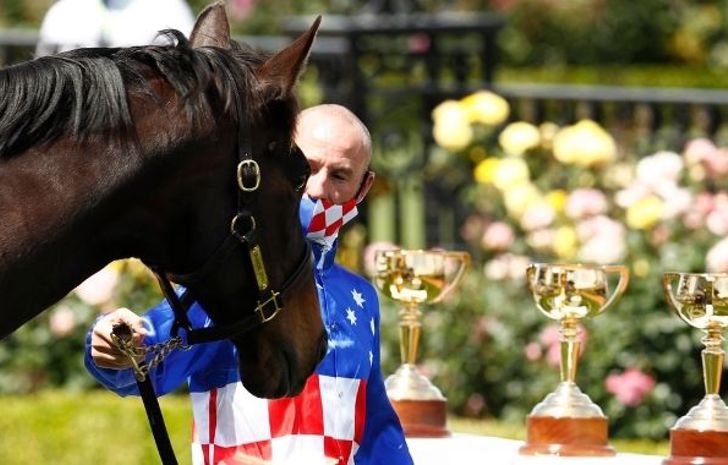 Makybe Diva – a champion and a legend
2 September 2021
•
Written by
Joe McGrath
The story of Makybe Diva is well-known to every racing fan, as the only horse to have ever won the famed Melbourne Cup an incredible three times in a row.
Her legend lives on in the beautiful foals that she is producing, but also in her namesake race at Flemington on Sofitel Girl's Day Out, the Group 1 Makybe Diva Stakes.
A key weight for age race over 1600 metres, the Makybe Diva Stakes (G1) has enhanced its status over the past ten years. Formerly a Group 2 race, it achieved Group 1 status in 2013 and boasts some of Australian racing's elite performers. In recent years Group 1 performers the likes of Grunt (2018), Humidor (2017), Palentino (2016) and Fawkner (2015) have all saluted, whereas additional performers the ilk of Northerly (2002), Sky Heights (1999), Mahogany (1994), Zabeel (1990), Rose of Kingston (1982) and Dulcify (1979) complement an impressive honour roll. The race was formerly called the Craiglee Stakes and changed names in 2007 to become the Makybe Diva Stakes.
The race was first introduced by the VRC in 1948 as a way of honouring former VRC Chief Steward, Wilfred Johnston, who owned a substantial property in Sunbury called Craiglee, which dates back to the 1860s. Following the extraordinary feats of three-time (2003-2005) Melbourne Cup-winning mare, Makybe Diva (GB), the VRC Committee renamed the race in her honour.
As an elite performer, Makybe Diva is arguably the best stayer to have won the Lexus Melbourne Cup (G1). There have been many who would fall into that bracket for discussion including the likes of Phar Lap (1930) and Carbine (1890) but for one horse to find a way to win three Melbourne Cups is something extraordinary. Archer (1861-62), Peter Pan (1932 & 1934), Rain Lover (1968-69) and Think Big (1974-75) are the only other horses to win multiple Melbourne Cups.
Afforded the luxury of three consecutive ten out of ten rides by Australian Racing Hall of Famer, Glen Boss, Makybe Diva broke all records along the way. She was the only horse to win the Cup three times and the greatest weight carrier for a mare in the history of the race. Eleven individual mares have won the Melbourne Cup dating as far back as Acrasia (1904). Of those eleven, Empire Rose (1988, 53.5kg) was the greatest weight carrier until Maybe Diva Came along. In the second (2004) of her three victories, Makybe Diva would successfully break Empire Rose's record carrying 55kg to victory.
This would ultimately be broken the following year when she carried 58kg to win in extraordinary circumstances. As legendary race-caller, Greg Miles famously said "a champion becomes a legend". Unusually, Makybe Diva would win by 1¼ lengths in each of her Cup victories.
Owned by Tony Santic of Port Lincoln tuna fishing fame, Makybe Diva may never have become the household name if not for the purchase of famed mare Tugela in the UK. Purchased by John Foote Bloodstock, Santic paid 60,000 Guineas for Tugela, in foal to Desert King. The filly was offered for sale as a weanling but failed to attract a bid.
Not knowing what to do with the young horse, owner Tony Santic said, send her to Australia with her mother. And from therein, the rest is history, as they say.
Makybe Diva was originally trained by former South Australian, David Hall who would train Maybe Diva in her initial Cup victory (2003) before heading off to Hong Kong to take up a lucrative training contract with the Hong Kong Jockey Club. Then enters arguably Australia's most accomplished modern-day trainer, Lee Freedman. Under his guidance, Makybe Diva would blossom at the Markdel training facility on the Mornington Peninsula and basically take her game to a new level. Before long we were no longer looking at a mere handicapper but an elite weight for age performer. A new track record (1:58.73) at Flemington in the 2005 VRC Australian Cup (G1) over 2000 metres and the 2005 MVRC W.S Cox Plate (G1) is testimony to this.
Makybe Diva was inducted into the Australian Racing Hall of Fame in 2006 and later elevated to Legend status in 2010. After several years at stud, she has enjoyed a life nurturing the next generation. To date she has yet to leave progeny anywhere near the same class as herself but, if history follows form, watch out for progeny from her daughters. Genetics is an inexact science and stellar performers can often skip a generation.
For the record, Makybe Diva raced 36 times for 15 wins for $14,526,685 in prize money, including seven Group 1 victories.
Did You Know?
An unusual name, Makybe Diva derives her name by taking the first two letters from each of the names of Maureen, Kylie, Belinda, Diane, and Vanessa – who were all employees at Tony's Tuna, owned by Tony Santic in Port Lincoln at the time.