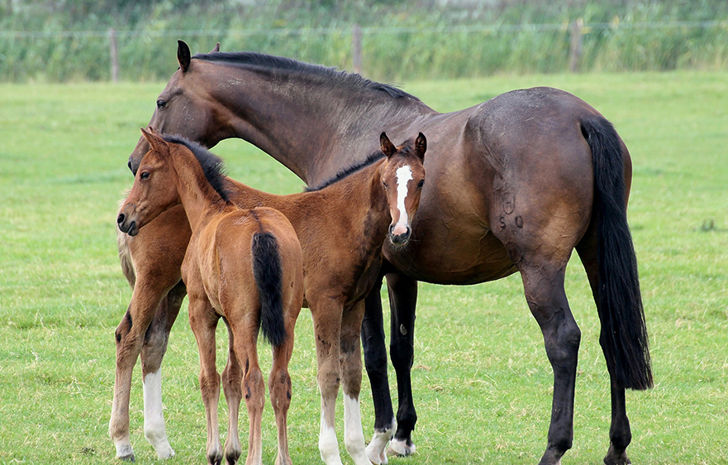 Maternal instinct
6 April 2021
•
Written by
Sarah Marinos
Each breeding season, some foals are orphaned and so are nursed through their early months of life by a nanny mare, providing essential nurturing.
Christine Mills (nee Nevill) clearly remembers the heartbreaking sound of one of her broodmares grieving for her dead foal. It was 14 years ago, but the mother's anguished cries remain pin sharp in Chris' memory.
"We started breeding thoroughbreds in 1998 and I had about 20 mares and every breeding season many studs will lose a mare or a foal – it's unfortunately relatively common," said Chris, founder of Hollylodge Thoroughbreds in Avenel, near Nagambie.
"But that year one of my mares lost her foal and she was desperate. She was in the stable and whenever I walked in, she cried out to me and it was just heart-wrenching. It's like being a mother and your child being taken away – mares suffer that loss and it broke my heart to see her grieving."
So, Chris decided to ring round studs in Victoria to see if anyone had an orphan foal in need of mothering. She found a foal and that was the start of a nanny mare service that still helps unite orphaned foals and foster mares across Victoria.
Now done via an extensive email list and Facebook page – orphanfoals.com.au – most breeding seasons Chris helps a number of foals and mares find comfort and much needed nurturing.
"That first year I found a stud with a foal that needed a mare and they came and took her and we had a happy family – a mum with a bub," said Chris.
Using a foster mare to look after a foal that is not their own has been done for generations, and Chris said it is a mutually beneficial arrangement for the mare, the foal and the owners.
"The mare gets to mother a foal, she's less stressed and more content and her milk doesn't go to waste. If you are left with an orphan foal you have to be with them 24/7 and hand feed, bottle feed or bucket feed them until they're at least three months old. You have to be a surrogate mother. I've done that a few times and my husband and I took shifts for weeks and weeks to feed an orphan foal. It's a huge commitment," said Chris.
"But there is nothing better than a mother's milk and once that mare bonds with that foal, it's her foal. It's so enjoyable to see a little orphan foal with a mum because they need to be in a paddock with other mums and foals. If a foal is on its own, it doesn't learn how to be a foal – it needs a mother so it can learn how to be a horse and learn how to suck, drink water, eat properly and run with the pack. Like kids, they need love, nurturing and to be taught boundaries."
When a stud contacts Chris looking for a foster mare or for an orphan foal, she puts potential matches in touch with each other. Usually, the owners of the orphan foal then collect the mare and she will spend the next six months nursing the orphan.
Using a foster mare to look after a foal that is not their own has been done for many generations, and it is a mutually beneficial arrangement for the mare, the foal and the owners.
"It's a trust-based system. Whoever has the orphan foal pays the cost for the mare while she is fostering. So, they cover feeding and worming costs and if that mare has been booked to walk on to a stallion, the people with the foal have to arrange for the mare to be covered in that season as well," explained Chris. Once the foal has been weaned, the mare returns to its owner.
Finding a match takes careful consideration. In essence, the situation involves putting a strange mare in with a strange foal and the mare can accept or reject it. It calls on the expertise of the stud master to help a mare and foal in these circumstances bond.
"A foal will latch on to anything when it is thirsty, but some mares take offence if the foal is a different colour to their own, or sometimes they just don't like a foal. But most matches are successful," said Chris.
She starts getting calls any time from late July through to January and never knows how many requests she will receive – she says that's the nature of breeding thoroughbreds. And she's had a number of foster success stories, such as Paint the Stars who was five days old when his mother died after internally haemorrhaging.
The five-year-old gelding, trained by Shawn Mathrick, has had three career wins so far with his most significant win to date being in March 2020 at Stony Creek.
"He was a beautiful chestnut colt and I put him in the float and drove him to a nanny mare service in Violet Town. I remember looking in the rear vision mirror and I could see his little head and he was so good throughout the journey. The service matched him with a nanny mare, Lucy, who came back to our farm and raised him there," said Chris.
She organises the service voluntarily because of a love of horses that began when she was four years old.
"My dad used to go to Caulfield racetrack every week and I started going to the races with him when I was eight – it's his fault that I got hooked on the industry," she said.
"Horses have been my life since then and they've brought me a huge amount of joy."