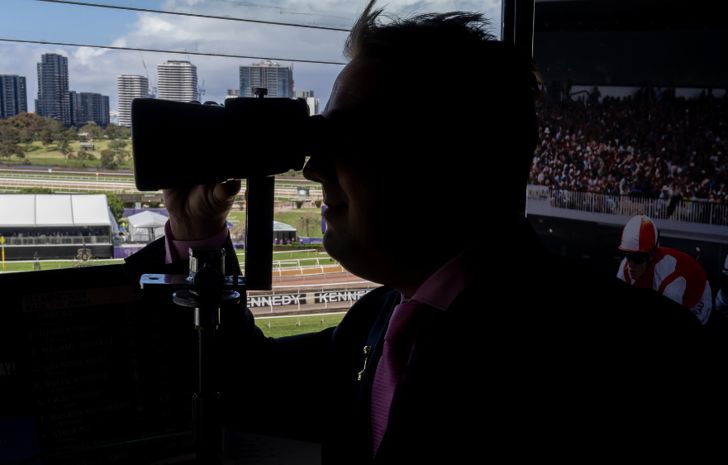 Matt Hill: just how does he remember 550 racehorses across Cup Week?
1 November 2023
•
Written by
Celia Purdey
He's the voice behind the most iconic race in Australia – as well as all of the others – and more. Matt Hill held the audience captive at a special Carnival edition of Inside Headquarters Live with his anecdotes, and divulged some secrets about just how he remembers all of those horses.
Matt Hill is the best in the business, with Olympics, AFL Grand Finals and every major race in Australia on his resume. When asked what sport is on his bucket list to call, however, his answer was emphatic – it always was, and still is, the Lexus Melbourne Cup.
"It's a very lonely job. You don't have a producer telling you anything. You don't  have a sidekick that you can just ask, 'who's in front?', you know, you're on your own. And for that reason, it's the most satisfying job in the world. I love calling the football. You've got three or four people with you, and it's quite heavily produced. The Olympic Games, you have a lot of information given to you and it's a bit of a one-off. But to call the Cup, it's a special thing to be able to do."
Accompanying his grandad to the races as a child ignited the spark for racing, and Hill's passion for race calling began early. He found any way he could to practice. "My granddad had a wonky snooker table in his garage. It would just lean over a little bit. So, I got the balls all together and then just let them roll down the snooker table. When they accelerated as they went past a little pocket that was 200 to go, and then the red went in front of the black and ahead of the blue … I was this squeaky teenager calling them down the snooker table. So, I was just obsessed from a very young age."
A phone call made by his mother to the VRC enquiring after some racebooks for her son to use for his hobby may have led to his destiny. The VRC staff member suggested that the keen teenager might like to sit with his idol, racecaller Greg Miles, in the box to watch him call a race. "There was a little stool in the box here at Flemington. I sat on it next to Greg  and watched him call three or four races. I was just starstruck. I left the box and I was quite teary. My mum said, 'Do you still want to be a race caller?' and I said, 'I'm bloody going to be a racecaller!' And do you know what? That stool still sits in the box, waiting for the next young kid to come and sit next to me."
Now, Hill calls from that very same box at Flemington, taking over from his idol, Miles, when he hung up the binoculars in 2017. Which begs the question – just how does he remember all of those horse names, especially when calling a Melbourne Cup or a Cox Plate?
"I tend to concentrate on the colours. It's a photographic memory thing. They reckon that race callers have good memories, but I reckon we've got bad ones, because we've got to call the first race and then completely forget the existence of the second one! But for a Melbourne Cup, you know all of the horses, you know the colours, but I still study them and don't really stop. I'll get up at 3:00 in the morning for the regular trip to the loo and have a look at the colours again, just to make sure, you know, that Alenquer is still wearing the blue with the yellow lightning bolt and the yellow stripe sleeve. You just double check, and the Cup colours are just absolutely eating your brain!"
As well as the silks, Hill will memorise the cap colours, which become very important. "If Lloyd Williams has three or four runners, or Australian Bloodstock has a couple, they need to be different. So, Gold Trip is a check cap. And then Ashrun; we'll probably have to put a white cap on his jockey. The judge looks at the helmets beforehand and he and I will agree on what colour should distinguish each rider."
It's not just the colours and caps he has to remember, but he also likes to know some of the history of the race. "When they walk in the end of the barriers, or after the race, if it is Mark Zahra for example, I  should know if he's won the race before or if the trainer has won the race before."
Then there is the penultimate line as they cross the line, which becomes a part of history. Does he think about these one-liners before the race?
"One-liners are very interesting. I was asked this before the Cox Plate, and there were a few juicy ones there, but I didn't have any time to say anything! They were coming over the line and I was still busy trying to work out after the race who won the thing! So I  didn't have a chance, but yes, you do have a little ideas."
With all of this focus on one race, it is easy to forget that Hill actually has to memorise around 550 horses' colours across 37 races for the week. This requires incredible dedication and concentration, and, as Hill sums up, "You can imagine the brain by the end of the last Saturday!"
Favourite race call: "It probably wasn't the greatest race or field, but I think that Vow And Declare in the 2019 Cup was one of the most extraordinary finishes. There was a protest after the race, and I don't think even Craig Williams would have been thinking he was going to win."
Most embarrassing error: It was a wonderful day at Newcastle in New South Wales. The winner was six lengths in front and I completely forgot his name. I finally realised what it was, but that's the worst feeling in the world.