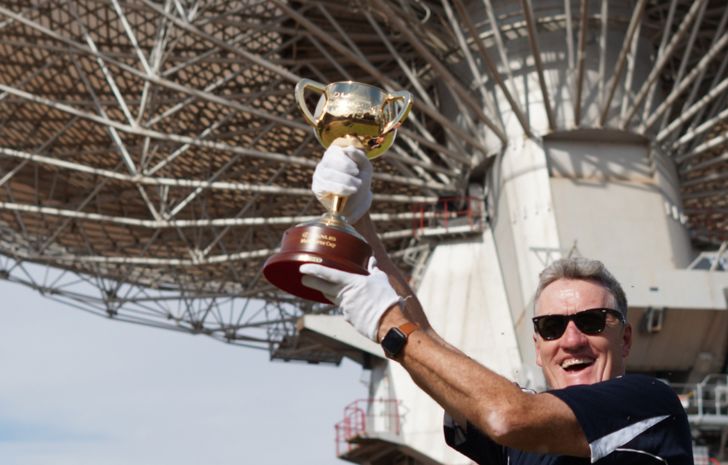 Meet Mick Hurry
11 July 2023
•
Written by
VRC
After more than four decades in the job, Mick Hurry still loves coming to work every day.
As the Trackwork Supervisor at Flemington Racecourse, Mick Hurry has seen it all. He started his journey with the VRC at the tender age of 17, working as a barrier attendant, ensuring the safety of both horses and riders. Now, at 63 years old, he has been in his current role for 20 years, a job he cherishes.
Hurry's passion and commitment have not gone unnoticed. He was honoured with the prestigious Dedication to Racing award at the 2020 Godolphin Australia Stud and Stable Staff Awards, recognising his devotion to the sport. But for Hurry, it is not about the accolades; it is the love of the equine and the joy of being part of a team that keeps him going.
Every day at Flemington Racecourse is an adventure for Hurry and no two days are ever the same. He rises before the sun at around 2:05 am, leaving his home in Ascot Vale just across the road from the racecourse at 2:25 am. The short commute allows him to arrive promptly at 2:30 am, prepared for the day ahead.
With two-way radios in hand, Hurry and his colleague begin their routine. They open up the racecourse, ensuring everything is in order. From turning on the lights to checking the track and rails, their attention to detail is meticulous. Hurry takes immense pride in creating a safe environment for everyone who
enters the grounds.
As dawn approaches, the first horses and track riders appear.
"The Pattersons are usually first at around 4 am, with any horses they are breaking in. The trainers all follow pretty soon after that."
One of Hurry's fondest memories is his connection with the legendary trainer Bart Cummings. Hurry would open a gate for Bart at the 2000m mark, and they shared an amusing and respectful relationship. "Bart would call me 'boy,' and I called him 'boss'."
Cummings declared one day that Hurry needed a holiday, and he knew just the horse that might make him the money to take it. He tipped Hurry off about a promising horse called Viewed. Intrigued, Hurry kept an eye on it, even inquiring with its rider, Joe Agresta, who confirmed its potential.
On Melbourne Cup Day in 2008, Hurry found himself at the Mansfield Picnic Races where he watched Viewed triumphantly cross the finish line at 40-1 odds. Unfortunately, Hurry hadn't placed a bet on the horse, but the memory was etched in his mind forever!
Among the many horses Hurry has witnessed throughout his career, one holds a special place in his heart – Makybe Diva. From her humble beginnings to her three consecutive Melbourne Cup victories, Hurry had watched and admired her journey. Hurry's love for racing and Flemington extends beyond his work hours. He selflessly volunteers his time to participate in the Lexus Melbourne Cup Tour, spreading the joy of racing to different communities. This year, he is looking forward to his trip to Boulia, a town famous for its annual camel races known as the 'Melbourne Cup' of camel racing.
For Mick Hurry, every day is an opportunity to live his passion. From the early mornings to the thrill of witnessing unforgettable racing moments, he wouldn't change a thing.