Mullins and Vauban looking towards Melbourne Cup
15 August 2023
•
Written by
Lee Mottershead – Senior Writer – Racing Post (UK)
Willie Mullins, indisputably the world's top jumps trainer, desperately wants to win the Lexus Melbourne Cup. The reasons why are plentiful, some obvious, others less so.
There is, of course, the reason that unites all those who yearn to celebrate on November's first Tuesday. The Melbourne Cup is exceptionally prestigious, enormously valuable and incredibly tempting. Yet for Mullins there is more to it than that. Should Vauban enter Flemington's stalls this spring, he will be seeking to triumph for a man motivated by a series of near misses, memories of an historical landmark victory and a personal link to the very first running of a sporting institution.
He became aware of that link during a trip to the pub. On a wall in the Lord Bagenal, Mullins' local hostelry in Leighlinbridge, County Carlow, is a picture of a gentleman dressed in a red hunting coat. The stout and smartly-attired individual is named at the foot of the artwork as Robert Watson Esq. His brother, George, was a founding member of the Victoria Racing Club. More than that, he was the race starter for the inaugural running of the Melbourne Cup in 1861 having seen his own silks carried to glory by Flying Colours in the previous year's Victoria Derby.
Watson was born in 1829 just 14 kilometres from Closutton, home to the yard from which Mullins has become Ireland's champion trainer for every one of the last 16 jumps seasons. He arrived in Victoria 21 years later, founded the Melbourne Hunt Club and then helped to create the VRC.
"I was there in 1993 when Dermot won with Vintage Crop, the only two people I could hear shouting were me and the pal who had joined me on a round-the-world journey. We backed Vintage Crop and he paid for the whole trip." - Willie Mullins
"I feel it gives us a special connection to the Melbourne Cup - Mr Watson's great, great, great nephew even used to do a bit of work for me," says Mullins, who first arrived in Melbourne 143 years after Watson. Across the following years he has made an impact of his own. The 66-year-old has finished second, third, fourth and sixth in the Cup. With the Rich and Susannah Ricci-owned Vauban he thinks can finally finish first - and to do that 30 years after Dermot Weld transformed the Cup's story would be particularly neat.
"I was there in 1993 when Dermot won with Vintage Crop," says Mullins. "The only two people I could hear shouting were me and the pal of mine who had joined me on a round-the-world journey. We backed Vintage Crop and he paid for the whole trip.
"That was my first taste of Melbourne and I had such a fantastic time. I learned a huge amount from being there for just a few days. Dermot showed everyone it could be done. He paved the way and we're still trying to follow. Hopefully we have a nice horse for the race this year, though."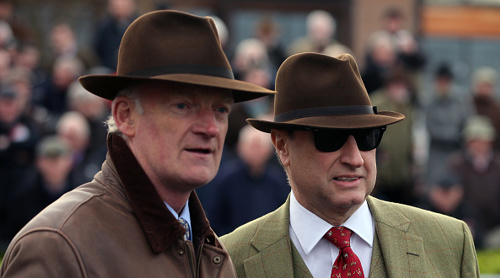 Trainer Willie Mullins (left) and owner Rich Ricci (right) have had a great association and will look to continue that with Vauban. (Niall Carson/PA Images via Getty Images)
That horse's jockey will wear the same Ricci livery sported by Frankie Dettori when Max Dynamite finished a half-length second to Prince Of Penzance in 2015. Two years later the same stayer managed a valiant third, three spots in front of Thomas Hobson, also representing the Riccis and Mullins. Simenon crossed the line in fourth for Mullins in 2013, ten years after Holy Orders stopped the clock in 17th when becoming his trainer's first Melbourne Cup participant.
"The Rugby World Cup was being staged in Australia at the same time, plus a Gaelic football team was touring," recalls Mullins. "There were so many Irish people in Melbourne that when you went racing it felt like you were at home.
"Unfortunately, Holy Orders was a bit of a character. I thought he could be a tricky horse to travel - and I was right. The Australian media took him to their hearts because he consistently refused to go out on to the training track at Sandown. That meant he hadn't done enough work, so it was no surprise he was well beaten.
"As in 1993, we were struck by how well the Melbourne Cup Carnival is promoted. It's not just about the big race on the Tuesday. I think you need to be in Melbourne to experience the atmosphere as it builds up over the previous week. I would always rather be there earlier than later."
Assuming all goes well between now and the spring, Mullins will be true to his word and back in Melbourne some time before he seeks to become the latest international winner of Australia's signature horserace. His challenger surged to ante-post favouritism when storming to a seven-and-a-half-length tour de force in Royal Ascot's Copper Horse Handicap three months after running fourth to the extraordinary Constitution Hill in the Champion Hurdle. The excellent impression created at Ascot was then backed up in no uncertain terms when Vauban stormed home to take a Group 3 event at Naas in August, thus passing the ballot clause.
"The Melbourne Cup has been on our minds since the moment we bought him," said Mullins of a five-year-old who joined his team after landing a Listed Flat race at Vichy in July 2021. He then proved himself to be a smart purchase by capturing the Triumph Hurdle at Cheltenham.
"We knew he was the type of horse we were looking for in a Melbourne Cup candidate - and that kind of horse is very hard to find nowadays," explains Mullins. "Although we thought he could be a good hurdler, we also believed he had the potential to be smart on the Flat. He was unlucky not to win by a bigger margin than he did that day at Vichy and it was obvious there was a lot of improvement in him."
WOW! 🔥

Vauban blows them away & gives Ryan Moore a treble on Day 1 at Royal Ascot! ⭐️

Could we see him in Australia for the Melbourne Cup? 🏆 pic.twitter.com/CqxhdujZTZ

— Racing.com (@Racing) June 20, 2023
What happened in front of the King and Queen on the opening day of the royal meeting confirmed that to be true.
"He was so impressive at Ascot," adds Mullins. "It really strengthened our belief in what he might be capable of achieving. Ryan Moore elected to make the running but I was wondering what he had left up his sleeve when he was turning for him. I couldn't believe what Vauban did up the home straight. That was huge."
So is having an owner with the same bold desire as the trainer.
"Rich has the courage to go for these top international races," says Mullins. "He has shown that already by having runners in the Melbourne Cup and when winning the Nakayama Grand Jump. I think he has as much ambition to win the Melbourne Cup as I do. That's so important. An owner really does have to want to go - and Rich does."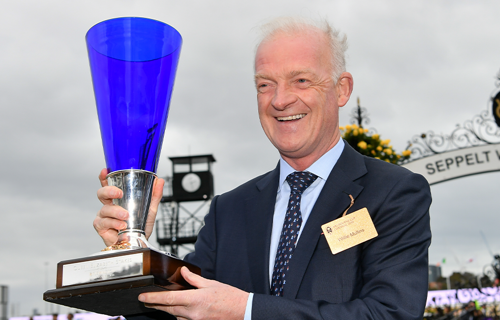 Mullins after True Self claimed the 2019 Queen Elizabeth Stakes, the first of back to back victories in the race.
Mullins is equally certain about something else. Like his pioneering compatriot Weld, he fully understands why the Melbourne Cup is now subject to special veterinary protocols. He sees the bigger picture.
"I feel strongly that we have to mind this sport because it's coming under a lot of pressure," says Mullins, who was present at Aintree when activists attempted to force the cancellation of this year's Grand National.
"We have to look after the animals that give us our living. It's a fantastic way of life but we have that because of the horses. It's incumbent on the people who own and train horses to look after them in their next career but we also have to make sure they are in the best health while they are racing. We can't have horses breaking down on the track. We need to be running horses who are fit, healthy and able to run."
"We have to look after the animals that give us our living. It's a fantastic way of life but we have that because of the horses." - Willie Mullins
Passionate about his theme, Mullins adds: "The sport is subject to a lot of criticism, particularly in America, but the only people who can safeguard the industry are the people involved in it. I think that's a very important part of what we do - and I also think it's very important that we are seen to be doing it.
"Not everything goes right immediately but a safer Melbourne Cup will be better for the industry. We have to show patience while the authorities find the right way, which I think they are doing. You can't fix things overnight."
Mullins has shown patience himself. Thirty years have passed since his first trip to Flemington. Twenty years have passed since he first ran a horse in the Melbourne Cup.
A man on a mission has been waiting for the right horse. In Vauban, he may well have found him.