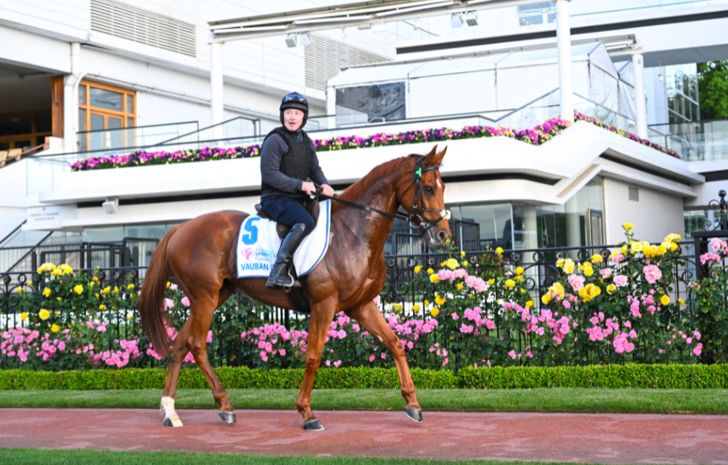 Mullins chases a slice of Melbourne Cup history
6 November 2023
•
Written by
Racing & Sports
Irish trainer Willie Mullins has a strong Melbourne Cup hand with favourite Vauban and Absurde.
It is 30 years since Willie Mullins first had an involvement in the Melbourne Cup. 
On a round the world trip with a friend, Mullins stopped off in Melbourne to see Vintage Crop win the Cup in 1993 at generous odds of $15. 
"I didn't have any tickets and we about two furlongs from the finish and we were about the only two people in the whole stand cheering," Mullins said. 
"We had every shilling we had on us on him, and it paid for the whole trip." 
Success in the Melbourne Cup (3200m) on Tuesday with either current Cup favourite Vauban or Absurde would see the Cup come full circle for Mullins. 
Based at Closutton in County Carlow, it is the same County from where George Watson, who was instrumental in establishing the Victoria Racing Club back in the 1860's, came from. 
"There is the guy who started the Melbourne Hunt Club and was involved in the VRC, George Watson, he came out here (Melbourne) in 1850's and his family farm is only about seven or eight miles from us at home," Mullins said. 
"And Sam Watson, George would have been an ancestor, does a lot of work for me at certain times during the season. 
"So, it would be fantastic to bring the Cup back to Carlow. It would finish off the circle and there is a good bit of buzz at home that can we do it." 
Mullins says he takes notice of the market and relishes the idea of having Vauban as the favourite. 
"I love to have favourites as usually you have the best chance if you have the favourite," Mullins said. 
"At one time I used the hate having favourites as it brings pressure, but now I would rather have the favourite than an outsider." 
Mullins has been trying to win the Melbourne Cup for 20 years with best finishes of second and third with Max Dynamite in 2015 and 2017. 
He believes Vauban has the right credentials and is his best chance of providing him success. 
"I think he's as good as Max Dynamite, maybe better, but we'll find that out on Tuesday," Mullins said. 
"He's my strongest chance ever and he may even be (in future) my strongest chance ever. 
"But we wouldn't want to forget Absurde either. He did very well with Frankie (Dettori) in the Ebor. 
"Everything has gone right, we've got a nice draw, the quarantine has gone right, we just need to break now and get into a position, but I'll leave that to the jockeys. 
"They know the track better than I do, they know the opposition better than I do. 
"We've done our job, so fingers crossed."
---
Experience the Magic of the 2023 Melbourne Cup Carnival
Prepare for a truly unforgettable Cup Week, where equine athleticism meets Melbourne style in a spectacular showcase of thoroughbred excellence. Be there to experience the magic trackside as new champions etch their names into racing folklore. Tickets still available, don't miss out!.