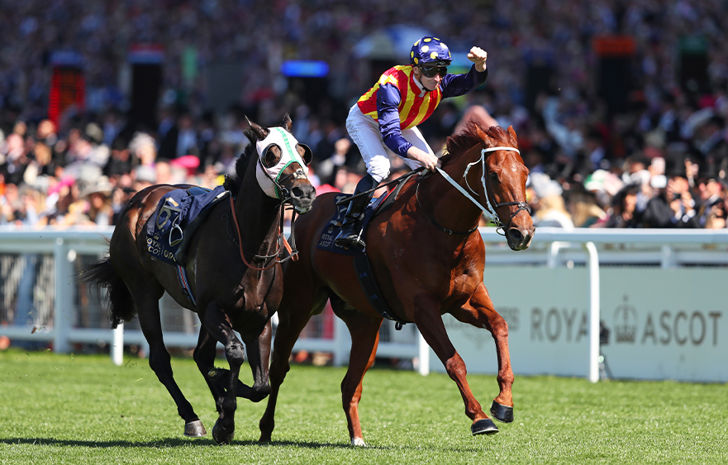 Nature Strip: simply world class
30 June 2022
•
Written by
Michael Manley
Australian racing fans who stayed up until the early hours of the morning to watch Nature Strip in the Group 1 King's Stand Stakes (1000m) were not disappointed, witnessing a breathtaking victory from the chestnut sprinter.
The racing grapevine was aware that Nature Strip was something special even before he had had a start.
And that prediction has been proven correct as he is now acknowledged as the best sprinter in the world, one of the greatest sprinters of all time and Australia's best present-day racehorse.
If the world was unsure of his phenomenal sprinting prowess before he tackled the King's Stand Stakes at Royal Ascot on June 14, they certainly weren't after he demolished his much-vaunted international rivals to win by four-and-a-half lengths.
So impressive was his victory that the Racing Post ranked it as the 'Performance Of The Week' for Royal Ascot.
Going into the Royal Ascot meeting Nature Strip was ranked the equal second-best horse in the world in the Longines World's Best Racehorse rankings with only English miler Baaeed rated above him on their ratings on 125. Nature Strip shared equal second with American galloper Life Is Good on 124.
It has been predicted that his King's Stand Stakes could see him leapfrog Baaeed when the ratings are updated and be rated the best horse in the world.
His trainer Chris Waller described the win as "near perfection."
A look at Nature Strip's overall record puts it into perspective about what he has achieved in his magnificent career so far.
His win in the King's Stand Stakes was his ninth Group 1 win and his 21st victory from 38 starts.
His Group 1 wins include three T.J. Smith Stakes (2020, 2021, 2022) at Randwick and at Flemington two Darley Sprint Classics (2019 and 2021) and the 2021 Black Caviar Lightning.
In terms of prizemoney, he has won $18,478,008, with only Winx in front of him in Australian racing history.
It was four years ago that Flemington winter race crowds had the privilege of watching the son of Nicconi, who stands in Victoria at Widden Stud, win back-to-back races as a three-year-old gelding.
The first was in the Great Ocean Handicap (1100m) which was a heat of A.R. Creswick Series on June 23, 2018.
This was followed by a win in the A.R. Creswick Series Final (1200m) on Finals Day on July 7, 2018 which is the corresponding meeting to today.
Although he had had seven starts and had won four of them, the consensus going into those Flemington straight races was that he hadn't lived up to his hype.
But it was these victories that first signalled that he might actually be as good as was anticipated, and well above average.
His four-and-a-half length win in the Creswick Series Heat was in a similar style to his Royal Ascot victory, where coincidentally, he posted the same winning margin.
In his Creswick Series heat win, Nature Strip took the lead early and was under a throttle hold from his jockey Damian Lane as he held him back to his rivals until the 300-metre mark, where he sprinted clear.
In the A.R. Creswick Final it was a similar story and with 300 metres to go he extended his lead. Lane asked for him to go but, on this occasion, he didn't run away from his rivals, only winning by a length and a half.
The style of those Flemington straight wins though was of a horse destined for greatness.
In 2019 Nature Strip joined the Chris Waller stable and it was from his barn that he began his ascension to where he sits today.
He recorded his first Group 1 win in the 2019 The Galaxy at Randwick that March.
Since then, the flashy chestnut has competed at the highest level. Waller's biggest challenge was getting him to relax in his races, with his natural inclination to go as fast as he could.
Waller turned to champion jockey James McDonald to help him achieve this and they have proven to be a formidable combination.
Nature Strip has also continued his love affair with the Flemington straight since those winter victories of 2018. His overall Flemington record now stands at eight starts for five wins, two seconds and a fourth.
After his win at Royal Ascot, Waller elected to bring him straight back to Australia, beginning the preparation for his main spring targets – The Everest at Randwick and the Darley Champions Sprint on the final day of the Melbourne Cup Carnival.
There is little doubt Nature Strip sits in the upper echelon of Australia's greatest sprinters and his name sits alongside recent greats such as Black Caviar and Chautauqua.
Although he is rising eight, he hasn't been over-raced and the likelihood is that he will only enhance what has already been a magical career under the care of Waller, who always does the right thing by his horses.
System.Web.HttpException (0x80004005): Error executing child request for handler 'System.Web.Mvc.HttpHandlerUtil+ServerExecuteHttpHandlerAsyncWrapper'. ---> System.NullReferenceException: Object reference not set to an instance of an object.
   at ASP._Page_Views_Partials_googleAd_cshtml.Execute()
   at System.Web.WebPages.WebPageBase.ExecutePageHierarchy()
   at System.Web.Mvc.WebViewPage.ExecutePageHierarchy()
   at System.Web.WebPages.WebPageBase.ExecutePageHierarchy(WebPageContext pageContext, TextWriter writer, WebPageRenderingBase startPage)
   at System.Web.Mvc.RazorView.RenderView(ViewContext viewContext, TextWriter writer, Object instance)
   at System.Web.Mvc.BuildManagerCompiledView.Render(ViewContext viewContext, TextWriter writer)
   at Umbraco.Web.Mvc.ProfilingView.Render(ViewContext viewContext, TextWriter writer) in D:\a\1\s\src\Umbraco.Web\Mvc\ProfilingView.cs:line 25
   at System.Web.Mvc.ViewResultBase.ExecuteResult(ControllerContext context)
   at System.Web.Mvc.ControllerActionInvoker.InvokeActionResult(ControllerContext controllerContext, ActionResult actionResult)
   at System.Web.Mvc.ControllerActionInvoker.InvokeActionResultFilterRecursive(IList`1 filters, Int32 filterIndex, ResultExecutingContext preContext, ControllerContext controllerContext, ActionResult actionResult)
   at System.Web.Mvc.ControllerActionInvoker.InvokeActionResultFilterRecursive(IList`1 filters, Int32 filterIndex, ResultExecutingContext preContext, ControllerContext controllerContext, ActionResult actionResult)
   at System.Web.Mvc.ControllerActionInvoker.InvokeActionResultFilterRecursive(IList`1 filters, Int32 filterIndex, ResultExecutingContext preContext, ControllerContext controllerContext, ActionResult actionResult)
   at System.Web.Mvc.ControllerActionInvoker.InvokeActionResultFilterRecursive(IList`1 filters, Int32 filterIndex, ResultExecutingContext preContext, ControllerContext controllerContext, ActionResult actionResult)
   at System.Web.Mvc.ControllerActionInvoker.InvokeActionResultFilterRecursive(IList`1 filters, Int32 filterIndex, ResultExecutingContext preContext, ControllerContext controllerContext, ActionResult actionResult)
   at System.Web.Mvc.ControllerActionInvoker.InvokeActionResultWithFilters(ControllerContext controllerContext, IList`1 filters, ActionResult actionResult)
   at System.Web.Mvc.Async.AsyncControllerActionInvoker.<>c__DisplayClass3_6.<BeginInvokeAction>b__4()
   at System.Web.Mvc.Async.AsyncControllerActionInvoker.<>c__DisplayClass3_1.<BeginInvokeAction>b__1(IAsyncResult asyncResult)
   at System.Web.Mvc.Async.AsyncResultWrapper.WrappedAsyncResult`1.CallEndDelegate(IAsyncResult asyncResult)
   at System.Web.Mvc.Async.AsyncResultWrapper.WrappedAsyncResultBase`1.End()
   at System.Web.Mvc.Async.AsyncControllerActionInvoker.EndInvokeAction(IAsyncResult asyncResult)
   at System.Web.Mvc.Controller.<>c.<BeginExecuteCore>b__152_1(IAsyncResult asyncResult, ExecuteCoreState innerState)
   at System.Web.Mvc.Async.AsyncResultWrapper.WrappedAsyncVoid`1.CallEndDelegate(IAsyncResult asyncResult)
   at System.Web.Mvc.Async.AsyncResultWrapper.WrappedAsyncResultBase`1.End()
   at System.Web.Mvc.Controller.EndExecuteCore(IAsyncResult asyncResult)
   at System.Web.Mvc.Controller.<>c.<BeginExecute>b__151_2(IAsyncResult asyncResult, Controller controller)
   at System.Web.Mvc.Async.AsyncResultWrapper.WrappedAsyncVoid`1.CallEndDelegate(IAsyncResult asyncResult)
   at System.Web.Mvc.Async.AsyncResultWrapper.WrappedAsyncResultBase`1.End()
   at System.Web.Mvc.Controller.EndExecute(IAsyncResult asyncResult)
   at System.Web.Mvc.Controller.System.Web.Mvc.Async.IAsyncController.EndExecute(IAsyncResult asyncResult)
   at System.Web.Mvc.MvcHandler.<>c.<BeginProcessRequest>b__20_1(IAsyncResult asyncResult, ProcessRequestState innerState)
   at System.Web.Mvc.Async.AsyncResultWrapper.WrappedAsyncVoid`1.CallEndDelegate(IAsyncResult asyncResult)
   at System.Web.Mvc.Async.AsyncResultWrapper.WrappedAsyncResultBase`1.End()
   at System.Web.Mvc.MvcHandler.EndProcessRequest(IAsyncResult asyncResult)
   at System.Web.Mvc.MvcHandler.System.Web.IHttpAsyncHandler.EndProcessRequest(IAsyncResult result)
   at System.Web.Mvc.HttpHandlerUtil.ServerExecuteHttpHandlerAsyncWrapper.<>c__DisplayClass3_0.<EndProcessRequest>b__0()
   at System.Web.Mvc.HttpHandlerUtil.ServerExecuteHttpHandlerWrapper.<>c__DisplayClass5_0.<Wrap>b__0()
   at System.Web.Mvc.HttpHandlerUtil.ServerExecuteHttpHandlerWrapper.Wrap[TResult](Func`1 func)
   at System.Web.Mvc.HttpHandlerUtil.ServerExecuteHttpHandlerWrapper.Wrap(Action action)
   at System.Web.Mvc.HttpHandlerUtil.ServerExecuteHttpHandlerAsyncWrapper.EndProcessRequest(IAsyncResult result)
   at System.Web.HttpServerUtility.ExecuteInternal(IHttpHandler handler, TextWriter writer, Boolean preserveForm, Boolean setPreviousPage, VirtualPath path, VirtualPath filePath, String physPath, Exception error, String queryStringOverride)
   at System.Web.HttpServerUtility.ExecuteInternal(IHttpHandler handler, TextWriter writer, Boolean preserveForm, Boolean setPreviousPage, VirtualPath path, VirtualPath filePath, String physPath, Exception error, String queryStringOverride)
   at System.Web.HttpServerUtility.Execute(IHttpHandler handler, TextWriter writer, Boolean preserveForm, Boolean setPreviousPage)
   at System.Web.HttpServerUtility.Execute(IHttpHandler handler, TextWriter writer, Boolean preserveForm)
   at System.Web.HttpServerUtilityWrapper.Execute(IHttpHandler handler, TextWriter writer, Boolean preserveForm)
   at System.Web.Mvc.Html.ChildActionExtensions.ActionHelper(HtmlHelper htmlHelper, String actionName, String controllerName, RouteValueDictionary routeValues, TextWriter textWriter)
   at System.Web.Mvc.Html.ChildActionExtensions.Action(HtmlHelper htmlHelper, String actionName, String controllerName, RouteValueDictionary routeValues)
   at Our.Umbraco.DocTypeGridEditor.Web.Extensions.HtmlHelperExtensions.RenderDocTypeGridEditorItem(HtmlHelper helper, IPublishedElement content, String editorAlias, String viewPath, String previewViewPath, Boolean isPreview)
   at ASP._Page_app_plugins_doctypegrideditor_render_DocTypeGridEditor_cshtml.Execute()
   at System.Web.WebPages.WebPageBase.ExecutePageHierarchy()
   at System.Web.Mvc.WebViewPage.ExecutePageHierarchy()
   at System.Web.WebPages.WebPageBase.ExecutePageHierarchy(WebPageContext pageContext, TextWriter writer, WebPageRenderingBase startPage)
   at System.Web.Mvc.RazorView.RenderView(ViewContext viewContext, TextWriter writer, Object instance)
   at System.Web.Mvc.BuildManagerCompiledView.Render(ViewContext viewContext, TextWriter writer)
   at Umbraco.Web.Mvc.ProfilingView.Render(ViewContext viewContext, TextWriter writer) in D:\a\1\s\src\Umbraco.Web\Mvc\ProfilingView.cs:line 25
   at System.Web.Mvc.HtmlHelper.RenderPartialInternal(String partialViewName, ViewDataDictionary viewData, Object model, TextWriter writer, ViewEngineCollection viewEngineCollection)
   at System.Web.Mvc.Html.PartialExtensions.Partial(HtmlHelper htmlHelper, String partialViewName, Object model, ViewDataDictionary viewData)
   at System.Web.Mvc.Html.PartialExtensions.Partial(HtmlHelper htmlHelper, String partialViewName, Object model)
   at ASP._Page_Views_Partials_grid_editors_Base_cshtml.Execute()