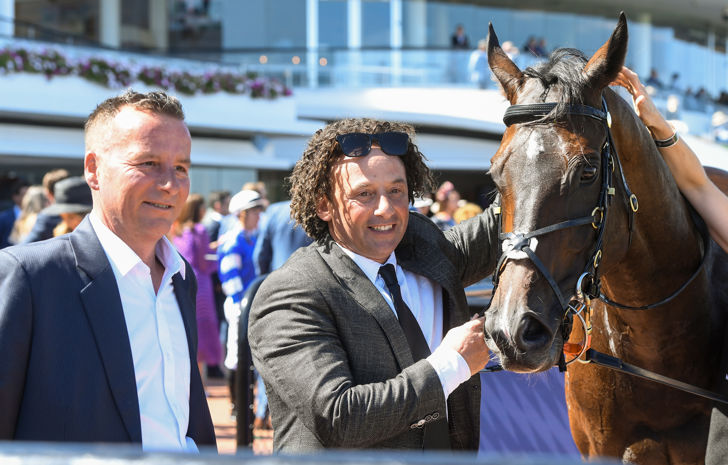 New paths for Ellerton and Zahra
6 December 2021
•
Written by
VRC
Mathew Ellerton and Simon Zahra have been a successful training duo at Flemington since 2009. In November they decided to go their separate ways and train individually. We take a look at their success as a partnership.
Cousins Zahra and Ellerton were a duo from childhood, riding their bikes to school, playing football and shovelling horse manure at Gerald Ryan's Melbourne stables. They both worked at David Moodie's stables from 2000, before establishing their own training partnership in 2009. It was a good move, with the pair preparing a winner with their first ever runner at Sandown.
Almost immediately, in 2010, they hit great heights, claiming a Golden Slipper with Crystal Lily, ridden by Brett Prebble.
Many more wins and much success continued, with highlights including Aristia's victory in the 2018 VRC Oaks and the Newmarket Handicap with Zoutori in March 2021.
Together, they won 837 races, six of them at Group 1 level.
In a statement about the decision to part ways, Ellerton said: "After over 20 years together and a lot of hard work to build the EZR brand I'd like to wish Simon all the best in his new endeavour, I couldn't have done it without him.
"We've been through a lot of highs throughout the journey and long may it continue for us both.
"I'd also like to thank our ownership group and our loyal staff who have put in so much over so many years."
Zahra added: "It's with a heavy heart that Mat and I after 22 years have agreed to go our own way to further our training careers. I'm very proud of our success and the team we created together at EZR. On the back of that I am excited as to what the future brings and success for owners."
They didn't just make an impact on the field, but were also passionate about the rehoming of their racehorses, focusing on what happened to the horses they worked with once their racing career ended.
They established a rigorous rehoming program that has seen many horses make a successful transition into a new life away from the racetrack.
Former protégés that benefited from the Ellerton Zahra program include Rock 'n' Gold that earned more than $600,000 in prizemoney for his owners. He retired and was rehomed with his longtime strapper and track rider. Another Ellerton Zahra trained horse, Topkapi, was rehomed with an event rider and vet, while Cool God left the stables to become a natural trail riding horse.
Ellerton Zahra's philosophy was to take as long as necessary to find the best new home for their racehorses, and the futures of the horses that left Ellerton Zahra are diverse. They have gone on to high-level eventing and to become polo horses, pony club all-rounders or simply a horse to be enjoyed for leisurely rides around the paddock.
Commencing their new training operations on 1 December, both trainers have remained at Flemington, this time as neighbours rather than partners.