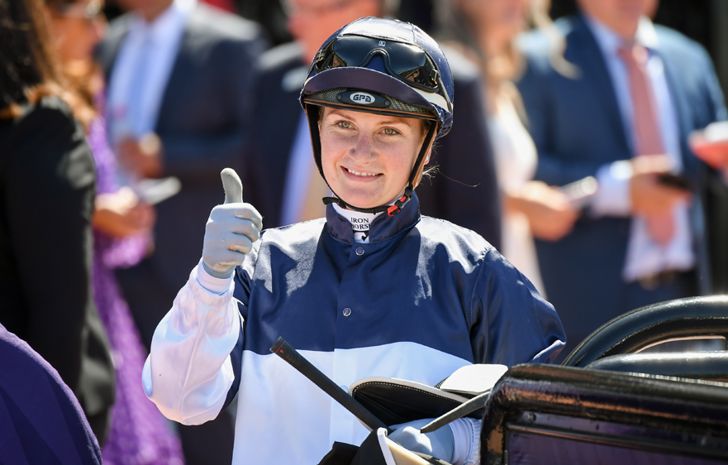 No stopping Jamie Kah
17 May 2021
•
Written by
Sarah Marinos
From winning her first Group 1 race just two years ago, leading jockey Jamie Kah has already had a stunning career, with much more to come. With the Victorian jockey premiership firmly in her sights, and it seems, already in her grasp, it will be those big races such as the Lexus Melbourne Cup or Cox Plate that this horse-loving jockey will be aiming for
It took time for Jamie Kah to leave her Adelaide home but weeks after she made the move to Melbourne, she achieved a lifelong goal. Two short years ago in March 2019, Kah rode and won her first Group 1 race aboard Harlem in the $1.5 million TAB Australian Cup (2000m) at Flemington.
Now, at the time of publishing, she sits at five Group 1 wins, equalling Michelle Payne, and close to 1000 career wins, including over 100 Victorian wins this season alone. It's an amazing achievement in such a short time and testament to her sheer talent.
In the jockey's own words: "A lot has happened in two years!"
"Wanting a Group 1 win was a big reason why I moved to Melbourne. I don't want to race forever, and I wanted to achieve that before I retire," said Kah, 25.
"But when it happened, I was speechless. [It was] a weight off my shoulders because I didn't have to chase that goal anymore."
Kah's potential and talent was plain to see from early in her career. During the first six months of her apprenticeship, she rode 40 winners. In her first full season in 2012/13, she won the Adelaide Jockeys' Premiership. By the time she blew out the candles on her 18th birthday cake, she had 163 wins.
During the 2016/17 season, Kah rode in 665 races in her home state and secured 53 city wins. The following season she notched up 63 victories.
Since relocating to Melbourne in 2019, her success has skyrocketed. At the time of writing, she is sitting atop both the Victorian state and metropolitan jockeys' premierships and had her first ride in the Lexus Melbourne Cup last year, riding cult hero Prince Of Arran into third place.
She won the 2021 Group 1 Black Caviar Lightning aboard Nature Strip, the Group 1 Doncaster Mile at Randwick (making her the first female to win a Group 1 for Godolphin) and was also named the Wakeful Club's Lady of Racing earlier in March, with the Club describing her as "an inspiration to young up-and-coming female jockeys."
But Kah is modest about her achievements.
"I'm very humbled by the support and opportunities I get, and you're only as good as the horse you are riding," she said.
Kah's parents, John and Karen, are former Olympic speed skaters who raised their daughter on a 200-acre property outside Adelaide. Horses were always part of the family.
"I grew up on horses. At 18 months old, Mum would lead me around on a miniature pony while my friend from daycare was pushed along in a pram," laughed Kah.
She began showjumping and competed for Australia in the Mounted Games, where riders tackle a series of events on ponies. She was Australia's Under-12 champion on her beloved pony, Bessie, and won a series of national and international Mounted Games titles.
"I think I'm quite different to a lot of jockeys in Melbourne because they've been brought up with racing," she said. "I believe that my equestrian background has had a big influence on my riding style."
"I just ride the horse based on how it is feeling. I jump out the gates and let the horse show me where they want to sit and where they want to travel. I keep the horse as balanced as possible and I try and get the best out of the horse before going to the whip."
Kah switched to racing at 14 after she got a part-time job at the stables of trainer John Macmillan.
"When I got the job, Mum said she didn't want me racing. But then I had my first gallop at Gawler racetrack one morning and the adrenaline rush was amazing. I'd never experienced anything like it. I was hooked," recalled Kah.
"Mum and Dad were a bit concerned but they've always been by my side. Dad loves coming to the races and pretending he knows what he's talking about when he discusses racehorses!"
The competitive profession also brings challenges however, and Kah took a much needed break from racing in 2015.
"I stayed at my cousin's place in Holland and rode showjumpers, and I went to England and rode some trackwork for Jeremy Gask and did some gallops, and I fell in love with the sport again. But sometimes you have to take a break because there are always pressures. Now I accept that a ride won't always work out the way you want it to. If I have a bad day I'll go and ride my own horse and focus on getting ready for the next race."
Her own horses are housed at Bradlee Park on the Mornington Peninsula, where Kah and her fiance, fellow jockey/now trainer Clayton Douglas offer training, re-training of retired racehorses and spelling. They recently had their first winner in April with Runaway Train at Cranbourne, with Kah aboard. As exciting as training and riding winners is, rehoming racehorses is a particular passion of Kah's. "To be able to rehome racehorses and give them another chance in life is really important to me," she said.
"My favourite is Brax. I bought him six years ago with the intention of rehoming him, and he is still in the back paddock. I struggle to give them away as I fall in love and want to keep them forever," she laughed.
Kah's love of the horse shines through whenever she is on the back of one of them, evident from the big pat she gives them straight after a race, win or not.
"I just love how they try so hard for you. When I won the Black Caviar Lightning on Nature Strip it was unreal. There was no crowd cheering [because of the government's snap lockdown in February] but when I pulled up and gave him a pat I just enjoyed that moment with the horse and thought, 'wow, we did it, and you tried so hard.'"
An only child, Kah's parents have always been very supportive of her career. From driving her around the countryside to competitions as a young girl, to now helping build their facilities at Bradlee Park, it is a family affair. "Dad is pretty handy, and they actually just helped build our new round yard."
The work on the 'farm' (which lives up to its name, housing multiple animals, including sheep and chickens) keeps Kah busy, as well as fit. As we spoke, she was walking around the paddocks, feeding the horses.
"I used to go to the gym a lot, but I find working here all day and walking the paddocks keeps me fit enough. I ride our horses all day, and am lucky enough to have a rapport with lots of trainers which means I don't always need to ride trackwork for them. I am definitely getting enough time on the horses at home."
Kah sees plenty of opportunities ahead and, as much as she is paving the way for the next generation, appreciates the pioneers who raced before her.
"So many amazing females have come through the ranks and made it easier for me. There are a lot of good female apprentices coming through and I think the standard of riders is getting better and better and trainers are recognising that. If you're good enough, they will give you a ride," she said.
"I think that women are definitely now treated equally in the sport, but I also don't mind being a female who has achieved some things. I have had people come up to me and tell me I have inspired their young daughter, and I love that."
As for the future, the sky's the limit. As well as aiming to conquer all of her dreams on the track, Kah is looking forward to her wedding and eventually, an overseas honeymoon. Eventually though, it is evident Kah will be very happy on the farm surrounded by animals, especially her beloved horses.