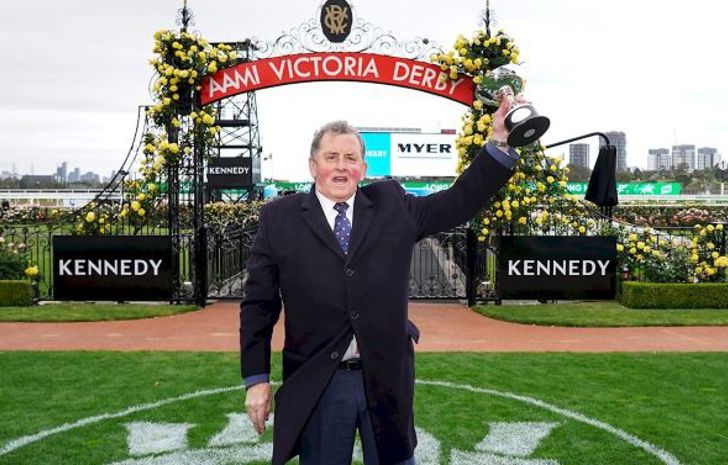 Pagan reflects on Derby, 12 months on
30 October 2021
•
Written by
Edward Sadler
Twelve months on from achieving an incredible feat in his sporting career, Denis Pagan has reflected on the day he trained Johnny Get Angry to win the Victoria Derby.
"I didn't have any great expectations last year; I was just happy that my horse was going OK," Pagan said.
"He ran in the Vase, got beaten seven lengths but he was finishing well. I was disappointed with the run actually, and a couple of people said to me, 'Gee, that was a good run'.
"I thought, 'Oh yeah', and didn't take much more notice of it.
"He just had a normal week on the track, we didn't do much with him.
"The Friday before, I took all the boys out for lunch who were in our (trainers) tower.
"Got up the next morning, had a shower, came down here, I still had the horses to work on the morning, then I went home, had a snooze, then went to the races without any expectations.
"Then watching the race, I thought to myself on the turn, 'Oh look, he might run in the first seven or eight', and then at the clocktower, I thought to myself, 'Gee, he might run in the first two or three', and then about 25m on, I thought 'He's going to win it', and he did."
The AFL legend knows what it's like to succeed at the highest level in the sporting arena but explained that his approach to Derby Day and the emotions after the race were different.
"It was very exciting, and it was sort of unexpected, and I think I've been such a nutcase when I was involved in football, in combat mode probably for Grand Finals on Tuesday morning, virtually locking yourself away and being very reclusive," Pagan said.
"(This was) just completely different, (I was) so relaxed.
"I enjoyed Friday, I enjoyed Saturday and when it happened, I just couldn't believe it happened to me, I was struck with emotion. First time in my life that anything like that's ever happened.
"Even though I was struck with emotion, I like to say to people I had a bad dose of hayfever, but no one believes me."
A year later, Pagan is still at a loss to explain how he came to be so emotional that day at Flemington.
"I don't know, it's never happened to me," he said.
"I've got an image I've got to project, and I didn't project it too well that day, and I had a lot of funny texts from players I coached."
After lifting the AFL premiership cup on two occasions as coach of North Melbourne in 1996 and 1999, Pagan has a chance to get his hands on another iconic piece of silverware with Johnny Get Angry set to take his place in Tuesday's Melbourne Cup.