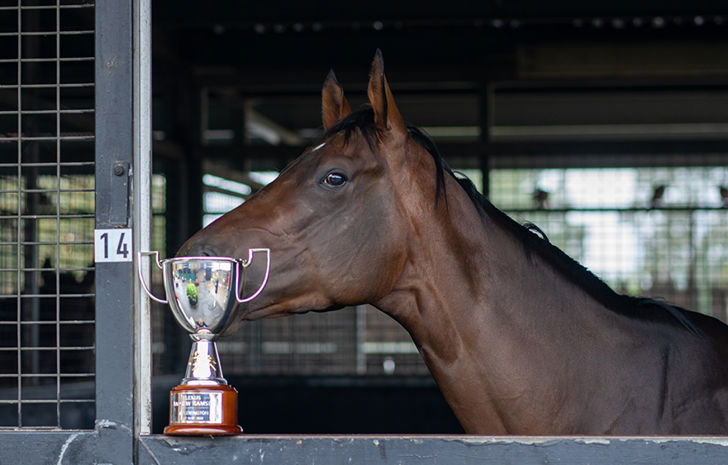 Prizes galore for winner of the Lexus Andrew Ramsden
13 May 2022
•
Written by
VRC
The three-handed 'Loving Cup' awarded to the winner of the Lexus Melbourne Cup each year is one of the most famous trophies in sports and the winner of the $500,000 Listed Lexus Andrew Ramsden (2800m) on Saturday will have their chance to race for that prestigious prize - but not before lifting a trophy of their own this weekend.
In addition to a $300,000 first prize cheque and a golden ticket into the Lexus Melbourne Cup, the winning owner of the Lexus Andrew Ramsden will receive a trophy crafted by Peter Gertler Gold & Silversmith in South Melbourne.
The 32cm-tall prize features a silver-plated bowl with deco-style tapering handles, a classic feature resembling some of the best trophies of yesteryear.
The stem features two gold-plated horses stretching out for the finish, much as the gallant Steel Prince and Surprise Baby did in the first year that the Lexus Andrew Ramsden offered ballot exemption for the Lexus Melbourne Cup.
The trophy is set on a hand-turned timber base with a blackwood finish which sports a silver-plated diamond point engraved plaque.
Victoria Racing Club Chairman Neil Wilson said that the Lexus Andrew Ramsden was an apt tribute to the Club's former Chairman, who passed away in 2013.
"Our trophies are an important part of recognising the history and tradition of racing here at Flemington and this race is another example," Mr Wilson said.
"It is a fitting way to acknowledge the legacy of one of the greatest custodians of the Victoria Racing Club in Andrew Ramsden, who served the Club over many decades including as Chairman from 1998 to 2003.
"Winning the Lexus Andrew Ramsden offers so much to an owner. It is a significant prize on its own, with $300,000 to the winner and a golden ticket into the Lexus Melbourne Cup on offer, and this trophy also adds to the importance of the race.
"We are excited to add another horse to the Lexus Andrew Ramsden honour roll on Saturday, presenting this trophy to the winning owners to celebrate their success."
The Lexus Andrew Ramsden, featuring a field of 13 emerging stayers, will be run as Race 7 at Flemington on Saturday with a scheduled jump time of 3:30pm.
Caption: Lexus Andrew Ramsden contender Zoumon eyes off the winning trophy.