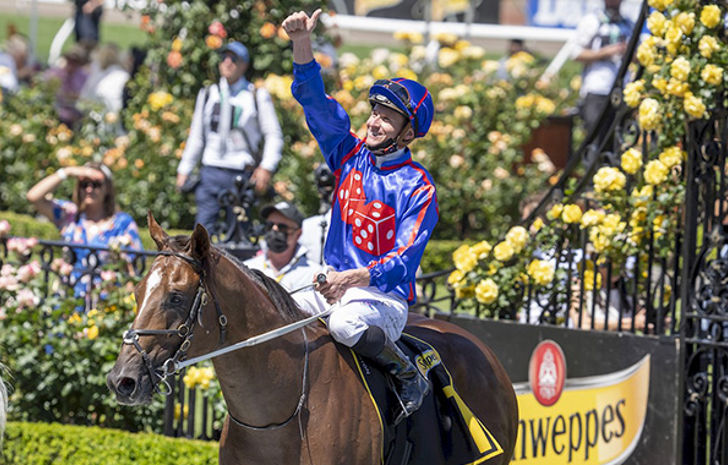 Profiteer proves Lightning qualities
2 November 2021
•
Written by
Andrew Eddy
Profiteer got something out of his spring campaign and confirmed his path for the autumn after a sustained speed effort to win the Schweppervescence Plate (1000m) at Flemington on Tuesday.
The flying colt had been unplaced in the Moir Stakes and found stablemate Extreme Warrior too slick in the Blue Sapphire Stakes but not so in Tuesday's handicap, where jockey James McDonald won his fifth race for the Flemington Carnival following a superb four wins on Penfolds Victoria Derby Day.
The length-and-a-half victory over the sprint course has Profiteer now confirmed as a Group 1 Black Caviar Lightning runner over the same course next February.
Second was Direct, who showed blistering speed out in the middle of the course, with Enthaar returning from a long break with a solid run for third.
Co-trainer Mick Price knows full well how fast Profiteer is and McDonald was quick to agree after taking his first ride on the Capitalist colt.
"He's very fast," the champion rider said. "He's got good gate speed, high cruising speed the whole way and he had to get it right today because he got taken on a fair way.
"Credit to him, he came back and relaxed reasonably well. The two first furlongs were right and the rest were history.
"He's a nice, athletic, quick-striding horse, so he'll do a good job."
So taken with him was McDonald, he has already made a booking for Lightning Day.
"I'll be here, that's for sure. I like that straight racing," he said.
So clearly does Profiteer, who also won over the 1000-metre course on debut.
"That's two starts down the straight for two wins over 1000 metres," said Price, who trains in partnership with Michael Kent Jnr.
"Hopefully in the Lightning it'll be three starts for three wins over 1000 metres and he'll be a Group 1 colt, and he'll get a nice harem of mares at Newgate.
"You can see that he is an aerobically gifted colt, fast, and I think that's the best way for him."
Price said the 1100-metre Oakleigh Plate at Caulfield will follow his Lightning return.
"That would be two beautiful stallion-making races and I think that is a good plan," Price said. "He'll be bigger and stronger again and they're races that could beautifully suit him.
"It takes a bit of working out these horses. I thought he was well rated by James. A good, strong 1000 metres. They broke 11 (seconds) most of the way and he was able to sustain it.
"Good to see some stamina and we all know he's a fast horse so … Lightning Stakes (next)."