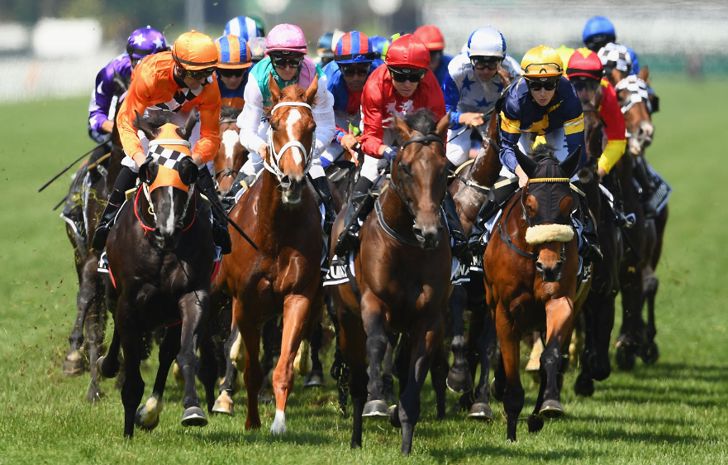 Racing's colourful history
29 May 2023
•
Written by
Andrew Lemon
Racing colours are a distinct part of racing culture. Some rely on them alone to pick their horse, but for others they have a much deeper connection. Dr Andrew Lemon retraces the history of colours, uncovering some interesting stories along the way.
Some call them racing silks, others racing colours. You'll hear "colours" most often in Britain and Australia, "silks" in the United States. "Colours" today is more accurate, for pure silk in jockeys' jackets gave way long ago to synthetic nylon, polyester satin or lycra, worn over safety vests and helmets. But silk is where it began.
Colours, teamed with magnificent thoroughbreds, put the glamour into thoroughbred racing, especially against the background of green turf on a grand racecourse such as Flemington. For a racehorse owner, nothing thrills more than the sight of their horse and their colours reaching the winning post first.
Some writers on racing romantically suggest a link to heraldic devices on shields and armour in the days of medieval jousting. The practical explanation for the origins of racing colours, as used today, is simple common sense – the need to distinguish between horses galloping in the far distance. England's Newmarket Racecourse, revered as the birthplace of modern racing in the reign of Charles II, is unlike any Australian track, with its long, straight courses, and starts way across the country. Only distinctive coloured jackets and caps give viewers any idea of the identity of the horses in the running. 
Naturally, aristocratic owners in England were possessive about their colours, and a century later in the 1760s the ruling Jockey Club began to keep a register to avoid duplication. This practice was imported informally into colonial Australia. For the 1811 races at Sydney's Hyde Park, a "Kalendar" was printed each day "accurately describing the Horses, Age, Weight, Colour, Rider, Dress, and every other Circumstance". In this case, "colour" referred to the horse itself, and "dress" to the jacket. Wherever races were held in the new Australian settlements, gentlemen had to nominate riding colours when they entered their horses.
It took a while to sort matters out. When the Melbourne Cup began, one press reporter remarked, "In the old days I have seen more than half the field riding in blue jackets and black caps. Things are not quite so bad now, and the colours of our foremost stables are as unlike as possible." Colours included violet and amber and tartan, spots and stripes. But Archer, the New South Wales wonder horse, won the first two Melbourne Cups wearing the All Black livery of the Etienne De Mestre stable – colours which the De Mestre family jealously guarded for decades. 
Rule 11 of the Victoria Racing Club, passed in 1867, three years after the Club's formation, stipulated that owners must register their colours with the Secretary. As the newspapers said, "Every man who races should have his own individual colours – colours in which his horses would be recognised at a glance. There is no end to the combinations that can be made."
Today with vastly more owners there is an art and a science to contriving unique racing colours. Jackets come in halves and quarters, diagonals, hoops, yokes and stripes, spots, stars and approved motifs such as fleur-de-lys and Maltese crosses. The objective is to ensure that no two owners can register identical racing colours. Clashes can arise because each racing jurisdiction around the world maintains its own register.
The VRC introduced the "all white colours of the club" in 1916 to be used when jackets were damaged or went astray. All White had previously been registered to Albert Miller, and before him to bookmaker William Branch. The colt Progress carried All White when he ran second in the 1880 Melbourne Cup to Grand Flaneur. 
The colours carried by champions make an indelible impression on the minds of racing fans, not just race callers. Black Caviar appropriately carried salmon, black spots – a touch of design genius. Tulloch's red and white stripes, black sleeves, black jacket reminded old timers of Carbine's black, white sleeves, red cap when he won the Cup in 1890, and of Phar Lap in 1930 carrying red, black and white hooped sleeves, red cap.
Colours are not just glamour. Each combination is a coded history.
For example, both Carbine and Phar Lap raced in different colours at different times in their careers. When Carbine first raced in Australia, finishing second in the 1888 Victoria Derby, his jockey wore rose with black stripes. These silks belonged to his first owner-trainer, the Australian-born jockey Dan O'Brien. And O'Brien had taken over these colours from his original employer, Hurtle Fisher. Fisher's Lantern carried the rose and black when he won the fourth Melbourne Cup, in 1864.
As for Phar Lap, he came close to racing in purple, white Maltese cross and orange cap. It's hard to imagine "Big Red" in such a combination. In Phar Lap's early career, including victory in the 1930 Cup, he raced in the red, black and white of his trainer and lessee, Harry Telford. The lease expired in February 1931 and the legal owner, American businessman David Davis, took a controlling share. Davis initially wanted the horse to race in his own purple, white and orange colours. Phar Lap's compromise colours under the new racing partnership were red, red and green hooped sleeves, black cap, much closer to the original. That's what jockey Billy Elliott wore in that famous final triumph at Agua Caliente in 1932. 
Trying to design your own unique set of racing colours is a challenge to engage any entrant to the world of racing ownership. Australian makers such as Mitty's, Hyland's, and Gannon's in Perth, offer engaging online tools to help you play with colour and design variations on offer, and guide you through the registration process.
In the days before computers, attempts to register colours could be a frustrating business. Rod Johnson, the man who served 48 years on the VRC staff rising from office boy to chief executive, tells the story of his colleague Eric Jeffrey, Victoria's long-time registrar of racehorse names and colours. One up-and-coming prospective owner found his colours application knocked back time and time again. In frustration he stormed into the VRC offices and demanded Eric Jeffery come up with a suggestion of his own. Jeffrey ascertained that the man had recently been appointed chief of the Victorian Egg Board. Quick as a flash came Jeffrey's selection for the racing colours. White, with a yellow yoke.