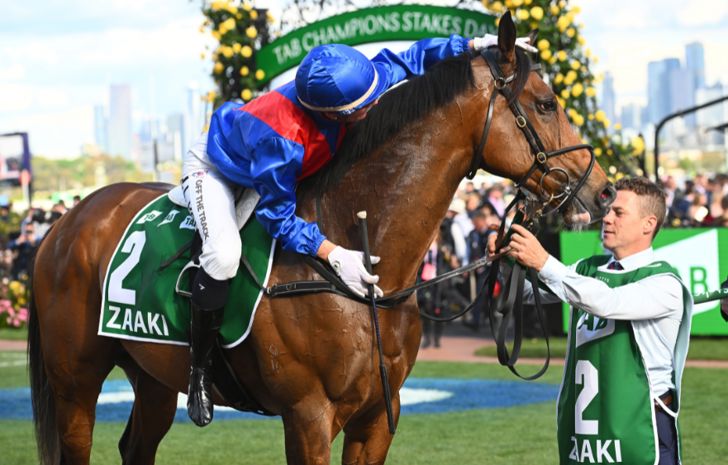 Raphael Marchelli: Strapper for Zaaki
15 June 2023
•
Written by
Sarah Marinos
We speak to Raphael Marchelli who enjoyed success strapping Zaaki, winner of the 2022 Group 1 TAB Champions Stakes.
From cleaning out stables and yards to feeding, grooming, saddling and riding, strappers are an integral part of a successful racing team and build very special connections with the horses they care for.
Raphael Marchelli strapped Group 1 TAB Champions Stakes winner Zaaki. The French-born retired jockey raced across Europe before arriving in Australia three years ago.
After working for trainer Jean Dubois, Marchelli joined Annabel Neasham's stable just over two years ago. Raphael Marchelli grew up on a farm in the south of France and wanted to be a soccer player or a jockey. He recognised that he didn't have the physical build for soccer and so, given his interest in working with horses, a career as a jockey was a natural choice.
"I felt very comfortable with horses – I found it easy to be around them and I wanted to learn as much as I could about them," said Marchelli.
After his jockey apprenticeship, Marchelli spent 28 years in the saddle in France and Europe. A highlight of his career was riding in the 2014 Group 1 Prix de l'Arc de Triomphe, and securing a Group 2 win on Factional trained by Andrew Fabre.
In 2018, Marchelli and his partner moved to Australia and he spent a year working with Jean Dubois in Mittagong before joining Annabel Neasham doing trackwork.
"I came to Australia to follow my partner and to have a better family life," Marchelli said.
In December 2021, he broke his vertebrae in a riding accident and wasn't sure if he'd be able to ride again. After a tense nine months, he was given the all-clear.
One of Marchelli's favourite responsibilities is riding and taking care of Zaaki. When the horse went on holiday to the Gold Coast, Marchelli went with him. He describes the horse as his 'best mate'.
"He loves attention – his nickname with us is King Kong and although he's 10 years old, he acts like a teenager. I understand him. I know when is happy and when he's feeling flat. It is a very special connection," said Marchelli.
Marchelli was with Zaaki throughout the Melbourne Cup Carnival and strapped him for the TAB Champions Stakes.
"I was very confident and Flemington suits him well. I was sure by the last 200m that he was going to win and I was jumping up and down," he recalled.
"He cruised past the finishing line and wanted to keep on galloping. To win a race like that is a success for the whole team."