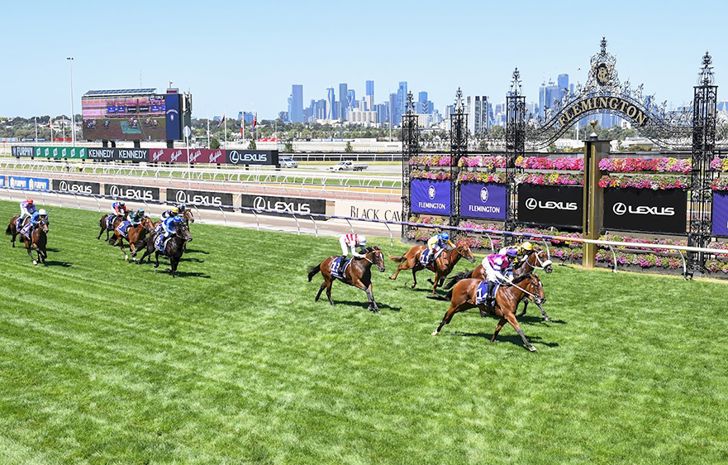 Rising stars to the fore on Black Caviar Lightning Race Day
19 February 2022
•
Written by
VRC
Black Caviar Lightning Race Day may be headlined by its namesake race, the $1 million Group 1 Black Caviar Lightning (1000m), but by autumn's end it will almost certainly be remembered as the meeting in which a number of rising stars made their first successful foray into stakes company.
The Enver Jusufovic-trained Pinstriped maintained his unbeaten record in the Group 3 C S Hayes Stakes (1400m), coming from nowhere under Michael Dee to defeat another previously unbeaten conveyance in Trent Busuttin and Natalie Young's Pascero.
Group 1 winner Captivant finished third, while dual Group 2 victor Forgot You flew late for fourth, setting up an exciting rematch in the $1 million Group 1 Australian Guineas (1600m) on the first day of the Flemington Racing Spectacular, Saturday March 5.
Four of the last seven C S Hayes winners have gone on to victory in the Australian Guineas two weeks later with a fifth, Palentino, first past the post in the C S Hayes before lifting the prize in the Guineas.
"Fantastic, I watched the race in the cheap seats by myself and took it all in," Jusufovic said. "Just a magnificent effort, it is a credit to everybody. We've been doing it hard so it is a great reward.
"He wasn't great in the pre-parade. He put a dint in the rail. He reared up but the more we paraded him here today the better he got as it went along. It is only his second prep and he's still taking it all in.
"The Australian Guineas is the hope now and I'm pretty excited. I think what you saw today indicates that 1600 metres will be up his alley."
Pinstriped may be joined by Barb Raider, with Jerome Hunter's Group 1 Thousand Guineas (1600m)-placed filly adding the Group 3 TAB Vanity (1400m) to her victory in the Kennedy Oaks Trial (1800m) at Flemington in September.
It's just sensational, so much hard work goes in at home, all the staff and trackriders, we're a good team," Hunter said after Barb Raider's three-quarter length victory over Cardigan Queen and Ancient Girl.
"It's paid off. We're not the biggest stable but we certainly try our hardest. You just hope they come back and this whole preparation she's done everything 100 per cent. Just her demeanour as well. She's the best horse I've had by far.
"We'll think about the Australian Guineas but there are plenty of mile races for her."
The Listed Talindert Stakes (1100m) has launched some wonderful careers, with winners including Ingratiating, Ole Kirk, Microphone, All Too Hard, Star Witness and Miss Finland in the last two decades.
To the eye, I'mlovin'ya looks to be heading in the same direction after she produced a determined victory under Damian Lane in the two-year-old contest.
A homebred for Peter Creighton's United Syndications, the Mick Price and Michael Kent Jnr-trained I'mlovin'ya managed to put three-quarters of a length up on third generation Talindert placegetter Waltz On By with Lambda, in the Alan Bell colours of dual Lightning Stakes winner Schillaci, finishing strongly for third.
"That was great," said Price. "We raced the mother who still holds the 1100-metre track record here so that family has bloomed, and she becomes a nice stakes-winner by Capitalist.
"She's a baby still but the question will be asked whether to accept next week for the Blue Diamond but I don't know that one yet. I do think that she's a horse that will keep improving maturity-wise."
Added Lane: "She gives the feel of a nice horse. She's not really big but she makes up for it in her attitude and how hard she tries."
The $5 million Seppelt Wines All-Star Mile (1600m), which concludes the Flemington Racing Spectacular on Saturday March 19, may have a surprise contender after the Lindsey Smith-trained Corner Pocket won his eighth race from 10 starts in taking the Listed Elms Handicap (1400m) by three-quarters of a length.
Corner Pocket, whose only two defeats came at his first two starts, may now progress to the Group 2 Blamey Stakes (1600m) in two weeks, which offers a wildcard spot into the world's richest mile race.
"He's clearly come back better, I think," winning rider Declan Bates He last couple of gallops he really gave me the impression that he's gone to the next level.
"I didn't want to say that out loud until I saw him do it but today I think he duly has. Today he quickened up so well when the gap came and he pulled himself up and I felt like I had loads in the tank but when you go from following one to in front, they tend to wait and he does.
"He doesn't do any more than you ask and every time the bar has been raised he's gone and won. He's getting to the point where he is earning a tilt at a very good race."
The Flemington Racing Spectacular takes place over three Saturdays - March 5, March 12 and March 19 - with feature racing set to electrify Headquarters each weekend.
Image caption: I'mlovin'ya takes the Talindert Stakes for Peter Creighton's United Syndications. Credit: Racing Photos
System.Web.HttpException (0x80004005): Error executing child request for handler 'System.Web.Mvc.HttpHandlerUtil+ServerExecuteHttpHandlerAsyncWrapper'. ---> System.NullReferenceException: Object reference not set to an instance of an object.
   at ASP._Page_Views_Partials_googleAd_cshtml.Execute() in C:\home\site\wwwroot\Views\Partials\googleAd.cshtml:line 4
   at System.Web.WebPages.WebPageBase.ExecutePageHierarchy()
   at System.Web.Mvc.WebViewPage.ExecutePageHierarchy()
   at System.Web.WebPages.WebPageBase.ExecutePageHierarchy(WebPageContext pageContext, TextWriter writer, WebPageRenderingBase startPage)
   at System.Web.Mvc.RazorView.RenderView(ViewContext viewContext, TextWriter writer, Object instance)
   at System.Web.Mvc.BuildManagerCompiledView.Render(ViewContext viewContext, TextWriter writer)
   at Umbraco.Web.Mvc.ProfilingView.Render(ViewContext viewContext, TextWriter writer) in D:\a\1\s\src\Umbraco.Web\Mvc\ProfilingView.cs:line 25
   at System.Web.Mvc.ViewResultBase.ExecuteResult(ControllerContext context)
   at System.Web.Mvc.ControllerActionInvoker.InvokeActionResult(ControllerContext controllerContext, ActionResult actionResult)
   at System.Web.Mvc.ControllerActionInvoker.InvokeActionResultFilterRecursive(IList`1 filters, Int32 filterIndex, ResultExecutingContext preContext, ControllerContext controllerContext, ActionResult actionResult)
   at System.Web.Mvc.ControllerActionInvoker.InvokeActionResultFilterRecursive(IList`1 filters, Int32 filterIndex, ResultExecutingContext preContext, ControllerContext controllerContext, ActionResult actionResult)
   at System.Web.Mvc.ControllerActionInvoker.InvokeActionResultFilterRecursive(IList`1 filters, Int32 filterIndex, ResultExecutingContext preContext, ControllerContext controllerContext, ActionResult actionResult)
   at System.Web.Mvc.ControllerActionInvoker.InvokeActionResultFilterRecursive(IList`1 filters, Int32 filterIndex, ResultExecutingContext preContext, ControllerContext controllerContext, ActionResult actionResult)
   at System.Web.Mvc.ControllerActionInvoker.InvokeActionResultFilterRecursive(IList`1 filters, Int32 filterIndex, ResultExecutingContext preContext, ControllerContext controllerContext, ActionResult actionResult)
   at System.Web.Mvc.ControllerActionInvoker.InvokeActionResultWithFilters(ControllerContext controllerContext, IList`1 filters, ActionResult actionResult)
   at System.Web.Mvc.Async.AsyncControllerActionInvoker.<>c__DisplayClass3_6.<BeginInvokeAction>b__4()
   at System.Web.Mvc.Async.AsyncControllerActionInvoker.<>c__DisplayClass3_1.<BeginInvokeAction>b__1(IAsyncResult asyncResult)
   at System.Web.Mvc.Async.AsyncResultWrapper.WrappedAsyncResult`1.CallEndDelegate(IAsyncResult asyncResult)
   at System.Web.Mvc.Async.AsyncResultWrapper.WrappedAsyncResultBase`1.End()
   at System.Web.Mvc.Async.AsyncControllerActionInvoker.EndInvokeAction(IAsyncResult asyncResult)
   at System.Web.Mvc.Controller.<>c.<BeginExecuteCore>b__152_1(IAsyncResult asyncResult, ExecuteCoreState innerState)
   at System.Web.Mvc.Async.AsyncResultWrapper.WrappedAsyncVoid`1.CallEndDelegate(IAsyncResult asyncResult)
   at System.Web.Mvc.Async.AsyncResultWrapper.WrappedAsyncResultBase`1.End()
   at System.Web.Mvc.Controller.EndExecuteCore(IAsyncResult asyncResult)
   at System.Web.Mvc.Controller.<>c.<BeginExecute>b__151_2(IAsyncResult asyncResult, Controller controller)
   at System.Web.Mvc.Async.AsyncResultWrapper.WrappedAsyncVoid`1.CallEndDelegate(IAsyncResult asyncResult)
   at System.Web.Mvc.Async.AsyncResultWrapper.WrappedAsyncResultBase`1.End()
   at System.Web.Mvc.Controller.EndExecute(IAsyncResult asyncResult)
   at System.Web.Mvc.Controller.System.Web.Mvc.Async.IAsyncController.EndExecute(IAsyncResult asyncResult)
   at System.Web.Mvc.MvcHandler.<>c.<BeginProcessRequest>b__20_1(IAsyncResult asyncResult, ProcessRequestState innerState)
   at System.Web.Mvc.Async.AsyncResultWrapper.WrappedAsyncVoid`1.CallEndDelegate(IAsyncResult asyncResult)
   at System.Web.Mvc.Async.AsyncResultWrapper.WrappedAsyncResultBase`1.End()
   at System.Web.Mvc.MvcHandler.EndProcessRequest(IAsyncResult asyncResult)
   at System.Web.Mvc.MvcHandler.System.Web.IHttpAsyncHandler.EndProcessRequest(IAsyncResult result)
   at System.Web.Mvc.HttpHandlerUtil.ServerExecuteHttpHandlerAsyncWrapper.<>c__DisplayClass3_0.<EndProcessRequest>b__0()
   at System.Web.Mvc.HttpHandlerUtil.ServerExecuteHttpHandlerWrapper.<>c__DisplayClass5_0.<Wrap>b__0()
   at System.Web.Mvc.HttpHandlerUtil.ServerExecuteHttpHandlerWrapper.Wrap[TResult](Func`1 func)
   at System.Web.Mvc.HttpHandlerUtil.ServerExecuteHttpHandlerWrapper.Wrap(Action action)
   at System.Web.Mvc.HttpHandlerUtil.ServerExecuteHttpHandlerAsyncWrapper.EndProcessRequest(IAsyncResult result)
   at System.Web.HttpServerUtility.ExecuteInternal(IHttpHandler handler, TextWriter writer, Boolean preserveForm, Boolean setPreviousPage, VirtualPath path, VirtualPath filePath, String physPath, Exception error, String queryStringOverride)
   at System.Web.HttpServerUtility.ExecuteInternal(IHttpHandler handler, TextWriter writer, Boolean preserveForm, Boolean setPreviousPage, VirtualPath path, VirtualPath filePath, String physPath, Exception error, String queryStringOverride)
   at System.Web.HttpServerUtility.Execute(IHttpHandler handler, TextWriter writer, Boolean preserveForm, Boolean setPreviousPage)
   at System.Web.HttpServerUtility.Execute(IHttpHandler handler, TextWriter writer, Boolean preserveForm)
   at System.Web.HttpServerUtilityWrapper.Execute(IHttpHandler handler, TextWriter writer, Boolean preserveForm)
   at System.Web.Mvc.Html.ChildActionExtensions.ActionHelper(HtmlHelper htmlHelper, String actionName, String controllerName, RouteValueDictionary routeValues, TextWriter textWriter)
   at System.Web.Mvc.Html.ChildActionExtensions.Action(HtmlHelper htmlHelper, String actionName, String controllerName, RouteValueDictionary routeValues)
   at Our.Umbraco.DocTypeGridEditor.Web.Extensions.HtmlHelperExtensions.RenderDocTypeGridEditorItem(HtmlHelper helper, IPublishedElement content, String editorAlias, String viewPath, String previewViewPath, Boolean isPreview)
   at ASP._Page_app_plugins_doctypegrideditor_render_DocTypeGridEditor_cshtml.Execute() in C:\home\site\wwwroot\app_plugins\doctypegrideditor\render\DocTypeGridEditor.cshtml:line 34
   at System.Web.WebPages.WebPageBase.ExecutePageHierarchy()
   at System.Web.Mvc.WebViewPage.ExecutePageHierarchy()
   at System.Web.WebPages.WebPageBase.ExecutePageHierarchy(WebPageContext pageContext, TextWriter writer, WebPageRenderingBase startPage)
   at System.Web.Mvc.RazorView.RenderView(ViewContext viewContext, TextWriter writer, Object instance)
   at System.Web.Mvc.BuildManagerCompiledView.Render(ViewContext viewContext, TextWriter writer)
   at Umbraco.Web.Mvc.ProfilingView.Render(ViewContext viewContext, TextWriter writer) in D:\a\1\s\src\Umbraco.Web\Mvc\ProfilingView.cs:line 25
   at System.Web.Mvc.HtmlHelper.RenderPartialInternal(String partialViewName, ViewDataDictionary viewData, Object model, TextWriter writer, ViewEngineCollection viewEngineCollection)
   at System.Web.Mvc.Html.PartialExtensions.Partial(HtmlHelper htmlHelper, String partialViewName, Object model, ViewDataDictionary viewData)
   at System.Web.Mvc.Html.PartialExtensions.Partial(HtmlHelper htmlHelper, String partialViewName, Object model)
   at ASP._Page_Views_Partials_grid_editors_Base_cshtml.Execute() in C:\home\site\wwwroot\Views\Partials\grid\editors\Base.cshtml:line 20