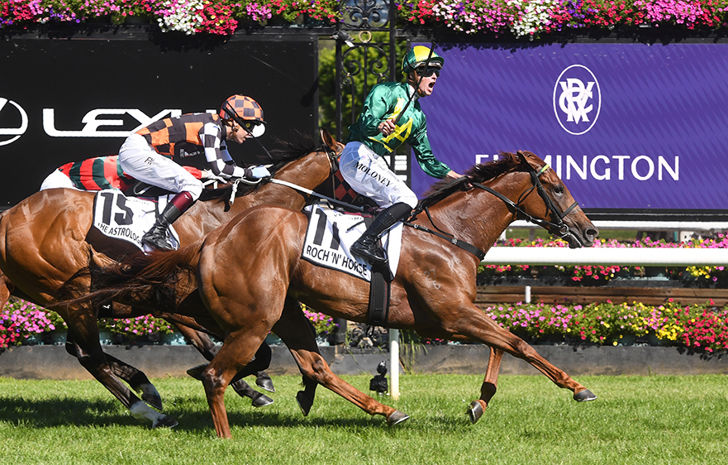 Roch 'n' Horse a surprise Yulong Stud Newmarket Handicap winner
12 March 2022
•
Written by
VRC
Whichever way you look at it, Saturday's $1.5 million Group 1 Yulong Stud Newmarket Handicap (1200m) was historic.
Never before had a winner started at triple figures, despite the fact that the Yulong Stud Newmarket Handicap is known as one of the best betting races of the year.
Not since 1887 had an eventual Newmarket winner entered the contest off a run in New Zealand.
Never before had jockey Patrick Moloney won a Group 1 race, while Flemington-based trainer Mike Moroney had won a host of Group 1 races at his home track but never one below 2000m.
All of those truisms were cast aside in just over a minute of thunderous Flemington action as the Moroney-trained Roch 'n' Horse defied her $101 quote to take the world's richest sprinting handicap.
Roch 'n' Horse led home fellow longshot The Astrologist with last year's beaten favourite September Run producing a tremendous first-up effort in third.
All three finished on the far side, closest to the winning post, with another Kiwi mare Levante leading home the contingent on the stands side.
It was a first Group 1 win for Roch 'n' Horse, who had just been beaten by Levante in the Group 1 The Telegraph (1200m) at Trentham at her last start in January.
"I thought the New Zealand sprinters were up to it," Moroney said. "A lot of people didn't think they were but I was pretty sure with what I've seen there that they were.
"We were always going to get to Australia, it was just a matter of which carnival. We thought this was the right place for her."
It was a first Group 1 win for 28-year-old Moloney, who had gone close on a number of occasions but finally broke through for his maiden success at the highest level.
"It's massive," he said. "My fiancee Jess is down here and I don't think she's ever seen me cry. It is just more for my family, they have put a lot of effort behind me, getting me where I am today.
"Whether it was mum carting me around the shows early doors and Dad, this one is just as much for Dad as it is for me. My biggest supporter, biggest critic but he's my best mate.
"Just massive. I can't thank everyone enough and the horse today just, she was in the zone.
"Things couldn't have worked out any better. I said to Mike early that I thought we'd go down to the fence and follow the fence. It is as good as anywhere and we got a beautiful cart on the back of September Run and I peeled her to the outside early enough and she just went bang for me."
The decision to remain to the inside paid off and Moloney said it was a point of conjecture pre-race.
"There was a bit of talk in the rooms, a lot of the big dangers were on the outside and we thought there was no point being halfway up there inside of the track and trying to fight them on our outside," he said.
"We thought, as a team, we ride down on the fence and see if that was our best chance and we had a good cart up on the back of Finance Tycoon, The Astrologist and September Run."
In emotional post-race scenes, Little Avondale Stud's Catriona Williams - a tetraplegic after a fall two decades ago - welcomed back Roch 'n' Horse to the winner's stall, having made the trek from Masterton in New Zealand this morning.