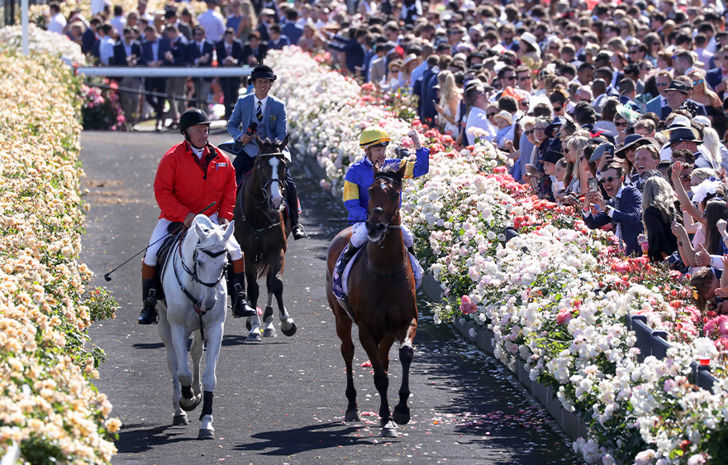 Santa Ana Lane honoured in Sprint Series rename
10 May 2022
•
Written by
Patrick Bartley
For decades now the Ramsden family have been a successful entity in horse racing in some of the state's most important races. Five-time Group 1 winner Santa Ana Lane gave them many reasons to celebrate in an illustrious career.
The late Andrew Ramsden, a former chairman of the VRC, gathered together a group of friends from the well-known city venue The Australian Club in the late 1970s to form what turned out to be a highly successful investment.
All named after streets that surrounded the club, the horses that they purchased included Melbourne Cup winner Gurner's Lane, and outstanding stayer Paris Lane.
It seemed that the Ramsden family were content to race Melbourne Cup winners and Caulfield Cup winners. However, one horse emerged that debunked the staying theory. 
Ramsden's son Michael and current VRC vice-chairman, speaking from New York where he is on a business tour, explained that Santa Ana Lane proved to be a very different racehorse than all of the stayers that had carried the Ramsden colours in the past.
"Normally we look for stayers, but have broadened it to good types.
"He (Santa Ana Lane) was supposed to be a stayer and his breeding suggested around 2000 metres would be his ideal distance." - Michael Ramsden
"We tried him over a mile but I guess he didn't read his breeding page," Ramsden said.
However, Santa Ana Lane did something right, and his remarkable career managed to collect $8,236,336 in prize winnings.
Now Ramsden is very glad that he bought the Lope De Vega colt who is out of a good race mare First Fleet.
"Lope De Vega was a Spanish poet who was in the Spanish Armada and Santa Ana was the name of one of their boats.
"We always have Lane in the name, that's been part and parcel of our syndicates. For this horse we've got to thank Justin Bahen who paid $80,000 for Santa Ana Lane at the Victorian sales," he said.
In honour of Santa Ana Lane and his five-time Group 1 winning record that included the VRC Sprint Classic, the Club has unanimously voted to rename the all Victorian sprint series to the Santa Ana Lane Sprint Series as part of the winter racing championship, of which other heats will be run on the day.
Co-trainer Sam Freedman said that Santa Ana Lane was a joy for he and his father to train and believes his record underlines the versatility that Santa Ana Lane possessed.
The sprinter won Group 1 races in Victoria, South Australia, New South Wales and Queensland.
Freedman believes that Santa Ana Lane's success, who raced into prominence by winning the Wagga Town Plate in 2018, was because of the horse's slow start to racing.
"I don't think a lot of people rated him highly at first because he was a horse that didn't race in his two- and three-year-old days very much because of nagging, niggling problems that he just struggled to overcome.
"But when he did, he got stronger and better. His first real glimpse of true ability probably surfaced at Wagga in the Town Plate which is one of the toughest sprint races in country New South Wales.
"But once he hit his straps, he was able to win Group 1 races across the nation." - Sam Freedman
After four years of brilliant racing, Santa Ana Lane is now retired and relaxing and residing at Living Legends where he brings much joy to visitors. He will be on course at Flemington on Andrew Ramsden Race Day.
And for Michael Ramsden and his friends, it seems that success on the sprinting side of racing is just as good as owning a stayer, considering eight Group 1 wins is hard to get out of any horse.