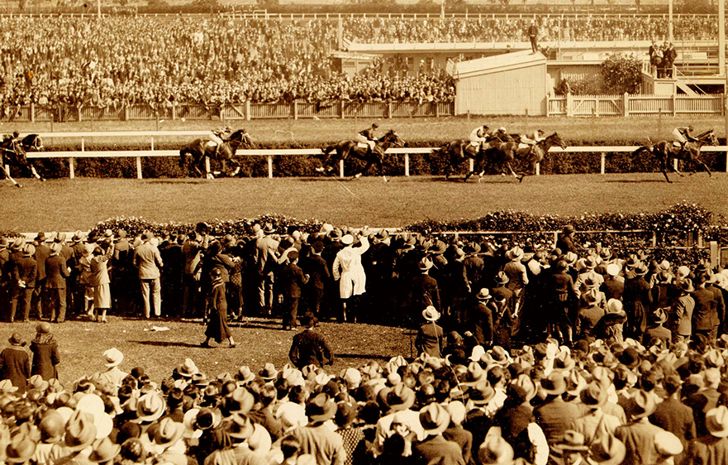 Shadow King - The Subzero of the 1930s
25 October 2021
•
Written by
Andrew Lemon
Last year I wrote these words about Subzero after he died at the grand equine age of 31 years, soon after the passing of his long-time custodian and friend, Graham Salisbury:
"As a 4 year-old grey gelding, still with a touch of black in his coat, Subzero in 1992 brilliantly won Australia's greatest race, trained by Lee Freedman, expertly ridden by Greg Hall. He retired soon after with a racing record of six wins that included a South Australian Derby and the Adelaide Cup. But it was in retirement, as the mild-mannered mount of the Clerk of the Course – especially at Flemington, scene of his greatest racing victory – that Subzero began winning his way into the hearts of so many Australians.
"Graham Salisbury trained Subzero so patiently, so skillfully, so lovingly into the role of Clerk of the Course that horse and handler then embarked on a further joint career, as unique racing ambassadors." 
Before there was "Subbie" there was Shadow King – a hero on the track, a people's favourite long after the racing career was over.
Shadow King was a different kind of champion to the immortals of his era – Phar Lap, Peter Pan and Hall Mark – each of whom deprived him of a Melbourne Cup victory. He was a hero for the courage, consistency and endurance he showed on the racetrack. He was a celebrity because of what he did next.
He was a bay gelding, son of the 1910 Melbourne Cup winner Comedy King, trained by Elwood Fisher at Flemington until 1935, and then by Roy McCormick at Mentone. Shadow King was small for a thoroughbred, but full of spirit.
The racing record was impressive by any measure. Shadow King's top class wins in more than 100 starts included the 1929 VRC Hotham Handicap (today's Lexus Hotham Handicap), the 1930 Moonee Valley Cup, the 1930 Coongy Handicap and the 1931 Herbert Power at Caulfield, and the 1933 Williamstown Cup (the Zipping Classic).
But his racing fame rests on his record six unsuccessful Melbourne Cup quests. He finished sixth the first time – behind Nightmarch, Paquito and Phar Lap – before four second or third placings in the next four runnings of the big race. At his final appearance, after a year's break, he finished a close fourth. Here is his tally:
1929   Sixth (ridden by Jack O'Brien) behind Nightmarch
1930   Third (Pat Tehan) behind Phar Lap and Second Wind
1931   Second (William Scanlon) to White Nose
1932   Third (Ernie Baxter) behind Peter Pan and Yarramba
1933   Second (Scobie Breasley) to Hall Mark
1935   Fourth (Scobie Breasley) behind Marabou
The only other horse until recent times to achieve three Cup minor placings was the mare Sarcherie, in 1934, 1935 and 1937. The British galloper Red Cadeaux scored three second-places, in 2011, 2013 and 2014. He competed again in 2015 but injured himself in the running. Prince of Arran, recently retired, finished third, second and third in the last three editions of the Lexus Melbourne Cup.
Apart from these, only the great Makybe Diva with her three victories from 2003 to 2005 can boast three placings in the Cup. This leaves Shadow King in a category all of his own.
By the end of his turf career at age 10, he had become 'Old Shadow' to the public, cheered at every appearance. His final race was at Flemington, unplaced in the Bagot Handicap, New Year's Day 1936. 
His owner, Frank Shillabeer, was a wealthy building contractor, chairman of the Victorian Club in the city and a committeeman at Williamstown Racing Club. He announced that his favourite would spend retirement in 'quiet and contentment'. Instead the popular Shadow King was back at Flemington on Melbourne Cup Day 1936 – in his new role as a police trooper's mount.
Ridden by Mounted Constable Roy Cameron, Old Shadow patrolled the steeplechase track behind the winning post. He returned to Flemington in this official capacity for the next three Melbourne Cups, to the cheers of the racing public.
Stabled at the police barracks in St Kilda Road, he similarly officiated at other race meetings and undertook regular mounted police duties.
A story arose after his death that Shadow King was neglected in his final years, but this is not so. He continued police work until at eighteen, in declining health, he was retired permanently to the Police Paddock, now Bundoora Park, under the supervision of Senior Constable Joseph Haygarth. Despite all care, Shadow King's condition deteriorated and he was euthanised the following August, 1944.
Shadow King was honoured in death, buried next to the great racehorse and sire Wallace, son of Carbine, from the days when Bundoora Park was a leading stud farm. Victoria Police immediately erected a memorial stone over the grave. The Heritage Park site can still be visited by the public today.
Image: Finish of the 1931 Melbourne Cup. Shadow King places second to winner White Nose. (Australian Racing Museum)