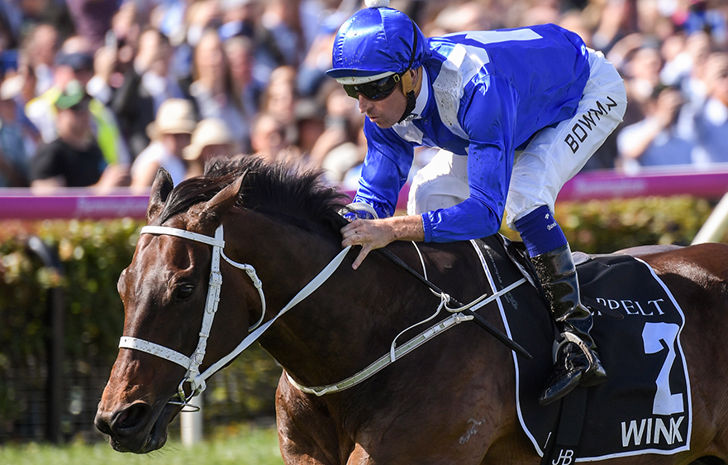 She's a perfect 10
28 September 2021
•
Written by
VRC
Winx was the mare that truly stopped a nation, time and time again. Recently celebrating her tenth birthday, we take a look back at where the champion came from, and her journey now.
Winx's future dominance was unimaginable during her early career, where the mare was highly promising but by no means exceptional.
After winning her first three starts, Winx finished second twice in 2014 in Randwick features the Group 2 Tea Rose Stakes, then the Group 1 Flight Stakes, where she was soundly conquered on both occasions by the John Thompson trained First Seal.
Winx's next five starts would yield victory in the Phar Lap Stakes (G2) plus three unplaced runs, plus a second in the Group 1 ATC Australian Oaks (2400m) before she was given a freshen up.
This is when the penny dropped, with Winx returning midway through 2015 to take out the Sunshine Coast Guineas to kick off her winning streak.
One of Winx's owners Debbie Kepitis considers the barnstorming last-to-first victory the moment she knew the horse "had something special".
Watching Winx's heroics on the racetrack always triggered a rollercoaster of emotions, as Kepitis commented at the height of Winx's career.
"It's quite tense. It's quite stressful. But none of that makes a difference on race day with her. She just goes out and does the job that she knows and loves and does so well."

Kepitis admits momentarily thinking Winx would get beaten several times, especially in the 2018 Turnbull Stakes at Flemington when caught behind a wall of horses, but then marvelling at her uncanny ability to find extra gears and prevail.
"In the Turnbull when she was caught behind everything it was like, 'Oh my gosh, this is going to be it [the time she loses] we better just think about this and just watch it. It's fine, it doesn't matter, she has done her job and we're just pleased that she's alright.' And then she just steps out and comes home," said Kepitis.
It's a feeling fellow part-owner Peter Tighe became familiar with while watching his mare grow into a superstar. "We look back very fondly on what she's done and the achievements she's made but the most recent achievement (four Cox Plates) probably hasn't sunk in yet," Tighe said, a month after the milestone. "She seems to be able to defy the odds and keep winning. We have a great build-up before each race, a spectrum of feelings and things like that, but after the race you can sort of look at it and go, 'I don't know what we were all worried about' because she just goes and does what she likes doing."
Often legends such as Winx can be seen as almost mythical creatures, superstars that simply do the job on the track. Her owners shared insight about her however away from the racetrack, which paints a picture of an "independent soul". Kepitis described her as liking to "go about her business".

"In the early days she didn't want to be brushed and she just pushed [strappers] Umut Odemislioglu and Candice Persijn off, but she was never nasty about it. She is a really happy and content horse who doesn't want a lot of affection, doesn't want a lot of cuddles or pats or anything like that, but if she's in the mood for it, she'll let you nuzzle up next to her and that's a beautiful feeling."
Tighe agreed. "You wouldn't say she's a playful type of horse. She's a very sensible woman who knows what she likes and she does what she likes, so she looks after herself very well and knows what's going on around her," he said.
Now, ten-year-old Winx is comfortably residing in the Hunter Valley. Almost a year since the tragic loss of her first foal during pregnancy, the Winx Ownership Group has announced that she will be visiting sire Pierro (sired by Lonhro, and five-time Group 1 winner)for this year's 2021 breeding season. "Winx has been given a full year to recover from her ordeal and we are pleased to report that the mare has returned in great condition. She has been enjoying life on the farm with some friends while she is preparing to go back to the breeding barn this Spring," the statement read.
Winx's first foal will inevitably be one of the most sought-after yearlings in the country, and the racing world will be waiting with anticipation and excitement for what might be the next great champion.
Winx and the Turnbull Stakes
Although Winx was trained in Sydney by Chris Waller, it seemed to be a mission to add a Group 1 victory at Flemington to round out her CV. Not that anyone needed convincing that she was a champion, it appeared important to the stable to win at Flemington as she reached the peak of her career. In the Group 1 2017 TAB Turnbull Stakes, it would take all the star qualities of a champion and the adept skills of acclaimed rider Hugh Bowman to get the mare across the line. While punters were having heart palpitations 200 metres from home, Bowman knew the horse underneath him and when he put his foot to the floor, it was over in a blink. Winx would return one year later and repeat the performance in the same race, but on this day in 2017 it truly was a remarkable effort and one that adds her to a list of champion gallopers to win at Flemington.
25 Group 1 victories
Winx's 25 Group 1 wins consist of four Cox Plates (2015, 2016, 2017, 2018), four Chipping Norton Stakes (2016, 2017, 2018, 2019), four George Ryder Stakes (2016, 2017, 2018, 2019), three Queen Elizabeth Stakes (2017, 2018, 2019), three George Main Stakes (2016, 2017, 2018) and two Turnbull Stakes (2017, 2018), plus a Doncaster Mile (2016), Caulfield Stakes (2016), Epsom Handicap (2015), Winx Stakes (2018) and Queensland Oaks (2015).