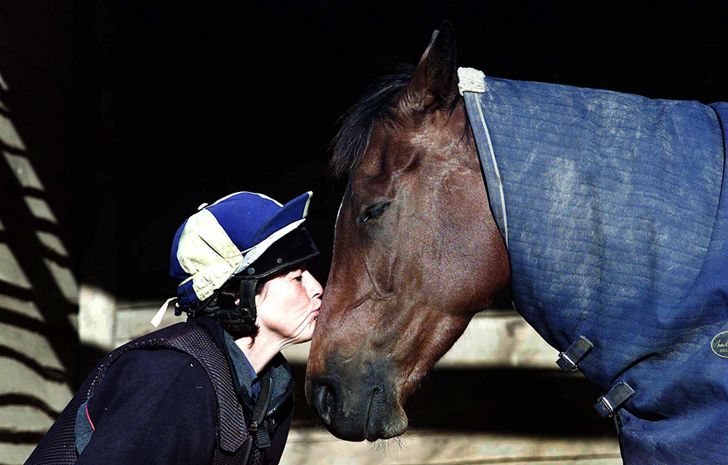 Sheila Laxon reflects on her Cup victory 20 years on
22 October 2021
•
Written by
Joe McGrath
There is a sense of déjà vu this spring especially when you reflect back on the spring of 2001. The Melbourne Cup betting was wide open and there was plenty of rain about.
And for Sheila Laxon, trainer of Ethereal and the first female trainer of a Melbourne Cup winner, there are only fond memories as she reflects back on what was a stellar period in her life. But following closer observation, if not for a couple of momentous decisions, Ethereal's name may never have been added to Australian racing folklore."Leading into the Caulfield Cup, there was not the fixed intention of running in the Melbourne Cup.
"The target was the Hong Kong Cup run in December.
"Ethereal's mother Romanee Conti had won the same race and the owners (Sir Peter and Phillip Vela) were keen to follow the same path.
"But while she was entered there was no guarantee she would be invited. Her mother wasn't invited the year after she won so how would it be for Ethereal?
"I had suggested she was still entered in the Melbourne Cup and maybe we should consider running her," explained the former Welsh-come-Kiwi-come-pseudo Aussie.
"I gave her the day off after the Caulfield Cup … worked her on the Monday and was that pleased with how she pulled up, I suggested we keep going onto Flemington for the Melbourne Cup."
"It got a bit tense with connections as everyone had a view as to what she should be doing next."There were options … but lots of talk as to which was the right one.
"I always had confidence in Ethereal, but thinking she could win the Melbourne Cup, was another thing," Laxon added.In doing so, Ethereal became the eleventh and most recent horse to complete the Caulfield and Melbourne Cup double. Incentivise will join an illustrious club if he can complete the double.
For the record the following have completed the double:
Poseidon (1906); The Trump (1937); Rivette (1939); Rising Fast (1954), Even Stevens (1962): Galilee (1966); Gurner's Lane (1982); Let's Elope (1991); Doriemus (1995); Might and Power (1997) and Ethereal (2001).
Empire Rose – more than a learning experience
While Laxon declares she didn't know much about the Melbourne Cup when she first arrived in Australia all those years ago, she subsequently got first-hand experience from a previous Cup winner.
"I had worked for Laurie Laxon (future husband) in Cambridge, New Zealand and we brought Empire Rose out to run in the 1987 (2nd), 1988 (1st) and 1989 (15th) Cups.
"I learnt very quickly about the importance of the Melbourne Cup and I would think those experiences put me in good stead with Ethereal," Laxon said.
Of course Empire Rose ran second, narrowly, to Kensei in the 1987 Cup before going one better the following year in 1988. She was one of the biggest mares to have raced at Flemington but like a lot of the Sir Tristram stock, enjoyed a distance and the vast open spaces at Flemington.
Sir Tristram would sire Gurner's Lane (1982), Empire Rose (1988) and Brew (2000) – all Melbourne Cup winners. And Sir Tristram's sire son, Zabeel would add to the tally of Cups having sired Might and Power (1997), Jezabeel (1998) and Efficient (2007) – all additions to the Melbourne Cup honour roll at Flemington.
But while getting to Flemington on the first Tuesday in November was one thing, running was another.
"Right up until an hour before there was a lot of speculation about whether she would run or not.
"Although there was no rain at Macedon Lodge (70 km north-west of Melbourne) where she was based, the heavens opened at Flemington and there was a lot of talk about whether she would handle the track.
"Scott Seamer had walked the track several times as did Brent Thompson who was racing manager for the Velas at the time.
"Not quite sure who had the final say but fortunately, the decision was made to run.
"Imagine if we didn't?!"
While a matron now at stud, Ethereal will go down with enviable career stats of 21 race starts for eight wins and $4.76 million in prizemoney, including the 2001 Caulfield and Melbourne Cup double as well as the 2002 BMW Stakes at Rosehill and the 2001 Queensland Oaks at Eagle Farm. All Group 1 races.   
In recent years, Laxon lives and trains up on the Sunshine Coast in Queensland with partner and trainer, John Symons and while engaging with activities connected with the Lexus Melbourne Cup Tour as one of its ambassadors, always reflects back with fond memories that unfolded in the spring of 2001.
"Ethereal was an amazing mare who did so much for my career.
"There is no doubt she had a mind of her own. She was her own person – so to speak.
"But I knew early on when breaking her in, she was something special.
"It's great she is remembered by the Ethereal Stakes at Caulfield on Caulfield Cup Day and her memory lives on," an understated Laxon explains.
It is not lost on Laxon as to her place in history. She is often acknowledged as the first female trainer of a Melbourne Cup winner ahead of fellow contemporary, Gai Waterhouse who trained Fiorente to win in 2013.
While considering herself to be in rare company she has always credited the efforts of New Zealand trainer 'Granny' McDonald who in 1938 was denied the opportunity to be listed as the first female Melbourne Cup winning trainer. This was due to the fact there were no female licences issued at the time in the state of Victoria. The answer to that conundrum was to transfer the 8YO into the name of her husband, Alan. Fortunately, policy has progressed since those days.   
Life could have produced many outcomes for Ethereal. Fortunately for the Velas, Sheila Laxon and Scott Seamer, it proved to be the most favourable.
Image: Trainer Sheila Laxon with racehorse Ethereal at Macedon Lodge(Colin Murty/Newspix)
Image: Racehorse 'Empire Rose', ridden by jockey Tony Allan, wins the 1988 Melbourne Cup from 'Natski. (News Limited)