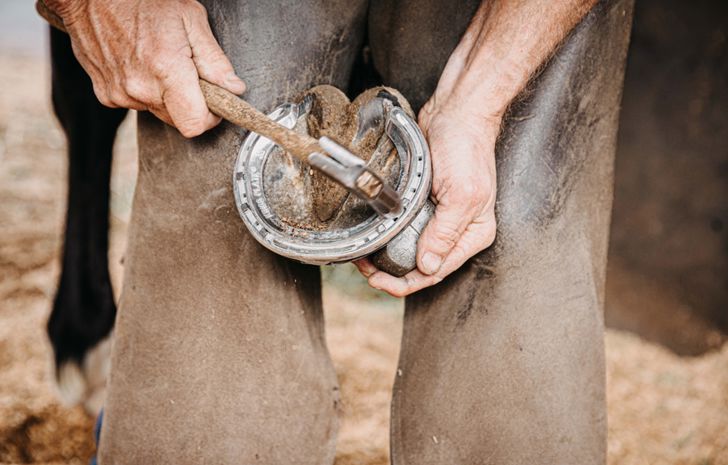 Sole man
12 July 2021
•
Written by
VRC
The old adage of 'no foot, no horse' is one of the truest things you will hear in the sport of racing. Without healthy hooves, horses have no chance of reaching their full potential on the track. Mick Grogan master farrier, has had a long and successful career looking after the feet of many champions.
The trade of farriery is understandably one of the most essential parts of the team preparing a horse for racing. If a horse's feet are imbalanced or overgrown, the chances of orthopaedic injury increase. An imbalance can place strain on ligaments, joints and tendons that may lead to injury. Having a farrier who trims and shoes horses regularly will decrease this risk.
Michael Grogan is one such person. A master farrier who treats many of the biggest names in racing, he has worked with horses from a young age, commencing his farrier apprenticeship at the young age of 15. "What I love about my job is that I get to work collaboratively with stable staff, trainers and vets to achieve the one goal. There is a real reward for effort and a sense of achievement."
Shoeing the feet of some of the most well-known equine athletes in racing has meant that Grogan has formed bonds with many horses, but one past champion struck a particular chord. "Watching Might And Power win the 1997 Melbourne Cup leading from start to finish is my favourite racing moment, and then watching him win the 1998 Cox Plate after I had rectified a foot issue he had would be the best moment of my career," he said.
He also has a soft spot for Zipping, and more recently, a new kid on the block. "I admired Zipping because he won the Sandown Classic on four occasions, after racing in the Melbourne Cup prior each year. Now, I'm excited to work with up-and-comers such as Johnny Get Angry. It was great to see him win last year."
Farriers are true multitaskers, and their job requires a number of skills. Not just confined to the foot, they have a sound knowledge of the horse's legs and hooves and must be able to identify any irregularities in gait. Working closely with equine vets, they assess if there is any abnormal wear or bruising caused by the horse's current shoe or activity. As hooves are like human fingernails and hair, they grow and need regular attention. Farriers adjust the shape of shoes, working with hammers, anvils and a hot forge. Blacksmithing skills are therefore essential. They also have basic psychological knowledge of horses, and an ability to read it's temperament. A farrier may be alone with a horse they don't know very well, so need to be able to pick up the signs if something is not right, and respond accordingly. "Working with young, inexperienced horses is the most challenging part of my job," said Grogan.
A stalwart of the industry for 35 years, Grogan respects the attitude of those who work within it. "I admire those that hold a 'don't give up' attitude because they are the ones that make you realise that little achievements matter. I also like the camaraderie involved to achieve the best out of each horse."
When not working, you can find Grogan cooking, eating and taking mini-breaks, sampling a life beyond the track as he works towards retirement.
DID YOU KNOW?
No horse's foot is the same shape. Shoes need to be tailored to every foot.
A horseshoe's life cycle is typically 3 to 4 weeks.
Beyond the age of about three, a horse's foot won't grow much more.