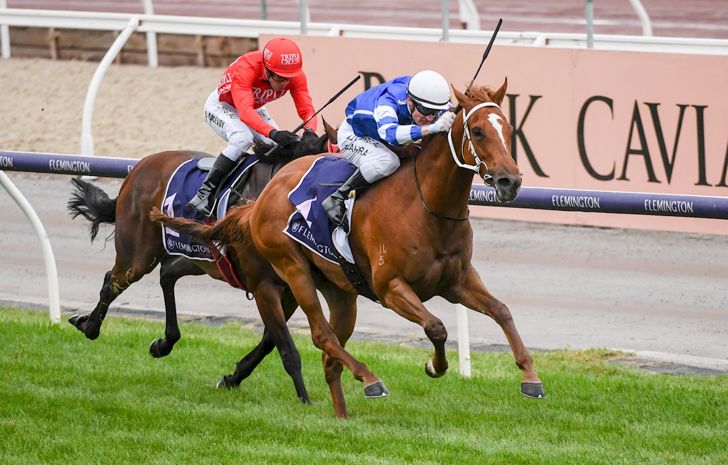 Spectacular Black Caviar Lightning card to set Flemington alight
16 February 2022
•
Written by
VRC
The $1 million Black Caviar Lightning (1000m) is set to reclaim its mantle as Australia's leading Group 1 sprint after a stellar group of nine accepted for Saturday's feature this morning.
Among them are the top five Australian sprinters of 2021, as determined by the Longines World's Best Racehorse Rankings: Melbourne Cup Carnival winners Nature Strip and Home Affairs, South Australian raider Gytrash, rags to riches tale Eduardo and the highly exciting Masked Crusader.
Both defending champion Nature Strip and 2020 hero Gytrash will be aiming to add their name to the Black Caviar Lightning honour roll for the second time, joining a rare group that includes the legendary mare herself Black Caviar, the versatile Mahogany and grey flash Schillaci as multiple winners of Australia's only Group 1 race at 1000m.
The field also includes last year's Black Caviar Lightning placegetter Swats That, her Group 3-winning stablemate The Astrologist, dual Singapore Group 1 winner The Inferno and speedy three-year-old Profiteer, a last-start course and distance winner on Lexus Melbourne Cup Day.
The Black Caviar Lightning will be run at 4:25pm, the seventh of nine races on the Flemington card.
While the Group 1 feature holds pride of place on Black Caviar Lightning Race Day on Saturday, the supporting races offer some tantalising clues ahead of next month's Flemington Racing Spectacular.
The Listed Elms Handicap (1400m), a new addition to this card in 2022, will see 13 runners aiming to press their claims for the Group 2 TAB Blamey Stakes (1600m) on March 5 and, ultimately, the $5 million The Seppelt Wines All-Star Mile (1600m) on March 19.
Horses like Elephant, Regalo di Gaetano and Mr Brightside return on Saturday, following a Flemington path that their connections hope will end in a berth in The Seppelt Wines All-Star Mile.
The Elms Handicap will feature a rematch between last year's Group 1 Australian Guineas (1600m) one-two Lunar Fox and Cherry Tortoni, while others of note are Group 1-performed stablemates Junipal and Grandslam – both running for the first time since March 27 last year – as well as Melbourne Cup Carnival winner Age Of Chivalry and exciting prospect Corner Pocket.
The Group 3 C S Hayes Stakes (1400m) and the Group 3 TAB Vanity (1400m) are both lead-ups for the $1 million Australian Guineas on March 5.
The three-year-old colts and geldings will go head-to-head in the C S Hayes Stakes, with Group 1 winner Captivant headlining a strong field of 13.
He will tackle dual Group 2 winner Forgot You, Flemington Group 2 winner Lightsaber, Group 1 Penfolds Victoria Derby (2500m) runner-up Alegron and unbeaten trio Pinstriped, Pascero and Corona Lad.
Flemington trainers Ben and JD Hayes will saddle up Galleon as they attempt to win the race named after their legendary grandfather Colin. The late patriarch of the Hayes dynasty won this race only once, preparing the remarkable Zabeel to take the prize in 1990, while Colin's son and Ben and JD's father David won the race twice.
In an appropriate nod to history, Galleon will sport the Sangster green and royal blue colours which were carried by Beldale Ball to win the 1980 Melbourne Cup – the first of two wins in the "race that stops the nation"™ for C S Hayes.
The TAB Vanity sees 11 fillies do battle, led by Barb Raider, winner of the Kennedy Oaks Trial (1800m) at Flemington and third in the Group 1 Thousand Guineas (1600m).
While history has shown that it is sometimes the fillies who are beaten in this race who go on to achieve greatness – think Verry Elleegant (second, 2019), Jameka (fourth, 2016) and Mosheen (second, 2012) in the last decade alone – the TAB Vanity is a lucrative prize in its own right with an honour roll that includes Southern Speed, Solicit, Kenedna and Amphitrite.
The field includes seven last-start winners: Cardigan Queen, Minouche, Rioyuki, Finepoint, Ancient Girl, Genuinely and Tiara Jewel. Also creating interest is Socialist, third in the $2 million Magic Millions 3YO Guineas (1400m) at her most recent start.
One of the most fascinating races on the card is the Listed Talindert Stakes (1100m), traditionally the last opportunity for two-year-olds to gain a start in next weekend's Group 1 Blue Diamond Stakes (1200m) at Caulfield.
Among the acceptors is Cythera, whose only start in the Listed Lonhro Plate (1000m) resulted in a victory, as well as Group 3 Maribyrnong Plate (1000m) runner-up Renosu.
Debutants Castillian, Latvian and Zennzella will attempt to continue a good record for first-starters in the Talindert, with four of the last 10 winning the race at their maiden appearance.
It is fitting that, on Black Caviar Lightning Race Day, there have been two Talindert winners who have been closely related to the champion mare: 2012 victor All Too Hard, her half-brother, and 2020 hero Ole Kirk, whose dam Naturale is a sister to Black Caviar.
This year, the closest link comes through her trainer Peter Moody, who saddles up the immaculately bred Waltz On By. The filly is a daughter of Group 1 winner Stay With Me, who ran second in this race on debut in 2015, while Stay With Me is herself a daughter of five-time Group 1 winner Miss Finland, who won the Talindert Stakes in 2006.
Other interesting runners on the card include Listed Bagot Handicap (2800m) winner Tigertiger, who will contest The Stud and Stable Staff Awards Handicap (2000m); Group 1 TAB Australian Cup (2000m) entrant Tuvalu in the #BuyBetter at Inglis Premier Yearling Sale (1600m) and unbeaten mare Yonce in the Vale Jack Styring Trophy (1600m).
The first at Flemington is at 12:40pm.
Caption: Gytrash will attempt to win his second Black Caviar Lightning after taking the Group 1 in 2020.
Next race day
System.Web.HttpException (0x80004005): Error executing child request for handler 'System.Web.Mvc.HttpHandlerUtil+ServerExecuteHttpHandlerAsyncWrapper'. ---> System.NullReferenceException: Object reference not set to an instance of an object.
   at ASP._Page_Views_Partials_googleAd_cshtml.Execute()
   at System.Web.WebPages.WebPageBase.ExecutePageHierarchy()
   at System.Web.Mvc.WebViewPage.ExecutePageHierarchy()
   at System.Web.WebPages.WebPageBase.ExecutePageHierarchy(WebPageContext pageContext, TextWriter writer, WebPageRenderingBase startPage)
   at System.Web.Mvc.RazorView.RenderView(ViewContext viewContext, TextWriter writer, Object instance)
   at System.Web.Mvc.BuildManagerCompiledView.Render(ViewContext viewContext, TextWriter writer)
   at Umbraco.Web.Mvc.ProfilingView.Render(ViewContext viewContext, TextWriter writer) in D:\a\1\s\src\Umbraco.Web\Mvc\ProfilingView.cs:line 25
   at System.Web.Mvc.ViewResultBase.ExecuteResult(ControllerContext context)
   at System.Web.Mvc.ControllerActionInvoker.InvokeActionResult(ControllerContext controllerContext, ActionResult actionResult)
   at System.Web.Mvc.ControllerActionInvoker.InvokeActionResultFilterRecursive(IList`1 filters, Int32 filterIndex, ResultExecutingContext preContext, ControllerContext controllerContext, ActionResult actionResult)
   at System.Web.Mvc.ControllerActionInvoker.InvokeActionResultFilterRecursive(IList`1 filters, Int32 filterIndex, ResultExecutingContext preContext, ControllerContext controllerContext, ActionResult actionResult)
   at System.Web.Mvc.ControllerActionInvoker.InvokeActionResultFilterRecursive(IList`1 filters, Int32 filterIndex, ResultExecutingContext preContext, ControllerContext controllerContext, ActionResult actionResult)
   at System.Web.Mvc.ControllerActionInvoker.InvokeActionResultFilterRecursive(IList`1 filters, Int32 filterIndex, ResultExecutingContext preContext, ControllerContext controllerContext, ActionResult actionResult)
   at System.Web.Mvc.ControllerActionInvoker.InvokeActionResultFilterRecursive(IList`1 filters, Int32 filterIndex, ResultExecutingContext preContext, ControllerContext controllerContext, ActionResult actionResult)
   at System.Web.Mvc.ControllerActionInvoker.InvokeActionResultWithFilters(ControllerContext controllerContext, IList`1 filters, ActionResult actionResult)
   at System.Web.Mvc.Async.AsyncControllerActionInvoker.<>c__DisplayClass3_6.<BeginInvokeAction>b__4()
   at System.Web.Mvc.Async.AsyncControllerActionInvoker.<>c__DisplayClass3_1.<BeginInvokeAction>b__1(IAsyncResult asyncResult)
   at System.Web.Mvc.Async.AsyncResultWrapper.WrappedAsyncResult`1.CallEndDelegate(IAsyncResult asyncResult)
   at System.Web.Mvc.Async.AsyncResultWrapper.WrappedAsyncResultBase`1.End()
   at System.Web.Mvc.Async.AsyncControllerActionInvoker.EndInvokeAction(IAsyncResult asyncResult)
   at System.Web.Mvc.Controller.<>c.<BeginExecuteCore>b__152_1(IAsyncResult asyncResult, ExecuteCoreState innerState)
   at System.Web.Mvc.Async.AsyncResultWrapper.WrappedAsyncVoid`1.CallEndDelegate(IAsyncResult asyncResult)
   at System.Web.Mvc.Async.AsyncResultWrapper.WrappedAsyncResultBase`1.End()
   at System.Web.Mvc.Controller.EndExecuteCore(IAsyncResult asyncResult)
   at System.Web.Mvc.Controller.<>c.<BeginExecute>b__151_2(IAsyncResult asyncResult, Controller controller)
   at System.Web.Mvc.Async.AsyncResultWrapper.WrappedAsyncVoid`1.CallEndDelegate(IAsyncResult asyncResult)
   at System.Web.Mvc.Async.AsyncResultWrapper.WrappedAsyncResultBase`1.End()
   at System.Web.Mvc.Controller.EndExecute(IAsyncResult asyncResult)
   at System.Web.Mvc.Controller.System.Web.Mvc.Async.IAsyncController.EndExecute(IAsyncResult asyncResult)
   at System.Web.Mvc.MvcHandler.<>c.<BeginProcessRequest>b__20_1(IAsyncResult asyncResult, ProcessRequestState innerState)
   at System.Web.Mvc.Async.AsyncResultWrapper.WrappedAsyncVoid`1.CallEndDelegate(IAsyncResult asyncResult)
   at System.Web.Mvc.Async.AsyncResultWrapper.WrappedAsyncResultBase`1.End()
   at System.Web.Mvc.MvcHandler.EndProcessRequest(IAsyncResult asyncResult)
   at System.Web.Mvc.MvcHandler.System.Web.IHttpAsyncHandler.EndProcessRequest(IAsyncResult result)
   at System.Web.Mvc.HttpHandlerUtil.ServerExecuteHttpHandlerAsyncWrapper.<>c__DisplayClass3_0.<EndProcessRequest>b__0()
   at System.Web.Mvc.HttpHandlerUtil.ServerExecuteHttpHandlerWrapper.<>c__DisplayClass5_0.<Wrap>b__0()
   at System.Web.Mvc.HttpHandlerUtil.ServerExecuteHttpHandlerWrapper.Wrap[TResult](Func`1 func)
   at System.Web.Mvc.HttpHandlerUtil.ServerExecuteHttpHandlerWrapper.Wrap(Action action)
   at System.Web.Mvc.HttpHandlerUtil.ServerExecuteHttpHandlerAsyncWrapper.EndProcessRequest(IAsyncResult result)
   at System.Web.HttpServerUtility.ExecuteInternal(IHttpHandler handler, TextWriter writer, Boolean preserveForm, Boolean setPreviousPage, VirtualPath path, VirtualPath filePath, String physPath, Exception error, String queryStringOverride)
   at System.Web.HttpServerUtility.ExecuteInternal(IHttpHandler handler, TextWriter writer, Boolean preserveForm, Boolean setPreviousPage, VirtualPath path, VirtualPath filePath, String physPath, Exception error, String queryStringOverride)
   at System.Web.HttpServerUtility.Execute(IHttpHandler handler, TextWriter writer, Boolean preserveForm, Boolean setPreviousPage)
   at System.Web.HttpServerUtility.Execute(IHttpHandler handler, TextWriter writer, Boolean preserveForm)
   at System.Web.HttpServerUtilityWrapper.Execute(IHttpHandler handler, TextWriter writer, Boolean preserveForm)
   at System.Web.Mvc.Html.ChildActionExtensions.ActionHelper(HtmlHelper htmlHelper, String actionName, String controllerName, RouteValueDictionary routeValues, TextWriter textWriter)
   at System.Web.Mvc.Html.ChildActionExtensions.Action(HtmlHelper htmlHelper, String actionName, String controllerName, RouteValueDictionary routeValues)
   at Our.Umbraco.DocTypeGridEditor.Web.Extensions.HtmlHelperExtensions.RenderDocTypeGridEditorItem(HtmlHelper helper, IPublishedElement content, String editorAlias, String viewPath, String previewViewPath, Boolean isPreview)
   at ASP._Page_app_plugins_doctypegrideditor_render_DocTypeGridEditor_cshtml.Execute()
   at System.Web.WebPages.WebPageBase.ExecutePageHierarchy()
   at System.Web.Mvc.WebViewPage.ExecutePageHierarchy()
   at System.Web.WebPages.WebPageBase.ExecutePageHierarchy(WebPageContext pageContext, TextWriter writer, WebPageRenderingBase startPage)
   at System.Web.Mvc.RazorView.RenderView(ViewContext viewContext, TextWriter writer, Object instance)
   at System.Web.Mvc.BuildManagerCompiledView.Render(ViewContext viewContext, TextWriter writer)
   at Umbraco.Web.Mvc.ProfilingView.Render(ViewContext viewContext, TextWriter writer) in D:\a\1\s\src\Umbraco.Web\Mvc\ProfilingView.cs:line 25
   at System.Web.Mvc.HtmlHelper.RenderPartialInternal(String partialViewName, ViewDataDictionary viewData, Object model, TextWriter writer, ViewEngineCollection viewEngineCollection)
   at System.Web.Mvc.Html.PartialExtensions.Partial(HtmlHelper htmlHelper, String partialViewName, Object model, ViewDataDictionary viewData)
   at System.Web.Mvc.Html.PartialExtensions.Partial(HtmlHelper htmlHelper, String partialViewName, Object model)
   at ASP._Page_Views_Partials_grid_editors_Base_cshtml.Execute()