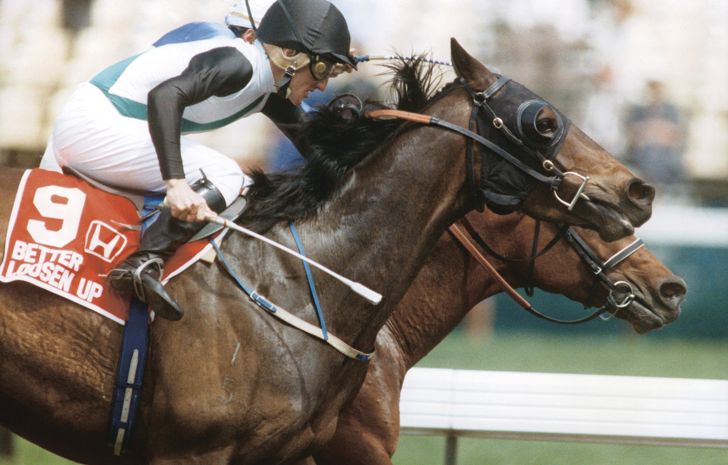 Stakes Day Champions
4 November 2022
•
Written by
Andrew Lemon
"It's the horses, the champions and future champions, first and foremost that draw us each year to Flemington Racecourse. They are the reason for the celebration, the party, the fun and fashion, the crowds, the roses, lawns and the gardens."
This, the fourth and final day of the Melbourne Cup Carnival, has had many different names in its long history. It has been Stakes Day, Final Day and Family Day. But in its own way it has always been Champions Day. 
Now it has been officially named VRC Champions Day, with a champion program to match. The words have special meaning at Flemington because the racecourse itself first became renowned around Australia back in 1859 when a rich race was contested here over a distance of three miles – the Australian Champion Sweepstakes. 
It was the biggest race ever held in Australia up to that time and attracted the best racehorses from around the colonies – including one who survived a shipwreck along the way. It drew thousands of spectators to a very basic racecourse. 
That 'Champion Race' paved the way for a makeover of Flemington, soon followed by the first Melbourne Cup in 1861. It gave rise to Champion Races in other towns and colonies around Australia. Flemington hosted several three-mile Champion Races with big prizemoney attached.
The year 1875 was when the four-day Cup Week format began, of Derby (Saturday), Cup (Tuesday), Oaks (Thursday) with a final Saturday. At first this was dubbed Plate Day, the feature races being a steeplechase and the Canterbury Stakes of 2¼ miles (3621m), named after the recent Governor of Victoria, Sir John Manners-Sutton, 3rd Viscount Canterbury.
Richmond, second placegetter in the Melbourne Cup to Wollomai four days earlier, came home the winner, defeating 1875 VRC Oaks winner Maid of All Work. As for Wollomai, his connections preferred the shorter VRC Handicap, which he duly won, full of running. 
The Canterbury Plate fluctuated in distance over the next twenty years – sometimes a three-mile race, sometimes two miles, always won by quality horses including such champions as Wallace, Abercorn and Trenton along with Melbourne Cup winners Patron and Calamia. 
In 1895 the race was renamed to honour Charles Brown Fisher (1818–1908), a grazier who once held vast pastoral acreages in South Australia, Victoria and Queensland. He had been a pioneer in Australian thoroughbred breeding and racing, a past Chairman of the VRC. Unhappily in the depths of the economic depression, Brown went spectacularly bankrupt. His friends and supporters at the VRC created the C.B. Fisher Plate as a measure of support. 
The Fisher Plate at weight-for-age became the feature of the fourth day of Melbourne Cup week for the next eighty years. The two-mile distance was shortened to 1½ miles (2414m) in 1900. 
In its lifetime the Fisher Plate was won by nine Melbourne Cup winners (including Phar Lap, Rising Fast and Hall Mark), a host of Cup runners-up and a glittering array of turf champions. Great names such as Wakeful, Amounis, Ajax, Eurythmic and Sailor's Guide are on the list, and more recently Leilani. The legend Tulloch won the race twice, as did Hydrogen, while High Caste and Allowa won three times.
In 1979 the Queen Elizabeth Stakes (first run in February 1954 honouring the Queen's first visit to Flemington) was switched to spring to replace the Fisher Plate. Its illustrious winners include Hyperno, Might And Power and Makybe Diva. For Champions Day 2022 the race is replaced by the Queen's Cup, being contested under that name for the final time. This unique event originated at Flemington in 1927 as the King's Cup. A trophy was provided by King George V and presented in person to the winning owner by his son, the Duke of York (the future George VI). By royal request the race rotated annually thereafter from state to state. The King's Cup from 1927 to 1951, it became the Queen's Cup in 1952 when Elizabeth II came to the throne. Next year, elsewhere, it becomes the King's Cup again, while the Queen Elizabeth Stakes should return to VRC Champions Day.  
Final Day long ago became known as Stakes Day, featuring a Group 1 mile race (1600m) which from 1961 was named for a succession of sponsors: George Adams, Ampol, Honda, Nissan, Chrysler and Emirates. Its superstar winners have included Shaftesbury Avenue, Maybe Mahal, Gunsynd, Vain, Wenona Girl and Aquanita. The L.K.S. Mackinnon Stakes moved to Stakes Day from Derby Day in 2016, bringing its own rich history.
And so it makes all the sense in the world to rebrand today as VRC Champions Day, with rich champion Group 1 races over a range of distances: champion sprint, champion mile, champion stakes, and a race that farewells the late Queen Elizabeth, loved around the world as a champion of racing.  
Main image: Better Loosen Up winning the 1989 Honda Stakes, ridden by Michael Clarke, on the last day of the Melbourne Cup carnival. (The Age Research Library/Fairfax Publications)
System.Web.HttpException (0x80004005): Error executing child request for handler 'System.Web.Mvc.HttpHandlerUtil+ServerExecuteHttpHandlerAsyncWrapper'. ---> System.NullReferenceException: Object reference not set to an instance of an object.
   at ASP._Page_Views_Partials_googleAd_cshtml.Execute()
   at System.Web.WebPages.WebPageBase.ExecutePageHierarchy()
   at System.Web.Mvc.WebViewPage.ExecutePageHierarchy()
   at System.Web.WebPages.WebPageBase.ExecutePageHierarchy(WebPageContext pageContext, TextWriter writer, WebPageRenderingBase startPage)
   at System.Web.Mvc.RazorView.RenderView(ViewContext viewContext, TextWriter writer, Object instance)
   at System.Web.Mvc.BuildManagerCompiledView.Render(ViewContext viewContext, TextWriter writer)
   at Umbraco.Web.Mvc.ProfilingView.Render(ViewContext viewContext, TextWriter writer) in D:\a\1\s\src\Umbraco.Web\Mvc\ProfilingView.cs:line 25
   at System.Web.Mvc.ViewResultBase.ExecuteResult(ControllerContext context)
   at System.Web.Mvc.ControllerActionInvoker.InvokeActionResult(ControllerContext controllerContext, ActionResult actionResult)
   at System.Web.Mvc.ControllerActionInvoker.InvokeActionResultFilterRecursive(IList`1 filters, Int32 filterIndex, ResultExecutingContext preContext, ControllerContext controllerContext, ActionResult actionResult)
   at System.Web.Mvc.ControllerActionInvoker.InvokeActionResultFilterRecursive(IList`1 filters, Int32 filterIndex, ResultExecutingContext preContext, ControllerContext controllerContext, ActionResult actionResult)
   at System.Web.Mvc.ControllerActionInvoker.InvokeActionResultFilterRecursive(IList`1 filters, Int32 filterIndex, ResultExecutingContext preContext, ControllerContext controllerContext, ActionResult actionResult)
   at System.Web.Mvc.ControllerActionInvoker.InvokeActionResultFilterRecursive(IList`1 filters, Int32 filterIndex, ResultExecutingContext preContext, ControllerContext controllerContext, ActionResult actionResult)
   at System.Web.Mvc.ControllerActionInvoker.InvokeActionResultFilterRecursive(IList`1 filters, Int32 filterIndex, ResultExecutingContext preContext, ControllerContext controllerContext, ActionResult actionResult)
   at System.Web.Mvc.ControllerActionInvoker.InvokeActionResultWithFilters(ControllerContext controllerContext, IList`1 filters, ActionResult actionResult)
   at System.Web.Mvc.Async.AsyncControllerActionInvoker.<>c__DisplayClass3_6.<BeginInvokeAction>b__4()
   at System.Web.Mvc.Async.AsyncControllerActionInvoker.<>c__DisplayClass3_1.<BeginInvokeAction>b__1(IAsyncResult asyncResult)
   at System.Web.Mvc.Async.AsyncResultWrapper.WrappedAsyncResult`1.CallEndDelegate(IAsyncResult asyncResult)
   at System.Web.Mvc.Async.AsyncResultWrapper.WrappedAsyncResultBase`1.End()
   at System.Web.Mvc.Async.AsyncControllerActionInvoker.EndInvokeAction(IAsyncResult asyncResult)
   at System.Web.Mvc.Controller.<>c.<BeginExecuteCore>b__152_1(IAsyncResult asyncResult, ExecuteCoreState innerState)
   at System.Web.Mvc.Async.AsyncResultWrapper.WrappedAsyncVoid`1.CallEndDelegate(IAsyncResult asyncResult)
   at System.Web.Mvc.Async.AsyncResultWrapper.WrappedAsyncResultBase`1.End()
   at System.Web.Mvc.Controller.EndExecuteCore(IAsyncResult asyncResult)
   at System.Web.Mvc.Controller.<>c.<BeginExecute>b__151_2(IAsyncResult asyncResult, Controller controller)
   at System.Web.Mvc.Async.AsyncResultWrapper.WrappedAsyncVoid`1.CallEndDelegate(IAsyncResult asyncResult)
   at System.Web.Mvc.Async.AsyncResultWrapper.WrappedAsyncResultBase`1.End()
   at System.Web.Mvc.Controller.EndExecute(IAsyncResult asyncResult)
   at System.Web.Mvc.Controller.System.Web.Mvc.Async.IAsyncController.EndExecute(IAsyncResult asyncResult)
   at System.Web.Mvc.MvcHandler.<>c.<BeginProcessRequest>b__20_1(IAsyncResult asyncResult, ProcessRequestState innerState)
   at System.Web.Mvc.Async.AsyncResultWrapper.WrappedAsyncVoid`1.CallEndDelegate(IAsyncResult asyncResult)
   at System.Web.Mvc.Async.AsyncResultWrapper.WrappedAsyncResultBase`1.End()
   at System.Web.Mvc.MvcHandler.EndProcessRequest(IAsyncResult asyncResult)
   at System.Web.Mvc.MvcHandler.System.Web.IHttpAsyncHandler.EndProcessRequest(IAsyncResult result)
   at System.Web.Mvc.HttpHandlerUtil.ServerExecuteHttpHandlerAsyncWrapper.<>c__DisplayClass3_0.<EndProcessRequest>b__0()
   at System.Web.Mvc.HttpHandlerUtil.ServerExecuteHttpHandlerWrapper.<>c__DisplayClass5_0.<Wrap>b__0()
   at System.Web.Mvc.HttpHandlerUtil.ServerExecuteHttpHandlerWrapper.Wrap[TResult](Func`1 func)
   at System.Web.Mvc.HttpHandlerUtil.ServerExecuteHttpHandlerWrapper.Wrap(Action action)
   at System.Web.Mvc.HttpHandlerUtil.ServerExecuteHttpHandlerAsyncWrapper.EndProcessRequest(IAsyncResult result)
   at System.Web.HttpServerUtility.ExecuteInternal(IHttpHandler handler, TextWriter writer, Boolean preserveForm, Boolean setPreviousPage, VirtualPath path, VirtualPath filePath, String physPath, Exception error, String queryStringOverride)
   at System.Web.HttpServerUtility.ExecuteInternal(IHttpHandler handler, TextWriter writer, Boolean preserveForm, Boolean setPreviousPage, VirtualPath path, VirtualPath filePath, String physPath, Exception error, String queryStringOverride)
   at System.Web.HttpServerUtility.Execute(IHttpHandler handler, TextWriter writer, Boolean preserveForm, Boolean setPreviousPage)
   at System.Web.HttpServerUtility.Execute(IHttpHandler handler, TextWriter writer, Boolean preserveForm)
   at System.Web.HttpServerUtilityWrapper.Execute(IHttpHandler handler, TextWriter writer, Boolean preserveForm)
   at System.Web.Mvc.Html.ChildActionExtensions.ActionHelper(HtmlHelper htmlHelper, String actionName, String controllerName, RouteValueDictionary routeValues, TextWriter textWriter)
   at System.Web.Mvc.Html.ChildActionExtensions.Action(HtmlHelper htmlHelper, String actionName, String controllerName, RouteValueDictionary routeValues)
   at Our.Umbraco.DocTypeGridEditor.Web.Extensions.HtmlHelperExtensions.RenderDocTypeGridEditorItem(HtmlHelper helper, IPublishedElement content, String editorAlias, String viewPath, String previewViewPath, Boolean isPreview)
   at ASP._Page_app_plugins_doctypegrideditor_render_DocTypeGridEditor_cshtml.Execute()
   at System.Web.WebPages.WebPageBase.ExecutePageHierarchy()
   at System.Web.Mvc.WebViewPage.ExecutePageHierarchy()
   at System.Web.WebPages.WebPageBase.ExecutePageHierarchy(WebPageContext pageContext, TextWriter writer, WebPageRenderingBase startPage)
   at System.Web.Mvc.RazorView.RenderView(ViewContext viewContext, TextWriter writer, Object instance)
   at System.Web.Mvc.BuildManagerCompiledView.Render(ViewContext viewContext, TextWriter writer)
   at Umbraco.Web.Mvc.ProfilingView.Render(ViewContext viewContext, TextWriter writer) in D:\a\1\s\src\Umbraco.Web\Mvc\ProfilingView.cs:line 25
   at System.Web.Mvc.HtmlHelper.RenderPartialInternal(String partialViewName, ViewDataDictionary viewData, Object model, TextWriter writer, ViewEngineCollection viewEngineCollection)
   at System.Web.Mvc.Html.PartialExtensions.Partial(HtmlHelper htmlHelper, String partialViewName, Object model, ViewDataDictionary viewData)
   at System.Web.Mvc.Html.PartialExtensions.Partial(HtmlHelper htmlHelper, String partialViewName, Object model)
   at ASP._Page_Views_Partials_grid_editors_Base_cshtml.Execute()