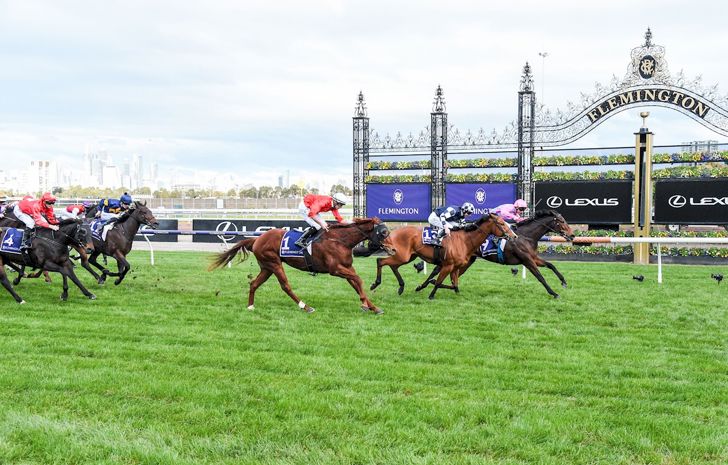 State of play: Winter Race Series
6 June 2022
•
Written by
VRC
With four weeks to go until Flemington Finals Day, the culmination of the Winter Race Series that headlines mid-year racing in Victoria, the paths to the respective finals are becoming clearer by the week.
Each of the nine series has between five and nine heats with the winner and runner-up gaining ballot exemption for the respective final on July 2.
Horses that haven't qualified for each final are still eligible to contest those races but they will face a far more difficult path to gain a start on winter's richest race day in Victoria.
A total of 61 different horses have currently earned a ballot-exempt berth on Flemington Finals Day with 27 heats still to be run over the next few weeks.
Notably, in addition to horses trained in Victoria, representatives from NSW, South Australia and Tasmania have also qualified for the prestigious meeting.
Here is the state of play for each of the nine series after VRC Community Race Day at Flemington.
VRC-CRV Winter Championship Series
After his breathtaking win at Headquarters on Saturday, the Jarrod Austin-trained Looks Like Elvis has put himself firmly into the picture for next month's final.
Weaving through from last under Linda Meech, Looks Like Elvis came through to defeat It'sourtime over 1400m to earn his spot in the final. He has been placed seven times at stakes grade without winning, including a second to subsequent Group 1 winner Lighthouse in the Listed Chester Manifold Stakes (1400m) at Flemington on New Year's Day, and he will be a high-class addition to the VRC-CRV Winter Championship Series Final.
Trainer Lindsey Smith has three horses qualified - Triple Missile, Mystery Shot and Tuvalu - while Tasmanian horseman Scott Brunton will fly the flag for the Apple Isle with First Accused, having finished second to Patrick Payne's qualifier D'Aguilar at Caulfield on May 28.
One-time Lexus Melbourne Cup aspirant Le Don De Vie, a Listed winner in the UK and Australia, could also make an appearance after a shock first-up win over the course and distance of the final. He is set to contest the Group 2 Q22 (2200m) at Eagle Farm on Saturday.
The next heat of the VRC-CRV Winter Championship Series is Sunday's Swan Hill Cup over 1600m with two heats at Flemington on June 18 ahead of the $200,000 Listed VRC-CRV Winter Championship Series Final (1600m) on July 2: the Brian Beattie Handicap, an open handicap over 1400m, and The David Bourke, a Benchmark 90 handicap over 1600m.
Santa Ana Lane Sprint Series
Ocean Beyond, winner of the Listed Straight Six (1200m), is likely to head to Swan Hill for Friday's $150,000 Golden Topaz (1200m) - the next heat of the series - before returning to the Flemington 1200m next month for the $160,000 Listed Santa Ana Lane Series Final (1200m).
The Andrew Bobbin trainee is one of two horses to have qualified twice, along with easy Caulfield winner Ashford Street, who ran second to Easy Single at Flemington last month.
Ocean Beyond finished second to Ranting at Caulfield first-up with the Leon and Troy Corstens-trained sprinter set to take his place at his home track next month.
Also qualified are Straight Six runner-up Crestani and speedy three-year-old Starry Legend.
After the Golden Topaz, there are three more heats: an open handicap over 1000m at Sandown on Saturday, the Listed Creswick Stakes (1200m) for three-year-olds at Flemington on June 18 and an open 1100m handicap at Headquarters on the same day.
Banjo Paterson Series
The Ciaron Maher and David Eustace-trained Maserartie Bay could follow in the footsteps of Grand Promenade in the coming weeks, having won the same race on Saturday that launched his stablemate on a Lexus Melbourne Cup path last year.
Maserartie Bay dominated on Saturday to take the Banjo Paterson Series Handicap (2520m) by a length and three-quarters over Pesto, who had already qualified for the $150,000 Banjo Paterson Series Final (2600m) with his win in a Benchmark 84 handicap over the course and distance on May 21.
Last year, Grand Promenade won the same race before taking the Banjo Paterson Series Final and the Group 3 Lexus Bart Cummings (2500m) on his way to running sixth in the Lexus Melbourne Cup, a path that likely awaits Maserartie Bay.
Also qualified are Group 3 Easter Cup (2000m) winner Milford, who finished second in last year's Group 1 New Zealand Derby (2400m), and this season's Listed Heatherlie Handicap (1700m) victor No Effort.
Former Queenslander Flash Aah, consistent country cups contender Don't Doubt Dory, lightly raced Kerang Cup winner Excelleration and British blueblood Born A King have also qualified, while 2019 Mahogany Challenge Final placegetter Reflect The Stars may bid to go two better when she contests this year's Banjo Paterson Series Final on July 2.
Taj Rossi Series
Only four horses have qualified so far for the $160,000 Listed Taj Rossi Series Final (1600m) with the action to ramp up after Friday's Elvstroem Classic (1300m) at Swan Hill, a race that was won both by 2003 Victoria Derby winner Elvstroem and his brother, three-time Group 1 winner Haradasun for the same connections.
The Gerald Ryan and Sterling Alexiou-trained Brosnan is earmarked to contest Saturday's Group 1 J J Atkins (1600m) at Eagle Farm, having won at Flemington on May 21. However, the stable is yet to rule out returning to Melbourne next month for the Taj Rossi, where he could face a rematch with Andrew Bobbin's filly Anphina.
Last Wednesday's impressive debut winner Elliptical also qualified for a berth with his victory with runner-up Dashing also securing a spot.
Following the Elvstroem Classic, there will be three further heats: a two-year-old fillies handicap over 1300m next Wednesday at Sandown and two open handicaps over 1400m at Flemington on June 18 and over 1600m at Bendigo on June 19.
Next Generation Sprinters Series
The newest of the nine series, the Next Generation Sprinters Series for two-year-olds also looks to have produced two potential stars in heat winners Doull and Ghaanati.
Whether or not they contest the $150,000 Next Generation Sprinters Series Final, riches await both horses at Flemington in the spring with the Danny O'Brien-prepared Doull targeting the Group 1 Coolmore Stud Stakes (1200m) and Peter and Paul Snowden's Ghaanati appearing capable of heading towards anything from the Group 1 Empire Rose Stakes (1600m) to the Group 1 Kennedy Oaks (2500m).
The horses that finished behind them, Magnaspin and Bound For Home, are also exempt from ballot for the rich winter feature, while others to have qualified are Portray, Three Graces, Atlantis Tycoon and Shalailed.
The next heat will be run Saturday at Sandown with a 1000m handicap, while a 1200m handicap at Mornington next Monday and an 1100m handicap at Caulfield on June 25 represent the final two opportunities to qualify for the July 2 final.
Rivette Series
The Rivette Series for three-year-old fillies has only had two of the six heats conducted so far with a further four heats set down for the coming weeks.
Chris Waller pair Kir Royale and Thalassophile qualified for both the $150,000 Rivette Series Final (1400m) and the $150,000 Silver Bowl Series Final (1600m) against the boys with their quinella at Flemington on May 21.
They were joined as qualifiers by a brace of Sydney fillies after the Marc Conners-prepared Winning Verse produced a huge victory over Brad Widdup's Authentic Jewel at Caulfield on May 28.
Three handicaps for fillies serve as three of the four heats to come - a 1300m Benchmark 78 at Sandown on Saturday, a 1400m Benchmark 70 at Bendigo on June 19 and a 1200m open handicap at Caulfield on June 25 - while the Listed Creswick Stakes (1200m) on June 18 at Flemington, open to all three-year-olds, could potentially see a filly qualify for the final.
Silver Bowl Series
Saturday winner Jimmy The Bear has now won two heats of the Silver Bowl Series and, while he was overlooked by the market on both occasions, he is set to enter the $150,000 Silver Bowl Series Final (1600m) as one of the favourites.
The horses that finished behind the Patrick Payne-trained Jimmy The Bear, Cardinal Gem last month and Arran Bay on Saturday, have both qualified as well.
Kir Royale and Thalassophile both qualified for the finals of both the Silver Bowl Series and the Rivette Series with their quinella last month, while South Australian raider Hopon Harry and emerging talent Oceana Blue are both qualified for the Silver Bowl Series Final and the $200,000 Mahogany Challenge Final (2500m) after finishing one-two over 1600m at Caulfield on May 28.
Runaway Sandown winner Star Of Chaos, who finished second to boom filly Espiona over the Melbourne Cup Carnival, qualified with her seven-length victory last Wednesday, as did runner-up Zourisky, while Belle Et Riche and Heavenly Eagle earned their berths at Sandown last month.
The heats continue with a three-year-old 1600m handicap at Sandown on Saturday, a three-year-old fillies Benchmark 70 handicap over 1600m at Sandown next Wednesday and a 1400m handicap at Caulfield on June 25.
Mahogany Challenge
In 2020, Persan won a 2000m three-year-old handicap at Flemington in early June, following up two weeks later over the same course and distance before winning the Mahogany Challenge Final (2500m). Within months, he would win the Group 3 Lexus Bart Cummings (2500m) before finishing fifth in the Group 1 Lexus Melbourne Cup (3200m).
That race won by Persan in early June was won this year by Alverdun, who led home outsider Country's Light on Saturday. Both are now qualified for the $200,000 final, a race that is shaping up as one of the most competitive among all of the series.
The Amazonian, who earned her berth by finishing second to Elzamee at Caulfield in the opening heat, won the Group 3 SA Fillies Classic (2500m) later in May, once again highlighting how the Winter Race Series produces stakes horses for the future.
Hopon Harry and Oceana Blue have qualified for the finals of both the Mahogany Challenge and the Silver Bowl Series, giving their connections the opportunity to run for big money at a mile or a mile and a half, while Flash Feeling, General Firepower, Natural Mystic and Secret Glamour are also among qualifiers.
Only two heats remain: a 2400m Benchmark 78 handicap at Sandown next Wednesday and a 2000m open handicap at Flemington on June 18.
Leilani Series
The Leilani Series has the fewest heats of any of the nine series with five, meaning that more than half of the heats have already been run.
Three of the six qualifiers are three-year-old fillies – Adele Amour, Tilianam and Bella Rouge - meaning that they are ineligible to run in the $150,000 Leilani Series Final (1400m).
Those that are eligible are Selburose, Pandora Blue and Americain Angel.
The Bruce Gadsden Handicap at Flemington on June 18 is a noteworthy lead-up and serves as the penultimate heat, with the last of the heats a Benchmark 70 mares handicap at Cranbourne on June 22.
Caption: Looks Like Elvis earns his berth into the Listed VRC-CRV Winter Championship Final (1600m) with his win at Flemington on Saturday.
System.Web.HttpException (0x80004005): Error executing child request for handler 'System.Web.Mvc.HttpHandlerUtil+ServerExecuteHttpHandlerAsyncWrapper'. ---> System.NullReferenceException: Object reference not set to an instance of an object.
   at ASP._Page_Views_Partials_googleAd_cshtml.Execute()
   at System.Web.WebPages.WebPageBase.ExecutePageHierarchy()
   at System.Web.Mvc.WebViewPage.ExecutePageHierarchy()
   at System.Web.WebPages.WebPageBase.ExecutePageHierarchy(WebPageContext pageContext, TextWriter writer, WebPageRenderingBase startPage)
   at System.Web.Mvc.RazorView.RenderView(ViewContext viewContext, TextWriter writer, Object instance)
   at System.Web.Mvc.BuildManagerCompiledView.Render(ViewContext viewContext, TextWriter writer)
   at Umbraco.Web.Mvc.ProfilingView.Render(ViewContext viewContext, TextWriter writer) in D:\a\1\s\src\Umbraco.Web\Mvc\ProfilingView.cs:line 25
   at System.Web.Mvc.ViewResultBase.ExecuteResult(ControllerContext context)
   at System.Web.Mvc.ControllerActionInvoker.InvokeActionResult(ControllerContext controllerContext, ActionResult actionResult)
   at System.Web.Mvc.ControllerActionInvoker.InvokeActionResultFilterRecursive(IList`1 filters, Int32 filterIndex, ResultExecutingContext preContext, ControllerContext controllerContext, ActionResult actionResult)
   at System.Web.Mvc.ControllerActionInvoker.InvokeActionResultFilterRecursive(IList`1 filters, Int32 filterIndex, ResultExecutingContext preContext, ControllerContext controllerContext, ActionResult actionResult)
   at System.Web.Mvc.ControllerActionInvoker.InvokeActionResultFilterRecursive(IList`1 filters, Int32 filterIndex, ResultExecutingContext preContext, ControllerContext controllerContext, ActionResult actionResult)
   at System.Web.Mvc.ControllerActionInvoker.InvokeActionResultFilterRecursive(IList`1 filters, Int32 filterIndex, ResultExecutingContext preContext, ControllerContext controllerContext, ActionResult actionResult)
   at System.Web.Mvc.ControllerActionInvoker.InvokeActionResultFilterRecursive(IList`1 filters, Int32 filterIndex, ResultExecutingContext preContext, ControllerContext controllerContext, ActionResult actionResult)
   at System.Web.Mvc.ControllerActionInvoker.InvokeActionResultWithFilters(ControllerContext controllerContext, IList`1 filters, ActionResult actionResult)
   at System.Web.Mvc.Async.AsyncControllerActionInvoker.<>c__DisplayClass3_6.<BeginInvokeAction>b__4()
   at System.Web.Mvc.Async.AsyncControllerActionInvoker.<>c__DisplayClass3_1.<BeginInvokeAction>b__1(IAsyncResult asyncResult)
   at System.Web.Mvc.Async.AsyncResultWrapper.WrappedAsyncResult`1.CallEndDelegate(IAsyncResult asyncResult)
   at System.Web.Mvc.Async.AsyncResultWrapper.WrappedAsyncResultBase`1.End()
   at System.Web.Mvc.Async.AsyncControllerActionInvoker.EndInvokeAction(IAsyncResult asyncResult)
   at System.Web.Mvc.Controller.<>c.<BeginExecuteCore>b__152_1(IAsyncResult asyncResult, ExecuteCoreState innerState)
   at System.Web.Mvc.Async.AsyncResultWrapper.WrappedAsyncVoid`1.CallEndDelegate(IAsyncResult asyncResult)
   at System.Web.Mvc.Async.AsyncResultWrapper.WrappedAsyncResultBase`1.End()
   at System.Web.Mvc.Controller.EndExecuteCore(IAsyncResult asyncResult)
   at System.Web.Mvc.Controller.<>c.<BeginExecute>b__151_2(IAsyncResult asyncResult, Controller controller)
   at System.Web.Mvc.Async.AsyncResultWrapper.WrappedAsyncVoid`1.CallEndDelegate(IAsyncResult asyncResult)
   at System.Web.Mvc.Async.AsyncResultWrapper.WrappedAsyncResultBase`1.End()
   at System.Web.Mvc.Controller.EndExecute(IAsyncResult asyncResult)
   at System.Web.Mvc.Controller.System.Web.Mvc.Async.IAsyncController.EndExecute(IAsyncResult asyncResult)
   at System.Web.Mvc.MvcHandler.<>c.<BeginProcessRequest>b__20_1(IAsyncResult asyncResult, ProcessRequestState innerState)
   at System.Web.Mvc.Async.AsyncResultWrapper.WrappedAsyncVoid`1.CallEndDelegate(IAsyncResult asyncResult)
   at System.Web.Mvc.Async.AsyncResultWrapper.WrappedAsyncResultBase`1.End()
   at System.Web.Mvc.MvcHandler.EndProcessRequest(IAsyncResult asyncResult)
   at System.Web.Mvc.MvcHandler.System.Web.IHttpAsyncHandler.EndProcessRequest(IAsyncResult result)
   at System.Web.Mvc.HttpHandlerUtil.ServerExecuteHttpHandlerAsyncWrapper.<>c__DisplayClass3_0.<EndProcessRequest>b__0()
   at System.Web.Mvc.HttpHandlerUtil.ServerExecuteHttpHandlerWrapper.<>c__DisplayClass5_0.<Wrap>b__0()
   at System.Web.Mvc.HttpHandlerUtil.ServerExecuteHttpHandlerWrapper.Wrap[TResult](Func`1 func)
   at System.Web.Mvc.HttpHandlerUtil.ServerExecuteHttpHandlerWrapper.Wrap(Action action)
   at System.Web.Mvc.HttpHandlerUtil.ServerExecuteHttpHandlerAsyncWrapper.EndProcessRequest(IAsyncResult result)
   at System.Web.HttpServerUtility.ExecuteInternal(IHttpHandler handler, TextWriter writer, Boolean preserveForm, Boolean setPreviousPage, VirtualPath path, VirtualPath filePath, String physPath, Exception error, String queryStringOverride)
   at System.Web.HttpServerUtility.ExecuteInternal(IHttpHandler handler, TextWriter writer, Boolean preserveForm, Boolean setPreviousPage, VirtualPath path, VirtualPath filePath, String physPath, Exception error, String queryStringOverride)
   at System.Web.HttpServerUtility.Execute(IHttpHandler handler, TextWriter writer, Boolean preserveForm, Boolean setPreviousPage)
   at System.Web.HttpServerUtility.Execute(IHttpHandler handler, TextWriter writer, Boolean preserveForm)
   at System.Web.HttpServerUtilityWrapper.Execute(IHttpHandler handler, TextWriter writer, Boolean preserveForm)
   at System.Web.Mvc.Html.ChildActionExtensions.ActionHelper(HtmlHelper htmlHelper, String actionName, String controllerName, RouteValueDictionary routeValues, TextWriter textWriter)
   at System.Web.Mvc.Html.ChildActionExtensions.Action(HtmlHelper htmlHelper, String actionName, String controllerName, RouteValueDictionary routeValues)
   at Our.Umbraco.DocTypeGridEditor.Web.Extensions.HtmlHelperExtensions.RenderDocTypeGridEditorItem(HtmlHelper helper, IPublishedElement content, String editorAlias, String viewPath, String previewViewPath, Boolean isPreview)
   at ASP._Page_app_plugins_doctypegrideditor_render_DocTypeGridEditor_cshtml.Execute()
   at System.Web.WebPages.WebPageBase.ExecutePageHierarchy()
   at System.Web.Mvc.WebViewPage.ExecutePageHierarchy()
   at System.Web.WebPages.WebPageBase.ExecutePageHierarchy(WebPageContext pageContext, TextWriter writer, WebPageRenderingBase startPage)
   at System.Web.Mvc.RazorView.RenderView(ViewContext viewContext, TextWriter writer, Object instance)
   at System.Web.Mvc.BuildManagerCompiledView.Render(ViewContext viewContext, TextWriter writer)
   at Umbraco.Web.Mvc.ProfilingView.Render(ViewContext viewContext, TextWriter writer) in D:\a\1\s\src\Umbraco.Web\Mvc\ProfilingView.cs:line 25
   at System.Web.Mvc.HtmlHelper.RenderPartialInternal(String partialViewName, ViewDataDictionary viewData, Object model, TextWriter writer, ViewEngineCollection viewEngineCollection)
   at System.Web.Mvc.Html.PartialExtensions.Partial(HtmlHelper htmlHelper, String partialViewName, Object model, ViewDataDictionary viewData)
   at System.Web.Mvc.Html.PartialExtensions.Partial(HtmlHelper htmlHelper, String partialViewName, Object model)
   at ASP._Page_Views_Partials_grid_editors_Base_cshtml.Execute()