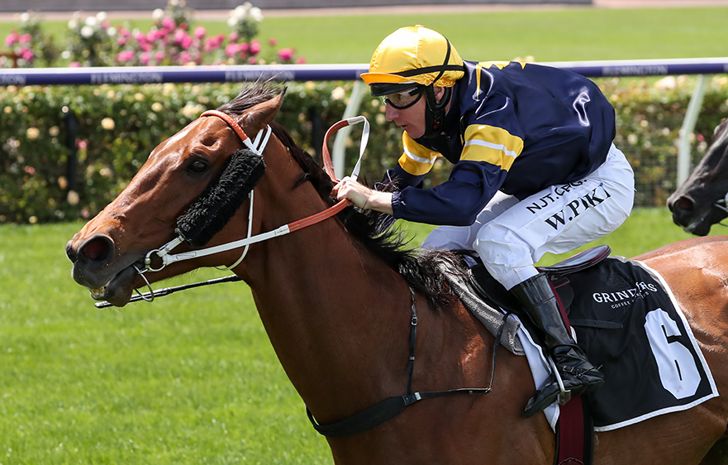 Taking the reins
17 January 2022
•
Written by
Michael Manley
Many factors go into a successful ride in a horse race, but how much does a jockey's riding style influence the outcome?
In terms of riding you don't have to look any further than the disparate styles of Jamie Kah and Willie Pike to know there isn't a template to being a champion.
Both are stars of the turf but both go about their business as riders in contrasting ways.
Kah's relaxed, encouraging style of riding, which she honed riding in the equestrian world before she became an apprentice, firstly took Adelaide racing by storm and now it is Melbourne's turn.
Similarly Pike, who rides in an old-fashioned way with his feet firmly positioned in the irons and also with a long-rein, dominated Perth racing for many years but has spread his wings in the past year and is now seen more regularly in Melbourne.
Kah is re-writing the record books in Melbourne and she easily won the riding premiership and set a record in doing so.
Pike has been to the fore when seen at feature meetings in Melbourne and regularly rides Group 1 winners.
The gulf in the way the pair rides only emphasises that it's whichever style that suits the rider is the best way to ride.
Every era of racing has shown that. No champion jockey is a carbon copy of another jockey. There simply isn't a homogenous riding style and no two riders ever look the same in the saddle.
As former jockey, former apprentice's coach and now chief executive of the Victorian Jockeys' Association Matt Hyland points out, this is just a continuation of what has always occurred in racing with jockeys having contrasting styles.
"There's no right or wrong way. You can't tell me that Jamie Kah is more effective than Willie Pike and vice-versa," Hyland said.
While each style is unique, there is no doubt there is a change of riding style happening which is more in line with the way Jamie Kah rides.
Hyland acknowledged that Kah's style was more aligned to the way apprentices are taught to ride these days. Kah is also distinctive in that she sits forward in the saddle.
James Winks has a bird's eye view of the jockeys' riding style as he is coach to several jockeys. He agrees the Kah style is more of the template for modern-day jockeys.
Winks, who rode five Group 1 winners, retired from riding in 2020 and started coaching Regan Bayliss, becoming Australia's first riding coach.
As a result, Winks is watching countless hours of race replays and is in a great position to assess what is going on with jockeys in terms of styles.
"Times are changing and evolving. No doubt there is a change going on which is one to more of encouragement, in the way Jamie Kah rides," Winks said.
"Horses run for her. She's happy to sit three deep and get her horse flowing. She says she doesn't do any form and she's happy to ride each horse so they can flow into a race which is the key for her."
Winks said he approached every individual knowing they have their positive and negative traits but also knowing that no two jockeys have the same styles.
They all have different styles, strengths and weaknesses. I think every jockey has a different style. You're not going to get the same exact style.
"Whether it's Hugh Bowman, Jye McNeil, Jamie Kah – who are all beautiful in the saddle – they all have different effective styles. Nash Rawiller, Damien Oliver, Craig Williams – they each also have a different style but they are just as effective.
"With the likes of Nash Rawiller, Craig Newitt – you know you're getting strong jockeys. Great jockeys such as Ollie, Zahra, Williams and Melham know how to get a horse to top speed and know how to keep it there.
"My clients are good riders, they are just looking for that little bit extra, someone to look at their rides and critique them. They may have drifted into habits they don't want or are looking to improve," Winks said.
Winks said with his jockeys he always looked to find ways they could improve, which could incorporate a tweak to their style but it didn't always work.
"Jordie Childs and I decided he would try and ride more with his knees up. After a month we found that wasn't working for him so we tried another direction."
Champion jockey Craig Williams, the winner of nine Melbourne jockeys' premierships, also said every jockey had an individual style.
He described his own style as one of "a good grafter".
"Most jockeys have a similar style. A unique style is a rarity," Williams said, commenting that he thinks that Kah rides in an uncomplicated, smooth fashion.
He said in his case his advantage was away from the track, believing that the amount of homework he does before a race gives him a one per cent advantage.
Williams said he could adjust his style to suit different horses by sitting more forward in the saddle or further back.
Matt Hyland said the first thing every rider was taught was how to crouch in the saddle.
"The first fundamental for a rider is to know how to crouch in a saddle. After that it becomes individualised," Hyland said.
Image: Willie Pike winning the Grinders Coffee Roasters Trophy on Lexus Melbourne Cup Day, 2020. (George Salpigtidis/Racing Photos)
System.Web.HttpException (0x80004005): Error executing child request for handler 'System.Web.Mvc.HttpHandlerUtil+ServerExecuteHttpHandlerAsyncWrapper'. ---> System.NullReferenceException: Object reference not set to an instance of an object.
   at ASP._Page_Views_Partials_googleAd_cshtml.Execute()
   at System.Web.WebPages.WebPageBase.ExecutePageHierarchy()
   at System.Web.Mvc.WebViewPage.ExecutePageHierarchy()
   at System.Web.WebPages.WebPageBase.ExecutePageHierarchy(WebPageContext pageContext, TextWriter writer, WebPageRenderingBase startPage)
   at System.Web.Mvc.RazorView.RenderView(ViewContext viewContext, TextWriter writer, Object instance)
   at System.Web.Mvc.BuildManagerCompiledView.Render(ViewContext viewContext, TextWriter writer)
   at Umbraco.Web.Mvc.ProfilingView.Render(ViewContext viewContext, TextWriter writer) in D:\a\1\s\src\Umbraco.Web\Mvc\ProfilingView.cs:line 25
   at System.Web.Mvc.ViewResultBase.ExecuteResult(ControllerContext context)
   at System.Web.Mvc.ControllerActionInvoker.InvokeActionResult(ControllerContext controllerContext, ActionResult actionResult)
   at System.Web.Mvc.ControllerActionInvoker.InvokeActionResultFilterRecursive(IList`1 filters, Int32 filterIndex, ResultExecutingContext preContext, ControllerContext controllerContext, ActionResult actionResult)
   at System.Web.Mvc.ControllerActionInvoker.InvokeActionResultFilterRecursive(IList`1 filters, Int32 filterIndex, ResultExecutingContext preContext, ControllerContext controllerContext, ActionResult actionResult)
   at System.Web.Mvc.ControllerActionInvoker.InvokeActionResultFilterRecursive(IList`1 filters, Int32 filterIndex, ResultExecutingContext preContext, ControllerContext controllerContext, ActionResult actionResult)
   at System.Web.Mvc.ControllerActionInvoker.InvokeActionResultFilterRecursive(IList`1 filters, Int32 filterIndex, ResultExecutingContext preContext, ControllerContext controllerContext, ActionResult actionResult)
   at System.Web.Mvc.ControllerActionInvoker.InvokeActionResultFilterRecursive(IList`1 filters, Int32 filterIndex, ResultExecutingContext preContext, ControllerContext controllerContext, ActionResult actionResult)
   at System.Web.Mvc.ControllerActionInvoker.InvokeActionResultWithFilters(ControllerContext controllerContext, IList`1 filters, ActionResult actionResult)
   at System.Web.Mvc.Async.AsyncControllerActionInvoker.<>c__DisplayClass3_6.<BeginInvokeAction>b__4()
   at System.Web.Mvc.Async.AsyncControllerActionInvoker.<>c__DisplayClass3_1.<BeginInvokeAction>b__1(IAsyncResult asyncResult)
   at System.Web.Mvc.Async.AsyncResultWrapper.WrappedAsyncResult`1.CallEndDelegate(IAsyncResult asyncResult)
   at System.Web.Mvc.Async.AsyncResultWrapper.WrappedAsyncResultBase`1.End()
   at System.Web.Mvc.Async.AsyncControllerActionInvoker.EndInvokeAction(IAsyncResult asyncResult)
   at System.Web.Mvc.Controller.<>c.<BeginExecuteCore>b__152_1(IAsyncResult asyncResult, ExecuteCoreState innerState)
   at System.Web.Mvc.Async.AsyncResultWrapper.WrappedAsyncVoid`1.CallEndDelegate(IAsyncResult asyncResult)
   at System.Web.Mvc.Async.AsyncResultWrapper.WrappedAsyncResultBase`1.End()
   at System.Web.Mvc.Controller.EndExecuteCore(IAsyncResult asyncResult)
   at System.Web.Mvc.Controller.<>c.<BeginExecute>b__151_2(IAsyncResult asyncResult, Controller controller)
   at System.Web.Mvc.Async.AsyncResultWrapper.WrappedAsyncVoid`1.CallEndDelegate(IAsyncResult asyncResult)
   at System.Web.Mvc.Async.AsyncResultWrapper.WrappedAsyncResultBase`1.End()
   at System.Web.Mvc.Controller.EndExecute(IAsyncResult asyncResult)
   at System.Web.Mvc.Controller.System.Web.Mvc.Async.IAsyncController.EndExecute(IAsyncResult asyncResult)
   at System.Web.Mvc.MvcHandler.<>c.<BeginProcessRequest>b__20_1(IAsyncResult asyncResult, ProcessRequestState innerState)
   at System.Web.Mvc.Async.AsyncResultWrapper.WrappedAsyncVoid`1.CallEndDelegate(IAsyncResult asyncResult)
   at System.Web.Mvc.Async.AsyncResultWrapper.WrappedAsyncResultBase`1.End()
   at System.Web.Mvc.MvcHandler.EndProcessRequest(IAsyncResult asyncResult)
   at System.Web.Mvc.MvcHandler.System.Web.IHttpAsyncHandler.EndProcessRequest(IAsyncResult result)
   at System.Web.Mvc.HttpHandlerUtil.ServerExecuteHttpHandlerAsyncWrapper.<>c__DisplayClass3_0.<EndProcessRequest>b__0()
   at System.Web.Mvc.HttpHandlerUtil.ServerExecuteHttpHandlerWrapper.<>c__DisplayClass5_0.<Wrap>b__0()
   at System.Web.Mvc.HttpHandlerUtil.ServerExecuteHttpHandlerWrapper.Wrap[TResult](Func`1 func)
   at System.Web.Mvc.HttpHandlerUtil.ServerExecuteHttpHandlerWrapper.Wrap(Action action)
   at System.Web.Mvc.HttpHandlerUtil.ServerExecuteHttpHandlerAsyncWrapper.EndProcessRequest(IAsyncResult result)
   at System.Web.HttpServerUtility.ExecuteInternal(IHttpHandler handler, TextWriter writer, Boolean preserveForm, Boolean setPreviousPage, VirtualPath path, VirtualPath filePath, String physPath, Exception error, String queryStringOverride)
   at System.Web.HttpServerUtility.ExecuteInternal(IHttpHandler handler, TextWriter writer, Boolean preserveForm, Boolean setPreviousPage, VirtualPath path, VirtualPath filePath, String physPath, Exception error, String queryStringOverride)
   at System.Web.HttpServerUtility.Execute(IHttpHandler handler, TextWriter writer, Boolean preserveForm, Boolean setPreviousPage)
   at System.Web.HttpServerUtility.Execute(IHttpHandler handler, TextWriter writer, Boolean preserveForm)
   at System.Web.HttpServerUtilityWrapper.Execute(IHttpHandler handler, TextWriter writer, Boolean preserveForm)
   at System.Web.Mvc.Html.ChildActionExtensions.ActionHelper(HtmlHelper htmlHelper, String actionName, String controllerName, RouteValueDictionary routeValues, TextWriter textWriter)
   at System.Web.Mvc.Html.ChildActionExtensions.Action(HtmlHelper htmlHelper, String actionName, String controllerName, RouteValueDictionary routeValues)
   at Our.Umbraco.DocTypeGridEditor.Web.Extensions.HtmlHelperExtensions.RenderDocTypeGridEditorItem(HtmlHelper helper, IPublishedElement content, String editorAlias, String viewPath, String previewViewPath, Boolean isPreview)
   at ASP._Page_app_plugins_doctypegrideditor_render_DocTypeGridEditor_cshtml.Execute()
   at System.Web.WebPages.WebPageBase.ExecutePageHierarchy()
   at System.Web.Mvc.WebViewPage.ExecutePageHierarchy()
   at System.Web.WebPages.WebPageBase.ExecutePageHierarchy(WebPageContext pageContext, TextWriter writer, WebPageRenderingBase startPage)
   at System.Web.Mvc.RazorView.RenderView(ViewContext viewContext, TextWriter writer, Object instance)
   at System.Web.Mvc.BuildManagerCompiledView.Render(ViewContext viewContext, TextWriter writer)
   at Umbraco.Web.Mvc.ProfilingView.Render(ViewContext viewContext, TextWriter writer) in D:\a\1\s\src\Umbraco.Web\Mvc\ProfilingView.cs:line 25
   at System.Web.Mvc.HtmlHelper.RenderPartialInternal(String partialViewName, ViewDataDictionary viewData, Object model, TextWriter writer, ViewEngineCollection viewEngineCollection)
   at System.Web.Mvc.Html.PartialExtensions.Partial(HtmlHelper htmlHelper, String partialViewName, Object model, ViewDataDictionary viewData)
   at System.Web.Mvc.Html.PartialExtensions.Partial(HtmlHelper htmlHelper, String partialViewName, Object model)
   at ASP._Page_Views_Partials_grid_editors_Base_cshtml.Execute()