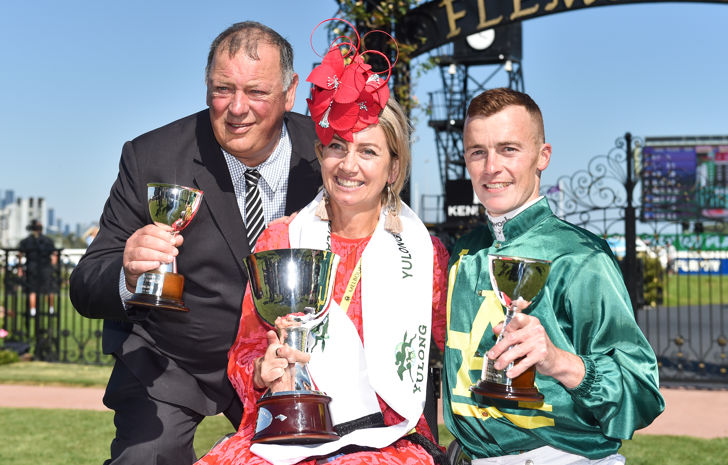 Team effort behind Roch 'n' Horse success
7 March 2023
•
Written by
VRC
Mike Moroney and his team have already had great success with sprinter Roch 'n' Horse, and are hoping to pick up back-to-back wins in this year's Newmarket.
For the better part of last year, Mike Moroney's Roch 'N' Horse has been a significant player in the huge Ballymore Stables team. First she won the Group 1 Yulong Stud Newmarket Handicap in the autumn at Flemington, then proved just how good she was by winning the Darley Champions Sprint on the final day of the Melbourne Cup Carnival.
Moroney is a talented trainer, but he also credits his success to the team behind the horse. One of these was Emma Wood, who he hired as a stablehand and track rider. He noticed that Wood had tremendous qualities and quickly moved her up in his chain of command to assistant trainer.
However Wood, 45, had until that stage been in two minds at where her future lay.
"After a while I decided to leave Mike and become a mature-age student, targeting my studies to veterinary science. After six years at vet school I finally graduated and returned to the racing scene."
Wood has fitted comfortably back into the Moroney training system and has become a valuable component, managing to ride six horses each morning in track work and then carrying out the veterinary duties required of the Flemington stable.
She believes that Moroney's laid back attitude is the secret to their success in recent years.
"If he was any more laid back he'd be horizontal! He listens and learns and his relaxed nature is such an important feature to all of the staff. He's there to listen, and he's been around racing long enough to know what the pitfalls can be.
"He understands that I'm just one cog in a system that is reliant on a number of cogs.
For instance, Tyler Johnson who rides Roch 'N' Horse every morning is a beautiful rider who's worked out that she is a speedy electric mare that you just keep your eyes on. And that's why we are successful – because the right staff are there to handle any problems," Wood said.
Moroney moved from Adelaide to Melbourne in 1990 and steadily built up a powerful team that has reaped many rewards, including Group 1 wins that stretch from the Newmarket Handicap, one of the world's most revered sprint races, right through to success in the Melbourne Cup.
The trainer has bases in New Zealand and Australia, and managed to navigate both successfully during the pandemic. His assistant trainer, Glen Thompson, appointed in 2021, has also been a great asset to the Ballymore team.
Moroney praises his staff for their dedication and passion.
"Take Tyler for instance, he rides work and then heads off to work as a nurse during the day. Emma, I could see from the very first time she walked into my operation that she ticked all the boxes – bright, patient and wonderful skills with the horse.
And when you have staff like my assistant trainer Glenn being able to manage their chores easily, it takes pressure off the top end of the business," Moroney said.
Jamie Mott is another who experienced the Moroney success on TAB Champions Stakes Day after he picked up the ride on Roch 'N' Horse after regular jockey Patrick Moloney was suspended for his ride in the Lexus Melbourne Cup on Emissary.
It was a sensational day to win a Group 1 race in front of a huge crowd on a sprinter that never stopped trying. Roch 'N' Horse's success propelled the mare into the upper echelon of sprinters around the world following that victory over Nature Strip.
Moroney says of Jamie Mott that it's the "quirky way" of the racing industry that Jamie was in the right place at the right time to ride Roch 'N' Horse.
Now for the Ballymore team, going one better in next year's Lexus Melbourne Cup and achieving back-to-back Newmarket successes is well and truly on the cards.
Don't miss out on tickets! Australia's most famous sprinting handicap, the $1.5 million Group 1 Yulong Stud Newmarket Handicap (1200m), is a highly anticipated date on the racing calendar for racing purists and eventgoers alike.