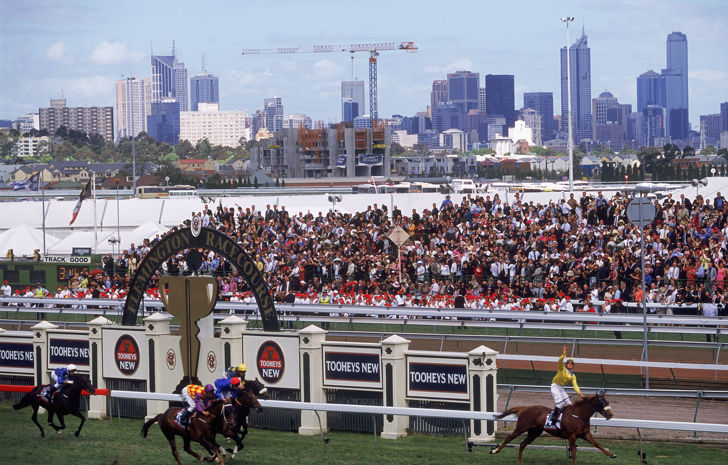 Thank you, Ollie
4 November 2023
•
Written by
Patrick Bartley
After decades in the racing world, Damien Oliver found himself retracing the familiar route to Byford, Western Australia, in August this year, a journey etched in his memory. This marked a significant moment in the illustrious career of arguably Australia's greatest jockey – a return to where it all began.
When Oliver visited Byford with the prestigious Lexus Melbourne Cup trophy as part of the VRC's Lexus Melbourne Cup Tour in an unannounced visit to his old primary school, the jockey was greeted by 300 excited students. They listened intently as the champion jockey shared anecdotes from his school days and his early steps into the world of work. And why wouldn't they, when they are raced by the presence of one of the most successful jockeys in Australian history.
Jody Harrington, the headmaster of Byford Primary, recalled Oliver's inspiring message to the students: "Damien told the students that you can achieve anything you want in life, believe in yourself, and trust in your abilities." Harrington and her staff were impressed by how the older students connected with Oliver, showing a genuine curiosity about his life since leaving school and becoming one of the college's most celebrated alumni.
Earlier this year, Oliver announced his retirement at the age of 51, capping a remarkable 35 years in the saddle, and three Melbourne Cup victories. This all came from hard work and talent, but a chance meeting with trainer Anthony Freedman early in his career at a local yearling sale in Perth was a pivotal moment. Over coffee, they forged a partnership that would become one of racing's most successful collaborations.
"I spoke to Anthony and mentioned my progress in my first year of riding. They had a connection to me through my brother Jason, so it was decided that I would come to Melbourne," Oliver recounted. The Freedman brothers, known for their racing prowess, saw potential in Oliver that could complement their team. "I was performing well back in Perth, and having a 2.5-kilogram allowance for the Freedmans gave me a strong advantage as I climbed the ranks. It was a challenging time, being homesick and moving to the other side of the country at just 16, but the Freedmans were tough and hard working. It was a time when everything fell into place, and I was fortunate to be part of their success," Oliver reflected.
Oliver's career has been nothing short of spectacular, with 128 Group 1 victories, which far surpasses his rivals. He's claimed 11 Scobie Breasley Medals, an award recognising the most accomplished rider of each season. His early years as an apprentice were equally impressive, as Richard Freedman noted. "People underestimate what a superstar he was as an apprentice. If you ask who the most successful apprentice rider in Australian racing history is, you get names like Malcolm Johnston, Des Lake, and Darren Gauci. But while Gauci had three Group wins as an apprentice and Des Lake had nine, Damien Oliver had 18. He was truly remarkable, perhaps the greatest apprentice in Australia and possibly the world."
Oliver, however, is quick to also attribute his success to his family, friends, and management rather than taking sole credit. He acknowledged that the decision to retire after more than three decades wasn't easy, but felt like the right time. "I've sacrificed and gone without sleep for a long time, and now it's time for a new chapter in my life. My family is so important to me and my retirement means that I can do a few more school functions and weekends off," Oliver explained.
One of his key team members is his longtime manager, Mark Van Triet, who took over in July 2006 and witnessed the highs and lows of Oliver's career. "What stands out the most is how driven and mentally strong he is. Lee Freedman once said he's like kryptonite that can't be broken. One example was when he had a fall at The Valley on a Friday night. I thought there was no way he'd ride the next day at Flemington, but after being cleared and discharged in the early hours of Saturday morning, he not only rode, but won the first race!"
Tragedy struck during Oliver in 2002 when his older brother, Jason, was killed in a race fall in Western Australia. While the racing world mourned, Oliver managed to mentally compartmentalise his grief to win the Melbourne Cup shortly after the accident. "I've thought about this a lot. I was younger and without a family when I lost Jason, and I don't think the true impact of grief hit me as it would today. I have a family now, and they mean everything to me. If something were to happen to them, I would be devastated," he revealed.
As Oliver steps away from the limelight, he leaves behind an impressive legacy in Australian racing, from dominating two-year-old races to clinching the Melbourne Cup three times. His family will now take centre stage in his life, along with new challenges. Yet, Oliver's enduring message is that you can achieve anything if you desire it strongly enough, a sentiment echoed by Richard Freedman, who said, "To have been a three-time leading jockey as an 18-year-old and to have ridden 18 Group 1 winners … it's hard to fathom how exceptional he was."