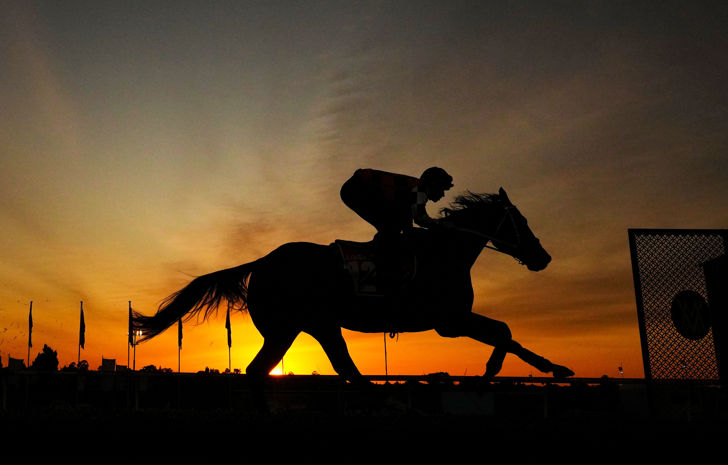 The Astrologist looks set for a summer start at Flemington
11 December 2022
•
Written by
Racing & Sports
The inaugural Gold Rush went to the east, as The Astrologist held off a closing Kissonallforecheeks under local hero William Pike.
The Astrologist may now look to target a couple of Flemington races in 2023 the Black Caviar Lightning Stakes as well as the Newmarket Handicap, where he will attempt to go one better than his second placing in 2022.
Formerly the AJ Scahill Stakes, a boost in prizemoney to $1.5million made the Gold Rush a much sought-after prize with five interstate-trained runners lining up, and it went the way of the least fancied of that quintet, The Astrologist clinging on as a $19.00 chance as race favourite Kissonallforecheeks narrowly missed in a big feature for the second time in two weeks.
The Leon and Troy Corstens-trained The Astrologist had been slightly disappointing when eighth in the Winterbottom at his West Australian debut, but he was back in top form under a top ride from local hero William Pike.
Like The Astrologist, this was something of a return to form for Pike who, by his own admission, hasn't ridden as many winners as he would have liked since returning to Perth for The Pinnacles.
"I have been lacking a bit of that over the carnival. Maybe that is just sour grapes because I haven't been winning as many as I want," Pike said.
"That was what I was keen to do. I didn't want any hard luck stories – he is a wind-up horse. That is his asset so I wanted to use it. He kicked off the bend really well and I knew I was in with a great sight there but just that last 50m I was hoping the line would hurry up and get there.
"Every time they came he found. I actually think he just did enough to keep in front. When that horse came up around me early I think that just kept him interested so everything fell into place for him. He was more settled today than he was last start. I don't know whether anything changed, he just settled in a little more, but last start he was just a bit fizzy behind the gates and he wasn't quite that same dude as he was at trackwork. Today he did everything perfect."
Troy Corstens, who watched from back in Melbourne, echoed Pike.
"If you watched his run in the Winterbottom, I can understand it. Everyone thought he looked a but flat but it wasn't his style and I really think where we came off today was Willie having had a ride on him and he knows (him now)," said Corstens.
"It's easy for me to describe that the horse needs to get rolling and he loves a dog fight and that sort of stuff but I think when he saw it for himself, Willie really took that on board and just got him rolling today and that was the difference."
It was great reward for smart planning for Corstens who picked his mark with The Astrologist, identifying the Pinnacles as a good chance to land a valuable prize after coming up short at the top level in the east.
"It is very, very hard to go to Perth and it wasn't until we ran so well in The Championships that I thought 'ok, we'll go over there and be competitive," he said.
"I've got a lot of admiration for the Perth horses and you can't just take a second-stringer over there and try and do your best. You've got to have a good horse to win Perth's good races.
"It is very hard to get winners over there. When you put that good prizemoney on it is very hard to win these good races.
"He so deserved this. I was hoping he'd win a Group 1 but I'm not going to complain about the prizemoney. It is phenomenal and at the end of that day, in my opinion, it was a Group 1 field and I'd say it only going to be a year or two before it is a Group 1 in its own right."