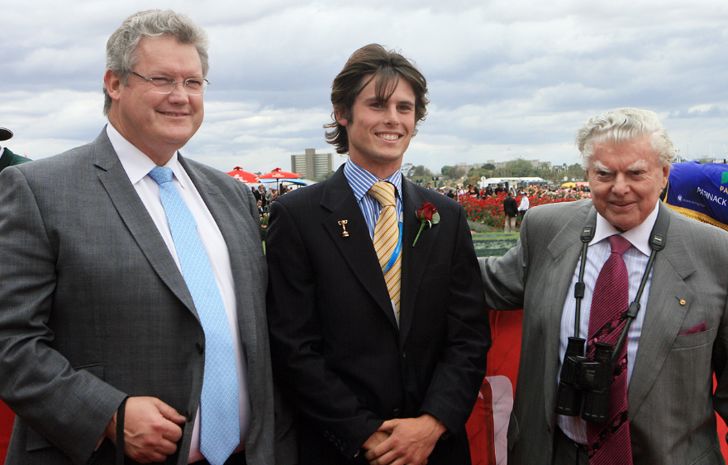 The Cummings legacy and the Kennedy Oaks
8 November 2023
•
Written by
VRC
When small Adelaide trainer Jim Cummings took out the 1928 VRC Oaks with Opera Queen, less than a year after his wife Annie gave birth to their third child James Bartholomeu, he was so unknown that The Argus – Australia's premier newspaper of the era – misspelled his name. Little could the long-extinct The Argus know that, almost a century later, the Cummings name would be synonymous with the Melbourne Cup Carnival, and this particular race.
They could not have known that Cummings' young child would go on to be the man most associated with 'the race that stops a nation'™ and the festival that surrounds it, including nine Oaks victories.
They could not have expected that, in 2021 and 2022, two generations of Cummings would add their names to the honour roll of a race that dates back to 1861.
And yet that was the case when the Anthony Cummings-trained She's Extreme took out the Group 1 Kennedy Oaks (2500m) in 2022, a year after his son James scored his first victory in the race with Willowy in 2021.
For proud family man Anthony Cummings, watching his Group 1-winning sons James and Edward continue to thrive gives him as much satisfaction as taking the spotlight himself as he did at Flemington on that Thursday.
"Family means so much to me," an emotional Cummings said. "The old man (Bart Cummings) lit a flame that continues to burn and I'm rapt that it burns in the kids as well.
"I'm really lucky in that my kids are bright kids. They have a passion for this the same as I do but now the big thing is to keep up with them – they're setting a furious pace!
"Hopefully Ed wins it in 2023. He's got the right horse.
"There's a lot to be said for dinnertime discussions. I learnt more at the dinner table and breakfast table at home when I was a kid when mum used to feed the stable.
"The discussions you'd have about horses – the problems, the solutions – all those things along the way. You learn so much. I'm still learning."
Ridden by Tommy Berry, She's Extreme added the Oaks to her Group 1 Champagne Stakes (1600m) victory earlier in 2022 with a strong staying effort. She raced a length clear of the pace-setting Pavitra with two and a quarter lengths back to Queen Air in third.
"We had the right barrier to put her to sleep and that's what I had to do," Berry said after the Oaks win. "It has been an unbelievable moment and a great training performance by Anthony. There's just a massive amount of people around her and I was lucky to be the one piloting her. 
"I knew I just needed a split at any moment and she was going to take the race away. It was pretty special.
"I'm blowing more than her right now. Full credit to Anthony and his team. They've done an amazing job with her."
The question now is – can a Cummings do it again in 2023?