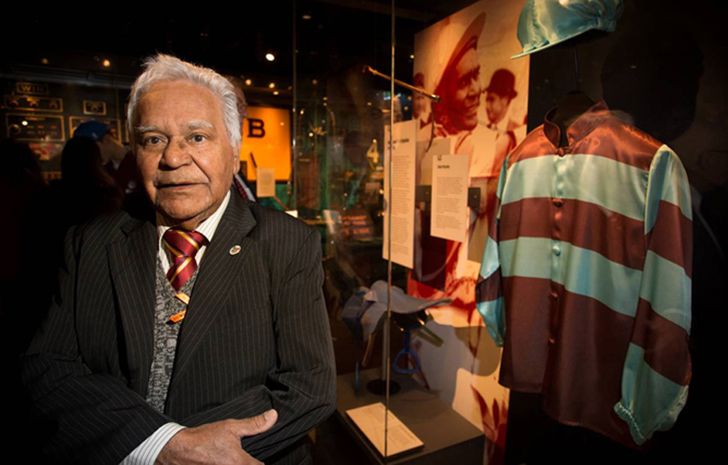 The home of champions
20 May 2021
•
Written by
Andrew Lemon
It's long been the place dedicated to telling the stories of thoroughbred racing, and celebrating the rich history of the sport. With a new makeover unveiled in March 2020, the Australian Racing Museum and Hall of Fame offers more than ever before.
What do you imagine when you hear the words "Hall of Fame"? Maybe it's something royal like the Hall of Mirrors at Versailles, baronial like London's Westminster Hall, or fictional like the Hall of Faces in Game of Thrones.
The Australian Racing Hall of Fame since its inception in 2000 is what you might call a virtual Hall. Two decades on, covering two centuries of racing in Australia, it honours Australian racehorses, jockeys and trainers, along with associates – individuals and families whose contribution to the sport has been deemed especially significant: owners, breeders, administrators, bloodstock agents, journalists, among others.
The latest intake of inductees was announced in May 2021, and includes champions such as:
Tie the Knot (1994-20120
Beau Vite (1936–c. 1953)
Red Anchor (1981–2001)
Sailor's Guide (1952–c. 1965)
Richard Laurence "Darby" McCarthy OAM (1944-2020)
William Henry "Midget" McLachlan (1887–1964)
Robert Lindsay "Bob" Charley AO (b. 1939)
Les Bridge (b. 1938)
Guy Walter (1955–2014)
John Messara AM (b. 1947)
Over the years the Australian Racing Hall of Fame has shape-shifted. The best place to find it, online, is the Racing Victoria website. Like any good video game, you need to keep searching through the different levels. Through 'The Sport' and then 'The Australian Racing Museum' you will find the 'Hall of Fame'.
Keep going. The website allows you to decide which category to explore next. 'Legends', perhaps. Whichever category you choose, you will be shown the 'Inaugural Inductees' first. These are the ones whom the Hall of Fame selectors decided at the outset were the best of the best in our racing history. With the horses, this meant Carbine, Phar Lap, Bernborough, Tulloch and Kingston Town.
Below that come all the others, in alphabetical order, from Abercorn (Sydney hero of the 1890s) through to Winx, inducted in 2017. Click on any name and you find a detailed summary of the career, and a picture.
The Australian Racing Museum evolved from the Victorian Racing Museum, originally housed at Caulfield Racecourse and officially opened by Her Majesty the Queen in 1981. The name change came in 1998, and from 2004 the museum had its own exhibition facility, 'Champions', at Federation Square.
Then in 2010, in time for the 150th running of the Melbourne Cup, the exhibition space moved to the National Sports Museum at the Melbourne Cricket Ground. The advantage was to showcase racing as an integral part of Australia's rich sporting history.
Now there has been a $17 million renovation and rebranding at the MCG. As the Australian Sports Museum, the Horse Racing Gallery within is its own dedicated space. Like the best of modern museums, this is not a static display of heavily labelled items but 'an interactive experience', appealing to all age groups. Children can colour in, name and race their own horses – virtually, of course.
For those who relish memorabilia there is, as always, much to enjoy. A highlight is the superb 18 carat gold 1980 Melbourne Cup trophy won by Beldale Ball – the same trophy that was won by Wodalla in 1953 and, most probably, originally Phar Lap's trophy from 1930, secretly recycled. It stands in company with Reckless's Adelaide Cup and Glenloth's extraordinary Melbourne Cup trophy from 1892, an equine tableau in sterling silver. Video screens offer more information and allow you to register your opinion. You can see Winx and Black Caviar memorabilia, silks and saddles belonging to the likes of Darby McCarthy, Darren Gauci and Luke Nolen, racewear, bookies' bags and binoculars.
As for the Australian Racing Hall of Fame, in the previous iteration of the museum an honour board simply listed all the names. It made sense to those with long memories, but how do you make this meaningful to casual visitors?
Now the wall has gone. Something new – innovative, interactive – has taken its place. You can gather around a fascinating large video-screen table. Unlike conventional museum screens, this one can be interrogated by several visitors at once, at their own pace.
Here the images of Hall of Fame inductees float, as if in space, in constellations. Tap onto a keynote word: Jockey, Trainer, Horse or Associate, Women or individual Australian states by name. All relevant entries will then cluster into that grouping. Tap onto a face, familiar or unfamiliar. Options open: you can select images or facts and figures.
For those who enjoy racing trivia, it is fun trying to identify faces or horses before you tap on the image to reveal the result.
Australian Racing Museum Collection Manager Alison Raaymakers, and her team have worked creatively to convey the complexity. There are references to changes in fashion, betting and styles of riding. The displays will evolve over time. The Museum has an important collection of racing publications, treasures, clothes and objects in its store.
The Australian Sports Museum as a whole is a great visitor destination, and you will find racing references throughout the complex. You can ride your own virtual horse and test your stamina in a horse race, as well as kicking a real football or catching a cricket ball. Stand in an audio tent and experience the sounds of a Grand Prix motor race, an AFL football final and of course the Melbourne Cup at Flemington. Allow yourself time to explore, to play, and to learn.
Racing heroes come in all shapes and sizes. The new display also honours the ordinary people, yet exceptional, who keep the sport alive every day in all parts of Australia. You'll find items from country trainer Udyta Clark whose popular horse Rich Charm recently won his way into our hearts. Not all such people and their horses will enter the Hall of Fame, but they are champions, every one of them.