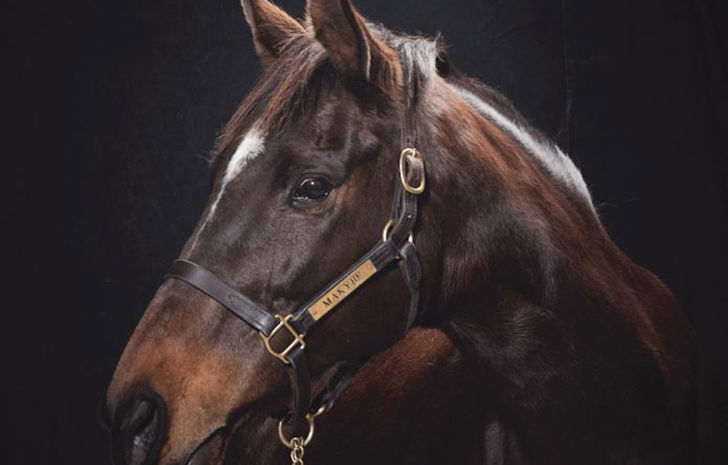 The mighty mare
27 August 2020
•
Written by
Patrick Bartley
Makybe Diva. Three consecutive wins in the Melbourne Cup - a feat that is yet to be matched.
To retire on a high note is what every champion in every sport wants to achieve. Boxers say when they retire they want to be remembered as the greatest, but rarely succeed. Footballers, cricketers and athletes all try but inevitably have 'my last' which very often becomes 'the one too many.'
This century, as far as racing goes, three champion mares have safely retired not only at their peak but best of all, have bowed out in celebrated triumph. Winx is the latest, winning her 33rd straight race in the $4 million Queen Elizabeth Stakes at Randwick on April 13, 2019. Her departure brought many a tear, but deep down her legion of supporters were delighted that she went out on a high. It's a nice feeling to know your heroine has gone out in a blaze of glory, believing full well that she could have kept on beating every opponent that dared to challenge for another year or so.
Winx retires with 37 wins in her career (the same as Phar Lap) and more than $26 million in stakemoney. She retires, if not the greatest Australian-bred mare of all time, then certainly the greatest miler-middle distance mare this century. The same happened with racing's two preceding superstar mares of the 2000s, Black Caviar and Makybe Diva who both retired with similar headlines pronouncing their greatness, their remarkable achievements and most racing people believing that they would never see their like again.
Connections of Black Caviar (25 wins and $7,953,956 million in stakes) called it quits after the amazing mare brought up her unbeaten 25th win in August, 2013. She was a remarkable racehorse and when she retired it was recognised that not only was she the greatest sprinting mare of the century, she was the best of all time.
Makybe Diva however, was the first of this remarkable trio of mares. Foaled in Great Britain in 1999, it was Australia's gain when she was shipped off to this country alongside her dam, Tugela.
After settling in, Makybe Diva was sent to her trainer David Hall who decided not to rush the staying-bred mare, and she didn't make her racetrack debut until July, 2002 when she finished a handy fourth in a Benalla maiden. Nothing flash there, but people started to take notice when she won her next six starts, ending with success in the Werribee Cup and the Queen Elizabeth Stakes during the Melbourne Cup Carnival.
Winning the 2002 Queen Elizabeth Stakes (with Luke Currie aboard) automatically qualified the mare for the 2003 Melbourne Cup, so her trainer was able to spend the next 12 months preparing her. It was then that the legend began. It was also the start of the great relationship between Makybe Diva and her champion jockey, Glen Boss.
As great that Makybe Diva was, her three Melbourne Cup wins were ably assisted by three remarkable winning rides by Boss. In the 2003 Cup he brought the mare through the field with an uninterrupted run. In 2004, when she changed stables and joined the Lee Freedman team after Hall accepted an invitation to train in Hong Kong, Boss showed incredible courage to take the rails run on a wet track. And in the last of her memorable Cup wins in 2005, he just had
her perfectly placed throughout.
The jockey admits that he still becomes emotional when his favourite racehorse is mentioned. Based in Singapore in recent years, Boss freely admits that the Makybe Diva period of his life not only changed the jockey, but brought so much enjoyment to his family.
"I still get pangs of emotion when she's mentioned. And why not? She took me to world notoriety by winning three Melbourne Cups, and she clearly gave me the greatest thrills I have experienced on a racetrack."
Boss believes that Makybe Diva's record, which included most of the major races on the Australian calendar, should have included a Caulfield Cup.
"She probably just wasn't fit that day and she only went down by an eyelash. When people ask me to describe her, I say she was just a focused athlete that never let her reputation wane."
"We'd go out for a light workout on a warm summer's day, and you'd expect her to just jog along. No, not Makybe Diva, she was a perfectionist. She did her one, two or three laps as if it was a major international race."
"From the first time I was legged aboard her until I slipped off her for the final time after winning that last Melbourne Cup, she was the ultimate professional that refused to give in," he says.
Boss believes that Makybe Diva's bravery and determination mixed with her untold talent made for one of the greatest racehorses of her time.
"You know, in those three Cup wins she just kept putting her head out and wanting to win. She strained, she pushed and all she wanted to do was win. When you'd come in from a race, you'd take her saddle off and she'd quietly go home on the float, eat her dinner and be waiting for her next workout the following morning. This was a racehorse not only of immense ability, but a beautiful nature who just wanted to please you," he recalls.
Boss said that his third Melbourne Cup win, while astonishing in itself, gave the former Queenslander a rare moment with this great mare.
"On pulling up, it was just her and me. We were a long way from the crowd and it gave me those few seconds for it to sink in that I was a part of history."
"As I trotted back, the crowd noise was getting louder and louder and they wanted one thing – Makybe Diva. As I trotted down the track to the mounting yard, the most incredible sensation came over me when I realised for those few moments that everyone, and I mean everyone at Flemington, was focused on this beautiful race mare.
"It was a feeling that I don't think I'll ever get again. Being on a racehorse that was the complete focus of not only a racecourse, but a nation," he says.
Hours after her third Melbourne Cup, it was announced that Makybe Diva would be retired. She finished with a record of 36 starts for 15 wins, four seconds, three thirds and $14,526,685 in prizemoney.
Three months after she left her stable for a life at stud, Boss visited the mare with a crew from 60 Minutes.
"While they were setting up the cameras I went over to her and gave her a pat. I started to feel very emotional for what this wonderful race mare had given me; in fact, given the racing world of her time."
Boss hasn't seen Makybe Diva in recent years as he's committed overseas. But when recently asked if his record-breaking seventh Doncaster success in March this year rivalled his time with Makybe Diva, he responded: "I'm very honoured to have won a record amount of Doncasters, but nothing gets near Makybe Diva."
Makybe Diva is now enjoying retirement at Makybe Stud, a boutique thoroughbred farm in Victoria founded by Tony Santic. Now a broodmare, Makybe has produced many foals, some of whom have shown great promise as future track stars. Most recently, the filly Demand Attention under Chris Waller's charge,
and the mare Divanation with Tony McEvoy have had people talking.
Racing fans can only dream of her offspring repeating what she did in those three Cups, but Makybe's legacy as being the greatest staying mare of all time is assured for now.