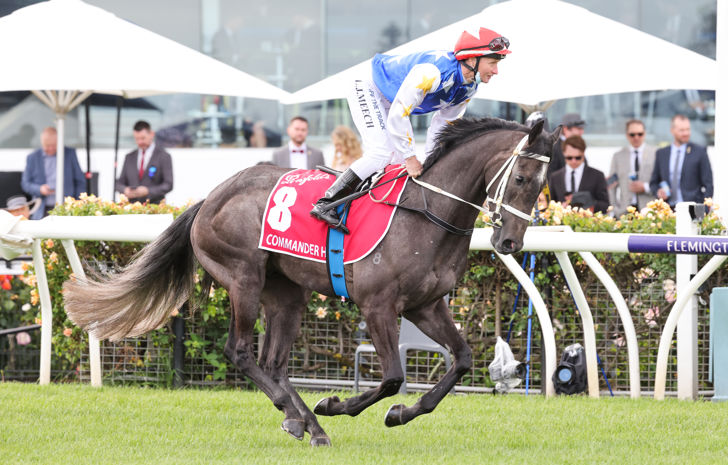 The quiet achiever
6 December 2021
•
Written by
VRC
In the 2018/19 season, Meech became the first female rider to win Victoria's Jockey Premiership, riding 145 winners from 755 rides. Since returning to the saddle earlier this year after becoming a mother, the 41-year-old is once again having great success, while taking everything in her stride.
Linda Meech grew up on the family's farm in Pongaroa on New Zealand's North Island. The near 3000-acre property was share-farmed by her father and grandfather and horses were a part of Meech's life for as far back as she can remember.
"We had sheep and cattle and I grew up riding. It was natural to me," she recalled.
"I remember mum would take dad lunch when he was working on the farm and she'd ride to wherever he was and I'd go on the horse with her. Our horses weren't for show – they'd chase cattle and work the sheep. The local pony club grounds were on our farm so I did pony club too, but my first job was probably as a roustabout on the farm."
When she was four and about to start school, Meech told her mum about her career plans.
"I told her I didn't need to go to school because I was going to be a jockey," said Meech.
"My great-grandmother had a picture hanging in her lounge room of horses and jockeys jumping over fences and I clearly remember being fascinated by that picture. But I don't exactly know where that idea came from apart from the fact that I loved horses."
During her time at boarding school in Maunganui, Meech did work experience at a local racecourse where she met trainer Kevin Myers and began working for him.
"I was pretty hopeless when I started riding," she laughed.
"But I went to Ballarat with Kevin's horses and I did some good trackwork. When those horses finished their campaign, I was getting a few rides from other trainers and Kevin said I'd be better off staying in Australia. I stayed with Paddy Payne and his family in Ballarat and that was another key point in my career. Patrick Payne helped me a great deal, too."
Known for her hard work and determination, Meech earned the respect of other trainers in the industry and more rides came. She had a long working relationship with trainer Peter Moody and one of her personal highlights came through his stable.
Meech rode Plucky Belle to victory in the Group 1 Coolmore Classic – her first Group 1 win – in March 2015.
"I'd only had about eight rides in Group 1s so I just never thought I'd have the opportunity to achieve a win like that," she said.
"At the beginning of every season I set myself goals and winning a Group 1 race was definitely on my bucket list. I've also won a couple of country premierships too and those are also highlights."
Meech has had a number of feature race victories. She enjoyed back-to-back success in the Listed Winter Championships with Glaneuse during 2011 and 2012, won the 2014 Listed Wangoom Handicap on Kneeling and the Listed Bagot Handicap on Averau.
There have been challenges that Meech shrugs off as being part of another day in the office. In 2000, she sustained serious injuries after taking a fall in Swan Hill. Meech ended up going under the whole field and surgeons spent hours repairing the damage.
"I look back at that fall now and it was probably tougher than I thought. I was back riding in about six weeks but it took some time to get over it," she said.
"But there are many tough times and downs in racing and so you really appreciate the good times and you keep going. I think I've lasted because I'm not scared of hard work and I'm pretty determined. There's probably some pigheadedness there, too!"
When she isn't working Meech has always still loved to be around horses. "As a jockey, you don't spend that much time with the horses – you jump on, race them round the track and jump off again and they go back to whoever trains them. It's not the same as having your own horses in the backyard, giving them a pat and some carrots and learning each of their habits."