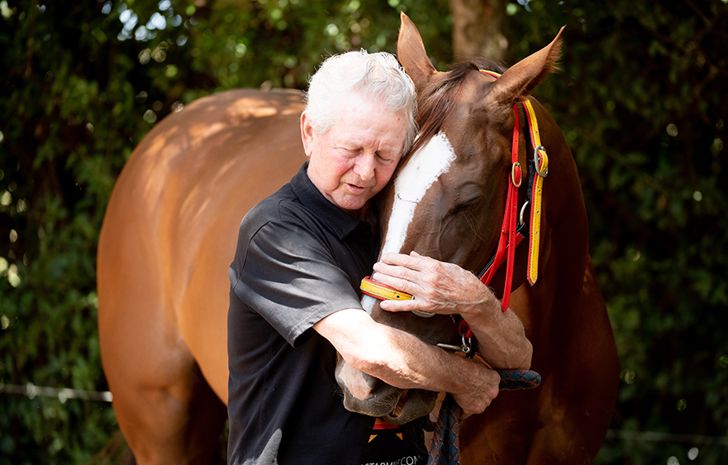 The star continues to rise
25 October 2021
•
Written by
Michael Lynch
Still A Star captured the hearts of the racing community when she was making a bid for entry into the All Star Mile earlier this year.
For her trainer and part-owner, Bill Ryan, her continuing success is a positive and welcome distraction as he navigates illness. With a win in the Group 2 Rose of Kingston Stakes at Flemington under her belt, her connections are daring to dream of the Group 1 Empire Rose Stakes on Derby Day.
When you are in your early 70s and battling an incurable illness, you could be forgiven for becoming depressed. But that is not how Tasmanian trainer Bill Ryan lives life.
The Longford-based handler has not exactly got a spring in his step – "I have too much trouble breathing sometimes for that," he quips – but he has hope and a dream and the love and support of his family. And those are enough to get him through the darkest times and give him cause for optimism.
The hopes and dreams are centred on a rising five-year-old mare known affectionately around his farm and stable as Minnie. She is better known to punters through her racing name of Still A Star.
The daughter of Toronado is the apple of Bill's eye, and although he knows that getting through the winter with his lung disease will be tough, he is optimistic that come the spring and warmer, brighter days Still A Star will shine on the mainland and give him another taste of the limelight.
Still A Star will be aimed at Group 1 races in Melbourne during the Spring Carnival, with contests like the TAB Empire Rose Stakes at Flemington during Cup Week potential targets.
To run a place would be fantastic – and to win would, says Ryan, be a dream.
"Minnie the Mouse is what we called her because she was tiny when we bought her, although she has grown considerably and is a reasonable size now," he says of the filly who cost only $13,000 at the yearling sales in Tasmania. She has since won 10 races at home and in Melbourne, making her the natural successor to that excellent Tasmanian Group 1 winning filly, Mystic Journey.
Ryan is a former jockey. He was born in Collingwood in Melbourne and served his apprenticeship at Caulfield in the 1960s, before relocating to Tasmania in search of more opportunities.
"I came over here one weekend to ride and fell in love with the place. I was struggling to get rides like most jockeys, I was about 5 foot 7 inches (168cm) and I was always struggling with my weight.
"I battled on through it until I was in my 30s and then decided to go into training. I made a lot of great friends here, the likes of Max Baker, a champion here who also rode in Melbourne, Ricky Currie, Luke Currie's dad, and Ron Riley. We have all remained good friends, and we go to lunch about once a month."
While friends and family are crucial to his health and wellbeing, Ryan freely admits that Still A Star is the reason he keeps going despite life becoming more difficult since his diagnosis with idiopathic pulmonary fibrosis four years ago.
"I just train four horses because of my health. I am just tired, worn out. To be honest if I didn't have this filly I would retire and pull the pin. She's the reason I get out of bed and keep going."
"It is 12 kilometres to Longford from our property (the home he shares with wife Mary). I  drive there every morning with the horses to train them on the track and then we come back here.
"They have beautiful yards and paddocks to go out in during the day. They have a pretty good lifestyle, and so do we, it's wonderful. It's a magnificent little property, its 30 acres and an old 1894 homestead ... we are just so lucky to live here."
His focus, necessarily, has to be short term.
"I could expire before I retire," he says, deadpan, but he is determined to get to the spring where his pride and joy is guaranteed to be competitive at the very least at the highest level.
"It just depends on how I go with the treatment I am on at the moment. I have lost about 50 per cent of my lung capacity. Your lungs eventually scar up to the point that you can no longer breathe, and the doctors say I am too old for a lung transplant."
Still A Star came to Melbourne to run in the All Star Mile – her popularity in Tasmania ensuring she got a place in the star-studded field – but an outside barrier and torrential rain on an affected track meant she had little or no chance.
Even getting to that point had not been easy. After a glorious three-year-old career  when she won the Launceston and Tasmanian Guineas and the Tasmanian Oaks (a setback cost her a tilt at the Tasmanian Derby), she had another setback and a long spell, missing a whole year of racing.
"We eventually cleared her problems up (coincidentally she too had a lung infection, like her trainer) and the rest is history. She won a Group 3 first up over 1400 here, then went to Melbourne for the All Star Mile.
"Nothing went right. The track was heavy, she drew the outside barrier at the Valley and the only place to be was on the fence. If it had not been the All Star Mile I would have scratched her.
"It took so much support to get her into it you feel obligated to run. I knew in my own heart we had no hope from the outside gate."
Undeterred, Ryan brought his stable star back to Caulfield where she was just beaten by Group 1 winner Mr Quickie in the Group 3 Victoria Handicap, and then returned once more in late April to win the Listed Anniversary Vase under young jockey Michael Poy.
"She pulled up really well after that. She had what I call a princess spell. She goes out on the grass for the day and is double rugged, then she comes into the stables for the night. We kept her nice and warm and pumped the feed into her to develop her as much as we can."
Ryan thought enough of his star to enter her for the Cox Plate last year although that spell on the sidelines ruled her out of a Melbourne spring campaign in 2020. But it is over shorter trips that she will best be seen to advantage in elite company.
"She's best up to a mile. She's very effective over 1400m, and her sectionals were good in Melbourne. But she has won three over 2100, so she will stick on and run a solid mile all right."
In lieu of Ryan being able to travel, his daughter Monica Ryan travels with the mare as her strapper, happy to go along on the journey that is hopefully going to result in one big day in the spring sunshine later this year.