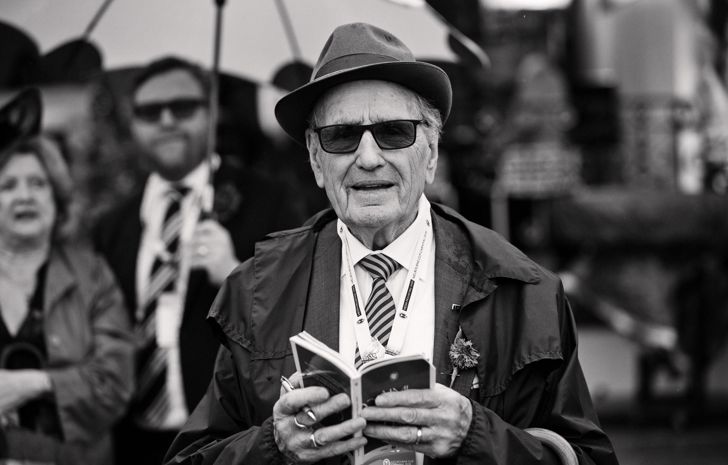 Vale Jack Styring OAM
10 February 2022
•
Written by
Patrick Bartley
Victorian racing lost a legend of the sport in early February with the passing of beloved race caller and media personality, Jack Styring OAM. For many Victorian racing fans, Jack Styring's voice was a familiar one, his famous calls adding to the excitement of a race.
Victorians have long flocked to Hanging Rock for the Australia Day and New Year's Day race meetings.
The appeal was not only for quality racing. No, it was the dulcet tones of Jack Styring and his colourful calls that had attendances at the tiny rural track swell.
Phrases describing a horse, "racing with its mouth open like a cod fish calling to its young" and a free-wheeling thoroughbred reefing for rein as, "baring its molars to the breeze" are part of his vernacular.
Only stepping away from the field glasses at the age of 82, Styring's first venture into race broadcasting was at Essendon's Napier Park greyhounds in 1947. He turned his hand to gallops in 1950, at Kaniva, South Australian.
Following his passing aged 92, just shy of his 93rd birthday, Styring left a legacy in the racing world with his calls. But it wasn't only this that tied him to the sport.
Styring lived and breathed racing, and was involved in almost every facet. He mentored journalists, callers, even aspiring stud masters.
He bred a horse named She's A Doll. He wrote columns on breeding in the Sporting Globe and the Weekly Times. He also sold advertising space in the two mastheads.
"I think I've done most things in racing and I've enjoyed every moment of it ... this industry has given me so much for so long," he once said.
Styring was recognised for his talent and hard work by receiving many awards, but he was also acknowledged of his lifetime spent dedicated to country racing when the Country Racing Victoria Media Award was renamed the Jack Styring Media Award. The award is given to a person that best captures the spirit of Victorian Country Racing within the media landscape.
Styring did just this and more. He was widely known and respected for his various media work and willingness to lend a hand whenever it was needed at country tracks, from working bees to committee meetings.
The VRC named their Living Legends Plate after Styring who admitted to being moved by the gesture bestowed upon him when stepping away from the field glasses at the age of 82.
"That was an honour that I will never forget. I first went to Flemington in the 1930s and I saw one of the greatest horses to ever race. That was Bernborough … arguably one of Australia's greatest ever equine athletes."
And of course, people can always raise a glass to the colourful character at the Jack Styring Bar at one of his favourite country tracks, Hanging Rock.
Styring's Roll Call
7 Melbourne Cups
60 Gunbower Cups (earning him a place in the Guinness Book Of Records)
39 Hanging Rock Cups
... plus many, many others.
Memorable Styring-isms
"They're off, like a bag of prawns on a hot day."
"Get in the queue now brother."
"With its mouth open like mother cod fish calling for its young."
"Jumped out of the contraption like a scalded cat."
"Showing its considerable molars to the breeze."
"What's this coming at a thousand-miles-an-hour? I don't know but you're a bit too late brother."
"He's won by as far as you can kick a jam tin."
"They're strung out like Monday's washing."