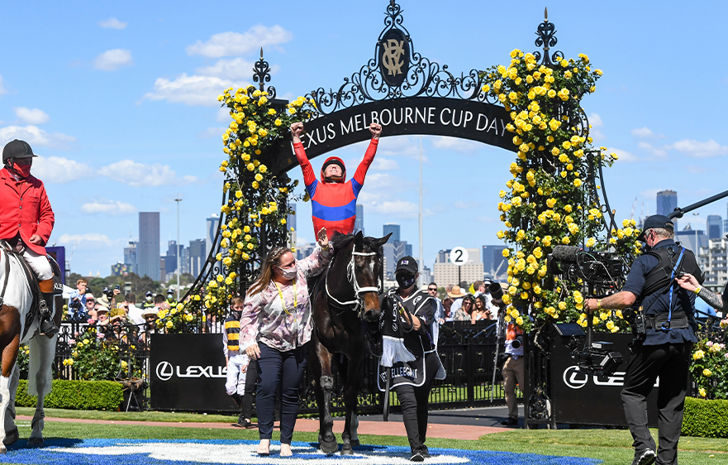 Verry Elleegant to be inducted into NZ Hall of Fame
10 February 2023
•
Written by
VRC
Retired champion mare Verry Elleegant is set to be announced in the next round of inductees to the New Zealand Racing Hall of Fame at the 2023 Inductee Dinner on May 7th.
The 2020-21 Australian Horse of the Year easily meets the Hall of Fame criteria with a record of 16 wins, 11 at Group 1 level, and stake-earnings of AUD$14.8 million.
Winning races at the highest level from 1400 metres all the way up to the two-mile test of the Melbourne Cup showed her versatility and all-round class. Her defining moment was a historic win in the Lexus Melbourne Cup, carrying 57kg.
In 2022, the Lexus Melbourne Cup Tour travelled through the breeding epicentre of New Zealand, Cambridge, with a visit to the picturesque Cambridge Stud. Cambridge is the birthplace of no less than 14 Melbourne Cup winners.
Verry Elleegant's breeder, Don Goodwin, received his Cup trophy as the breeder of the Melbourne Cup winner at a special presentation at Cambridge Stud.
The honour of breeding a Melbourne Cup winner was not lost on Goodwin, declaring winning 'the race that stops a nation™' was "the ultimate achievement."
He also had an ownership interest in Verry Elleegant's sire Zed, a son of the Zabeel, who stood at Sir Patrick Hogan's Cambridge Stud.
Zed succumbed to injury after he had won one of only four starts over 1600m, but his pedigree was enough to secure a stud career. He served 130 mares at a service fee of $500 in 2007.
Interest in the son of Zabeel waned, only seeing moderate success from his progeny, and in 2012 was consigned to Erewhon Station, Canterbury on the South Island to serve draught Clydesdale mares.
His hiatus from the thoroughbred breeding world was short-lived. In 2013, Survived won the Makfi Challenge Stakes, giving Zed his first Group 1 winner.
With others from his early crop starting to show promise on the track, he ventured to Grangewilliam Stud in South Taranaki, where he served 168 mares. Amongst them was the Danroad mare Opulence, who Goodwin had purchased for the express purpose of mating her with Zed.
"I had always been a big fan of the Eight Carat line that Zed's dam Emerald Dream hailed from, and I wanted to double up on it, which is why I bought Opulence," Goodwin said.
"Like Emerald Dream, she traced to Eight's Carat's daughter Cotehele House, plus there was a double-cross to Emerald Dream's sire Danehill, who was also the grandsire of Opulence through Danroad. But that Eight Carat blood was the key and Opulence fitted the bill perfectly."
Just how perfectly, the Auckland retiree could never have foreseen. Opulence's first mating with Zed, while he was still at Little Avondale, resulted in a premature filly that didn't survive. In 2014, by which time both were domiciled at Grangewilliam, Opulence produced a colt by Zed that was named Verry Flash and has since won 11 races up to Listed stakes level for South Auckland trainer Nick Bishara. Opulence was trained by Bishara, who Goodwin subsequently purchased the mare from.
A similar ownership arrangement to Verry Flash, and a group of stable clients, gave Bishara a filly named Verry Elleegant, incorporating the name of Goodwin's grand-daughter Elle.
"Even though she was very immature and didn't know what she was doing, we knew before she raced that she had something, she could knock out 600 metres in 36 seconds without even trying." - Don Goodwin
Goodwin couldn't have imagined the stellar career she would have. 11 Group 1 wins including some of Australia's most prestigious events.
The ATC Oaks (G1) as a three-year-old filly, a first-up win in the Winx Stakes (G1) over 1400m, adding a Turnbull Stakes (G1) and Caulfield Cup (G1) in that same preparation.
She won the Chipping Norton (G1) twice, as well as a Ranvet Stakes (G1) and a George Main Stakes (G1), culminating in an epic performance at Flemington, the crowning moment of her career.
Goodwin sold his interest in Verry Elleegant following the decision by fellow connections to race her in Europe and target the prestigious Prix de l'Arc de Triomphe (G1). 
"Verry Elleegant made a lot of difference to a lot of lives, and she certainly changed my life and my family's. There were so many thrills – 11 Group 1s, the Winx Stakes at 1400 metres and the Melbourne Cup at 3200m – how many horses have done that?" - Don Goodwin
Verry Elleegant's career came to an end after four starts in Europe where her best performance was third in the Prix Foy (G2) over 2400m at Longchamp.
But for Goodwin, the Verry Elleegant story lives on. He still owns two full siblings, a yearling full-brother who will be offered at the upcoming 2023 Australian Easter Yearling Sale, and he intends on retaining the full sister, who is currently a weanling.
"It's going to be interesting to see what the buyers in Sydney think of the colt, and the filly is also a decent type, much like her big sister.
"Verry Elleegant made a lot of difference to a lot of lives, and she certainly changed my life and my family's. There were so many thrills – 11 Group 1s, the Winx Stakes at 1400 metres and the Melbourne Cup at 3200m – how many horses have done that?
"But her Melbourne Cup carrying 57kg and winning so easily in one of the fastest times ever – that sure takes some beating. Now we're just thrilled that she has been paid the ultimate compliment to be inducted to the New Zealand Racing Hall of Fame.
"It's a bit like dreaming that one day you might win the Melbourne Cup, even when she had done that we didn't dare dream that she would also get into the Hall of Fame."
System.Web.HttpException (0x80004005): Error executing child request for handler 'System.Web.Mvc.HttpHandlerUtil+ServerExecuteHttpHandlerAsyncWrapper'. ---> System.NullReferenceException: Object reference not set to an instance of an object.
   at ASP._Page_Views_Partials_googleAd_cshtml.Execute()
   at System.Web.WebPages.WebPageBase.ExecutePageHierarchy()
   at System.Web.Mvc.WebViewPage.ExecutePageHierarchy()
   at System.Web.WebPages.WebPageBase.ExecutePageHierarchy(WebPageContext pageContext, TextWriter writer, WebPageRenderingBase startPage)
   at System.Web.Mvc.RazorView.RenderView(ViewContext viewContext, TextWriter writer, Object instance)
   at System.Web.Mvc.BuildManagerCompiledView.Render(ViewContext viewContext, TextWriter writer)
   at Umbraco.Web.Mvc.ProfilingView.Render(ViewContext viewContext, TextWriter writer) in D:\a\1\s\src\Umbraco.Web\Mvc\ProfilingView.cs:line 25
   at System.Web.Mvc.ViewResultBase.ExecuteResult(ControllerContext context)
   at System.Web.Mvc.ControllerActionInvoker.InvokeActionResult(ControllerContext controllerContext, ActionResult actionResult)
   at System.Web.Mvc.ControllerActionInvoker.InvokeActionResultFilterRecursive(IList`1 filters, Int32 filterIndex, ResultExecutingContext preContext, ControllerContext controllerContext, ActionResult actionResult)
   at System.Web.Mvc.ControllerActionInvoker.InvokeActionResultFilterRecursive(IList`1 filters, Int32 filterIndex, ResultExecutingContext preContext, ControllerContext controllerContext, ActionResult actionResult)
   at System.Web.Mvc.ControllerActionInvoker.InvokeActionResultFilterRecursive(IList`1 filters, Int32 filterIndex, ResultExecutingContext preContext, ControllerContext controllerContext, ActionResult actionResult)
   at System.Web.Mvc.ControllerActionInvoker.InvokeActionResultFilterRecursive(IList`1 filters, Int32 filterIndex, ResultExecutingContext preContext, ControllerContext controllerContext, ActionResult actionResult)
   at System.Web.Mvc.ControllerActionInvoker.InvokeActionResultFilterRecursive(IList`1 filters, Int32 filterIndex, ResultExecutingContext preContext, ControllerContext controllerContext, ActionResult actionResult)
   at System.Web.Mvc.ControllerActionInvoker.InvokeActionResultWithFilters(ControllerContext controllerContext, IList`1 filters, ActionResult actionResult)
   at System.Web.Mvc.Async.AsyncControllerActionInvoker.<>c__DisplayClass3_6.<BeginInvokeAction>b__4()
   at System.Web.Mvc.Async.AsyncControllerActionInvoker.<>c__DisplayClass3_1.<BeginInvokeAction>b__1(IAsyncResult asyncResult)
   at System.Web.Mvc.Async.AsyncResultWrapper.WrappedAsyncResult`1.CallEndDelegate(IAsyncResult asyncResult)
   at System.Web.Mvc.Async.AsyncResultWrapper.WrappedAsyncResultBase`1.End()
   at System.Web.Mvc.Async.AsyncControllerActionInvoker.EndInvokeAction(IAsyncResult asyncResult)
   at System.Web.Mvc.Controller.<>c.<BeginExecuteCore>b__152_1(IAsyncResult asyncResult, ExecuteCoreState innerState)
   at System.Web.Mvc.Async.AsyncResultWrapper.WrappedAsyncVoid`1.CallEndDelegate(IAsyncResult asyncResult)
   at System.Web.Mvc.Async.AsyncResultWrapper.WrappedAsyncResultBase`1.End()
   at System.Web.Mvc.Controller.EndExecuteCore(IAsyncResult asyncResult)
   at System.Web.Mvc.Controller.<>c.<BeginExecute>b__151_2(IAsyncResult asyncResult, Controller controller)
   at System.Web.Mvc.Async.AsyncResultWrapper.WrappedAsyncVoid`1.CallEndDelegate(IAsyncResult asyncResult)
   at System.Web.Mvc.Async.AsyncResultWrapper.WrappedAsyncResultBase`1.End()
   at System.Web.Mvc.Controller.EndExecute(IAsyncResult asyncResult)
   at System.Web.Mvc.Controller.System.Web.Mvc.Async.IAsyncController.EndExecute(IAsyncResult asyncResult)
   at System.Web.Mvc.MvcHandler.<>c.<BeginProcessRequest>b__20_1(IAsyncResult asyncResult, ProcessRequestState innerState)
   at System.Web.Mvc.Async.AsyncResultWrapper.WrappedAsyncVoid`1.CallEndDelegate(IAsyncResult asyncResult)
   at System.Web.Mvc.Async.AsyncResultWrapper.WrappedAsyncResultBase`1.End()
   at System.Web.Mvc.MvcHandler.EndProcessRequest(IAsyncResult asyncResult)
   at System.Web.Mvc.MvcHandler.System.Web.IHttpAsyncHandler.EndProcessRequest(IAsyncResult result)
   at System.Web.Mvc.HttpHandlerUtil.ServerExecuteHttpHandlerAsyncWrapper.<>c__DisplayClass3_0.<EndProcessRequest>b__0()
   at System.Web.Mvc.HttpHandlerUtil.ServerExecuteHttpHandlerWrapper.<>c__DisplayClass5_0.<Wrap>b__0()
   at System.Web.Mvc.HttpHandlerUtil.ServerExecuteHttpHandlerWrapper.Wrap[TResult](Func`1 func)
   at System.Web.Mvc.HttpHandlerUtil.ServerExecuteHttpHandlerWrapper.Wrap(Action action)
   at System.Web.Mvc.HttpHandlerUtil.ServerExecuteHttpHandlerAsyncWrapper.EndProcessRequest(IAsyncResult result)
   at System.Web.HttpServerUtility.ExecuteInternal(IHttpHandler handler, TextWriter writer, Boolean preserveForm, Boolean setPreviousPage, VirtualPath path, VirtualPath filePath, String physPath, Exception error, String queryStringOverride)
   at System.Web.HttpServerUtility.ExecuteInternal(IHttpHandler handler, TextWriter writer, Boolean preserveForm, Boolean setPreviousPage, VirtualPath path, VirtualPath filePath, String physPath, Exception error, String queryStringOverride)
   at System.Web.HttpServerUtility.Execute(IHttpHandler handler, TextWriter writer, Boolean preserveForm, Boolean setPreviousPage)
   at System.Web.HttpServerUtility.Execute(IHttpHandler handler, TextWriter writer, Boolean preserveForm)
   at System.Web.HttpServerUtilityWrapper.Execute(IHttpHandler handler, TextWriter writer, Boolean preserveForm)
   at System.Web.Mvc.Html.ChildActionExtensions.ActionHelper(HtmlHelper htmlHelper, String actionName, String controllerName, RouteValueDictionary routeValues, TextWriter textWriter)
   at System.Web.Mvc.Html.ChildActionExtensions.Action(HtmlHelper htmlHelper, String actionName, String controllerName, RouteValueDictionary routeValues)
   at Our.Umbraco.DocTypeGridEditor.Web.Extensions.HtmlHelperExtensions.RenderDocTypeGridEditorItem(HtmlHelper helper, IPublishedElement content, String editorAlias, String viewPath, String previewViewPath, Boolean isPreview)
   at ASP._Page_app_plugins_doctypegrideditor_render_DocTypeGridEditor_cshtml.Execute()
   at System.Web.WebPages.WebPageBase.ExecutePageHierarchy()
   at System.Web.Mvc.WebViewPage.ExecutePageHierarchy()
   at System.Web.WebPages.WebPageBase.ExecutePageHierarchy(WebPageContext pageContext, TextWriter writer, WebPageRenderingBase startPage)
   at System.Web.Mvc.RazorView.RenderView(ViewContext viewContext, TextWriter writer, Object instance)
   at System.Web.Mvc.BuildManagerCompiledView.Render(ViewContext viewContext, TextWriter writer)
   at Umbraco.Web.Mvc.ProfilingView.Render(ViewContext viewContext, TextWriter writer) in D:\a\1\s\src\Umbraco.Web\Mvc\ProfilingView.cs:line 25
   at System.Web.Mvc.HtmlHelper.RenderPartialInternal(String partialViewName, ViewDataDictionary viewData, Object model, TextWriter writer, ViewEngineCollection viewEngineCollection)
   at System.Web.Mvc.Html.PartialExtensions.Partial(HtmlHelper htmlHelper, String partialViewName, Object model, ViewDataDictionary viewData)
   at System.Web.Mvc.Html.PartialExtensions.Partial(HtmlHelper htmlHelper, String partialViewName, Object model)
   at ASP._Page_Views_Partials_grid_editors_Base_cshtml.Execute()