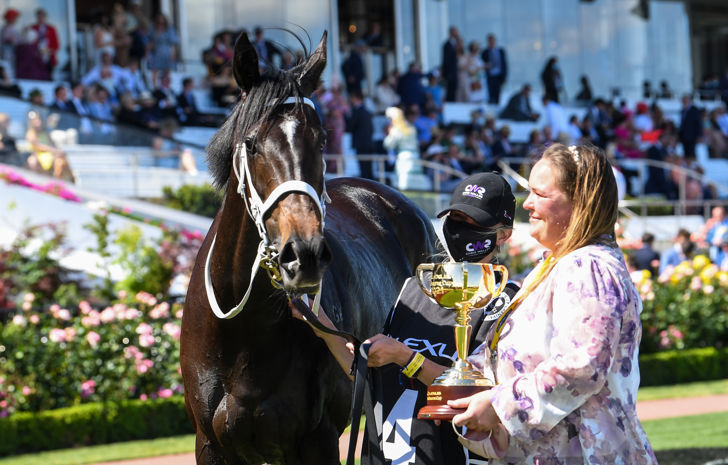 Verry exciting win
23 February 2022
•
Written by
Michael Lynch
She dominated the Lexus Melbourne Cup in 2021 with a brilliant win, but the team behind Verry Elleegant deserves just as much of the glory.
There were plenty of critics prepared to condemn the 2021 Melbourne Cup as a weaker race than normal because of the lack of international challengers, their numbers reduced last year because of the difficulties of travel in the COVID era and the stricter veterinary protocols introduced to ensure horse welfare was paramount
But there were few knocking the event afterwards as Verry Elleegant turned in a performance for the ages to win the great race by four lengths, defying the welter burden for a mare of 57 kilos.
James McDonald – who had, ironically, been down to ride English challenger Away He Goes until the latter's scratching in the lead-up to the race – plotted a perfect course on the nine-time Group 1 winner, getting her relaxed and comfortable as the boom horse of the spring, Incentivise, made his way to the front from his wide draw.
Spanish Mission has been one of Europe's top stayers for the past 18 months and on his last race start before the Cup had run the champion distance horse of Europe, Stradivarius, to a photo finish at the York Ebor meeting.
There might not have been many Europeans, and no challengers from Japan or Hong Kong, but this was, in many ways, an international triumph anyway.
Verry Elleegant herself was raised and originally raced and trained in New Zealand, bred by Don Goodwin and put through her early paces by Nick Bishara before coming to Australia as a three-year-old spring filly with the Kennedy Oaks as her original big target.
Back then she was trained by Darren Weir, but when he received a four-year ban she was transferred to the Sydney stables of another Kiwi, Chris Waller, where she would eventually develop such an ironclad partnership with another New Zealander in champion jockey James McDonald.
Okay, you might scoff that this is a Clayton's sort of international winner: the mare has been in Australia for three years, and while she is trained and ridden by Kiwis they are hardly foreigners.
Enter Jo Taylor, another crucial part of the Verry Elleegant story, to add another international dimension.
Taylor is an expatriate South African who came to this country several years ago, initially working for Waller in Sydney before shifting to Melbourne where she now heads up the highly successful Melbourne operation.
Meticulous and thorough, Taylor is the eyes and ears of the champion trainer at Waller's Flemington base, and despite her time in Australia, there is no mistaking Taylor's background once she begins to speak.
"We had a very brief, albeit emotional conversation. I really wish Chris could have been here today, he certainly deserves this one," she said in a choking South African accent after Verry Elleegant returned to scale.
For all three it was a first Lexus Melbourne Cup triumph and a fitting reward for their stewardship of a brave, brilliant mare whose greatness – she has now won 10 Group 1 races including the biggest of them all – will surely no longer be doubted.
With top-level triumphs from 1400 metres (the Winx Stakes) to 3200 metres in the Cup, with victories at every trip along the way (1600 metres in the Chipping Norton and George Main Stakes, 2000 metres in the Turnbull, Ranvet and Vinery Stud Stakes and 2400 metres in the Australian Oaks, Caulfield Cup and Tancred Stakes) she has proved herself almost without equal as far as versatility is concerned.
Not even the wonder mares Winx and Black Caviar displayed such top-level ability over such a spread of distances, although few doubt that Winx would have stayed further than the 2200 metres of the Queensland Oaks, the longest trip she was ever asked to run at, had she been given the opportunity.
While it is hard to see Black Caviar running 3200 metres, Peter Moody, her trainer, and her rider Luke Nolen believe she could have stretched her brilliant speed to the Cox Plate trip of 2000 metres had she been asked.
But they are all hypotheticals and neither add nor detract to the achievements of Verry Elleegant – nor the Kiwi duo of Waller and McDonald, who have forged such a powerful partnership in recent years.
The pair may be very much Sydney based these days, but their roots are back in the land of the long white cloud and they are proud New Zealanders happy to work together to promote the New Zealand connection as a by-product of their Australian success.
Ironically the duo did not know each other back at home: Waller is nearly 20 years McDonald's senior and was moving to Sydney to get his training career going when the jockey was hoping to begin an apprenticeship.
"I only met James for the first time when he came to Sydney. I watched his career in New Zealand with interest when he was an apprentice doing some amazing things, being compared with Shane Dye and Jimmy Cassidy and the many great riders that New Zealand has produced," Waller reveals.
Sharing a New Zealand background would not count for a lot unless the burgeoning young star could deliver in the saddle, though.
"I was in full admiration of him, and gradually utilised his services once he moved to Sydney when I saw how good he was.
"We were fully supporting other riders at the time so it wasn't a straight-away switch, but he was becoming harder and harder to beat and I could see that. I wouldn't be using him unless he was one of the very best."
Waller says it is an innate ability coupled with a strong desire, tactical acumen and work ethic that has taken McDonald to the top.
"It's just been great to be able to work with him. He's a great horseman and has been right from a young age.
"It is his skill on a horse, his horsemanship, which stands out. Horses like him, he's kind to them and they react to that. Not only does he give them every chance in a race but they really respond to him, try their best.
"If you are talking half a length here and there, throughout the year it's a big margin to be talking about and to have someone of that calibre on your side [makes a difference]."
Waller says that his now ten-time Group 1-winning Cup heroine is one of the best examples he can give to highlight McDonald's skillset. When she first came to Australia she had a reputation for being skittish with a high head carriage – a super talented galloper, but not always tractable and an at-times difficult ride.
"Verry Elleegant is probably the best example of all, in terms of his horsemanship, all the work he has done with her, how he rides her in her races. He's really helped her come of age and now that she has matured she's become a very tractable horse and he has been a very big part of that.
"To the untrained eye, he made it look very easy. And then, on the first Tuesday in November he gave her the perfect ride. If there were Olympic judges there scoring it they would have given him a perfect 10 for the way he rode.
"Pre-race, from the barriers, putting her into a beautiful spot, the horse relaxing, it was just one of those 10 out of 10 Olympic type moments, for a horse and jockey."
McDonald's youth (he turned 30 in January 2022) means he is not quite ready for legendary status yet. But with almost 60 Group 1 winners to his name – not to mention four apprentice titles in his homeland and senior riders championships in both New Zealand and Australia (Sydney), he is well on his way.
While the man they call JMac is now well established in NSW, he is very much an expatriate Kiwi whose thoughts are never far from his homeland and family.
"As a kid growing up we followed it (the Melbourne Cup) all the way through. It was the one race that we really wanted to ride in, let alone win," he said after Verry Elleegant's triumph.
In post-race interviews he stressed how much it meant to his family, his parents Brett and Di, who separated when he was younger, and the New Zealand racing community.
"Back home I have a good following and everyone was over the moon," he told Network Ten's Michael Felgate and former Cup-winning rider Michelle Payne.
"And because it's Verry Elleegant, everyone knows her. It was a childhood dream, and to get on a horse like Verry Elleegant, who is so close to my heart and what she has done for my career. She will go down as one of the greats for sure. It was an icing on the cake moment for her."
McDonald's talent was never in doubt – his prodigious record is testimony to that – but his judgement was called into question when he was convicted of having a $1,000 bet on a horse he was riding at Randwick. The fact that the galloper in question, Astern, won the race made no difference, and he received an 18-month ban at the end of 2016.
But the relationship between him and Waller flourished after that as he looked to rebuild his career; a little older, and certainly wiser.
"We get on, like everything we have our moments, but we are lucky enough, we have worked together so long now I know how to ride his horses and he has faith in me," McDonald said in his post-Cup interviews.
He is never afraid to tell the world how much he does owe his country. A clearly emotional McDonald, when being inducted into the New Zealand Racing Hall of Fame six months before his great day at Flemington, was candid about how much Waller had helped his rehabilitation.
"I can't really do too much without him. He's been a wonderful mentor. Being a fellow Kiwi I suppose he felt obligated to help me out a little ... he's a champion bloke who wears his heart on his sleeve and he gives me every opportunity."
There once was a time when the Kiwi raiders – well-credentialled classy gallopers or barely known smokies – were the glamorous foreign invaders challenging for Australia's greatest race.
Last year proved that the men – and horses – from over the ditch can still be the most glamorous of international challengers when they get the chance.
Having climbed every summit together in Australia, the Kiwi trio might still be set to plunder the world in the next 12 months if Verry Elleegant's major part-owner Brae Sokolski gets his way.
The Sydney-based businessman is desperate to have a tilt at the world's most glamorous weight-for-age race, the Prix de l'Arc de Triomphe, and despite the fact that she will be seven this year he believes she could make her presence felt.
There haven't been too many Australasian-trained entries in the big race in Paris, but the one who performed best was a Kiwi. It was back in 1977 when the globetrotting Balmerino ran second in the Arc, beaten only by the champion and dual winner Alleged, from Vincent O'Brien's Irish stable.
Verry Elleegant would have big shoes to fill: but no doubt Waller and McDonald would do their homeland and their adopted country proud were they to rise to the challenge and seek to go one better than Balmerino!
DID YOU KNOW?
Verry Elleegant is the first mare to win the Melbourne Cup since Makybe Diva.
17-year-old New Zealander Connor Harrison has an 'unofficial' share in the horse. While his name is not on the ownership list officially, breeder Don Goodwin gifted him an unofficial share in the horse when Harrison was working at the stable of Nick Bishara.
One of Verry Elleegant's first track riders knew she had potential from day one, even though she was so headstrong she had to be sent back to the breakers. D
System.Web.HttpException (0x80004005): Error executing child request for handler 'System.Web.Mvc.HttpHandlerUtil+ServerExecuteHttpHandlerAsyncWrapper'. ---> System.NullReferenceException: Object reference not set to an instance of an object.
   at ASP._Page_Views_Partials_googleAd_cshtml.Execute() in C:\home\site\wwwroot\Views\Partials\googleAd.cshtml:line 4
   at System.Web.WebPages.WebPageBase.ExecutePageHierarchy()
   at System.Web.Mvc.WebViewPage.ExecutePageHierarchy()
   at System.Web.WebPages.WebPageBase.ExecutePageHierarchy(WebPageContext pageContext, TextWriter writer, WebPageRenderingBase startPage)
   at System.Web.Mvc.RazorView.RenderView(ViewContext viewContext, TextWriter writer, Object instance)
   at System.Web.Mvc.BuildManagerCompiledView.Render(ViewContext viewContext, TextWriter writer)
   at Umbraco.Web.Mvc.ProfilingView.Render(ViewContext viewContext, TextWriter writer) in D:\a\1\s\src\Umbraco.Web\Mvc\ProfilingView.cs:line 25
   at System.Web.Mvc.ViewResultBase.ExecuteResult(ControllerContext context)
   at System.Web.Mvc.ControllerActionInvoker.InvokeActionResult(ControllerContext controllerContext, ActionResult actionResult)
   at System.Web.Mvc.ControllerActionInvoker.InvokeActionResultFilterRecursive(IList`1 filters, Int32 filterIndex, ResultExecutingContext preContext, ControllerContext controllerContext, ActionResult actionResult)
   at System.Web.Mvc.ControllerActionInvoker.InvokeActionResultFilterRecursive(IList`1 filters, Int32 filterIndex, ResultExecutingContext preContext, ControllerContext controllerContext, ActionResult actionResult)
   at System.Web.Mvc.ControllerActionInvoker.InvokeActionResultFilterRecursive(IList`1 filters, Int32 filterIndex, ResultExecutingContext preContext, ControllerContext controllerContext, ActionResult actionResult)
   at System.Web.Mvc.ControllerActionInvoker.InvokeActionResultFilterRecursive(IList`1 filters, Int32 filterIndex, ResultExecutingContext preContext, ControllerContext controllerContext, ActionResult actionResult)
   at System.Web.Mvc.ControllerActionInvoker.InvokeActionResultFilterRecursive(IList`1 filters, Int32 filterIndex, ResultExecutingContext preContext, ControllerContext controllerContext, ActionResult actionResult)
   at System.Web.Mvc.ControllerActionInvoker.InvokeActionResultWithFilters(ControllerContext controllerContext, IList`1 filters, ActionResult actionResult)
   at System.Web.Mvc.Async.AsyncControllerActionInvoker.<>c__DisplayClass3_6.<BeginInvokeAction>b__4()
   at System.Web.Mvc.Async.AsyncControllerActionInvoker.<>c__DisplayClass3_1.<BeginInvokeAction>b__1(IAsyncResult asyncResult)
   at System.Web.Mvc.Async.AsyncResultWrapper.WrappedAsyncResult`1.CallEndDelegate(IAsyncResult asyncResult)
   at System.Web.Mvc.Async.AsyncResultWrapper.WrappedAsyncResultBase`1.End()
   at System.Web.Mvc.Async.AsyncControllerActionInvoker.EndInvokeAction(IAsyncResult asyncResult)
   at System.Web.Mvc.Controller.<>c.<BeginExecuteCore>b__152_1(IAsyncResult asyncResult, ExecuteCoreState innerState)
   at System.Web.Mvc.Async.AsyncResultWrapper.WrappedAsyncVoid`1.CallEndDelegate(IAsyncResult asyncResult)
   at System.Web.Mvc.Async.AsyncResultWrapper.WrappedAsyncResultBase`1.End()
   at System.Web.Mvc.Controller.EndExecuteCore(IAsyncResult asyncResult)
   at System.Web.Mvc.Controller.<>c.<BeginExecute>b__151_2(IAsyncResult asyncResult, Controller controller)
   at System.Web.Mvc.Async.AsyncResultWrapper.WrappedAsyncVoid`1.CallEndDelegate(IAsyncResult asyncResult)
   at System.Web.Mvc.Async.AsyncResultWrapper.WrappedAsyncResultBase`1.End()
   at System.Web.Mvc.Controller.EndExecute(IAsyncResult asyncResult)
   at System.Web.Mvc.Controller.System.Web.Mvc.Async.IAsyncController.EndExecute(IAsyncResult asyncResult)
   at System.Web.Mvc.MvcHandler.<>c.<BeginProcessRequest>b__20_1(IAsyncResult asyncResult, ProcessRequestState innerState)
   at System.Web.Mvc.Async.AsyncResultWrapper.WrappedAsyncVoid`1.CallEndDelegate(IAsyncResult asyncResult)
   at System.Web.Mvc.Async.AsyncResultWrapper.WrappedAsyncResultBase`1.End()
   at System.Web.Mvc.MvcHandler.EndProcessRequest(IAsyncResult asyncResult)
   at System.Web.Mvc.MvcHandler.System.Web.IHttpAsyncHandler.EndProcessRequest(IAsyncResult result)
   at System.Web.Mvc.HttpHandlerUtil.ServerExecuteHttpHandlerAsyncWrapper.<>c__DisplayClass3_0.<EndProcessRequest>b__0()
   at System.Web.Mvc.HttpHandlerUtil.ServerExecuteHttpHandlerWrapper.<>c__DisplayClass5_0.<Wrap>b__0()
   at System.Web.Mvc.HttpHandlerUtil.ServerExecuteHttpHandlerWrapper.Wrap[TResult](Func`1 func)
   at System.Web.Mvc.HttpHandlerUtil.ServerExecuteHttpHandlerWrapper.Wrap(Action action)
   at System.Web.Mvc.HttpHandlerUtil.ServerExecuteHttpHandlerAsyncWrapper.EndProcessRequest(IAsyncResult result)
   at System.Web.HttpServerUtility.ExecuteInternal(IHttpHandler handler, TextWriter writer, Boolean preserveForm, Boolean setPreviousPage, VirtualPath path, VirtualPath filePath, String physPath, Exception error, String queryStringOverride)
   at System.Web.HttpServerUtility.ExecuteInternal(IHttpHandler handler, TextWriter writer, Boolean preserveForm, Boolean setPreviousPage, VirtualPath path, VirtualPath filePath, String physPath, Exception error, String queryStringOverride)
   at System.Web.HttpServerUtility.Execute(IHttpHandler handler, TextWriter writer, Boolean preserveForm, Boolean setPreviousPage)
   at System.Web.HttpServerUtility.Execute(IHttpHandler handler, TextWriter writer, Boolean preserveForm)
   at System.Web.HttpServerUtilityWrapper.Execute(IHttpHandler handler, TextWriter writer, Boolean preserveForm)
   at System.Web.Mvc.Html.ChildActionExtensions.ActionHelper(HtmlHelper htmlHelper, String actionName, String controllerName, RouteValueDictionary routeValues, TextWriter textWriter)
   at System.Web.Mvc.Html.ChildActionExtensions.Action(HtmlHelper htmlHelper, String actionName, String controllerName, RouteValueDictionary routeValues)
   at Our.Umbraco.DocTypeGridEditor.Web.Extensions.HtmlHelperExtensions.RenderDocTypeGridEditorItem(HtmlHelper helper, IPublishedElement content, String editorAlias, String viewPath, String previewViewPath, Boolean isPreview)
   at ASP._Page_app_plugins_doctypegrideditor_render_DocTypeGridEditor_cshtml.Execute() in C:\home\site\wwwroot\app_plugins\doctypegrideditor\render\DocTypeGridEditor.cshtml:line 34
   at System.Web.WebPages.WebPageBase.ExecutePageHierarchy()
   at System.Web.Mvc.WebViewPage.ExecutePageHierarchy()
   at System.Web.WebPages.WebPageBase.ExecutePageHierarchy(WebPageContext pageContext, TextWriter writer, WebPageRenderingBase startPage)
   at System.Web.Mvc.RazorView.RenderView(ViewContext viewContext, TextWriter writer, Object instance)
   at System.Web.Mvc.BuildManagerCompiledView.Render(ViewContext viewContext, TextWriter writer)
   at Umbraco.Web.Mvc.ProfilingView.Render(ViewContext viewContext, TextWriter writer) in D:\a\1\s\src\Umbraco.Web\Mvc\ProfilingView.cs:line 25
   at System.Web.Mvc.HtmlHelper.RenderPartialInternal(String partialViewName, ViewDataDictionary viewData, Object model, TextWriter writer, ViewEngineCollection viewEngineCollection)
   at System.Web.Mvc.Html.PartialExtensions.Partial(HtmlHelper htmlHelper, String partialViewName, Object model, ViewDataDictionary viewData)
   at System.Web.Mvc.Html.PartialExtensions.Partial(HtmlHelper htmlHelper, String partialViewName, Object model)
   at ASP._Page_Views_Partials_grid_editors_Base_cshtml.Execute() in C:\home\site\wwwroot\Views\Partials\grid\editors\Base.cshtml:line 20