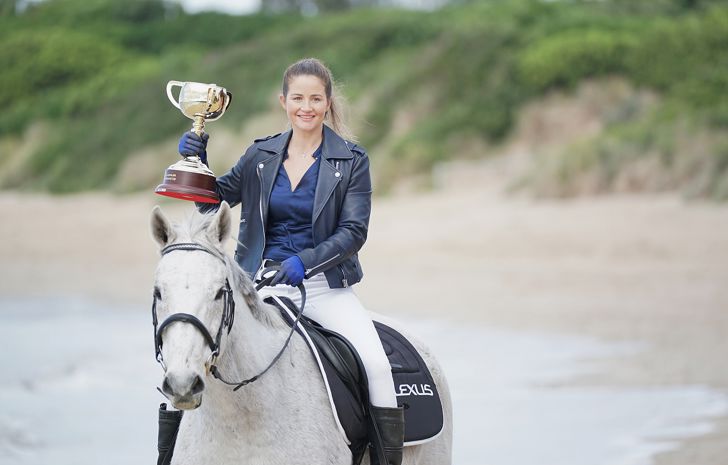 Victoria Racing Club congratulates Michelle Payne
3 December 2021
•
Written by
VRC
Michelle Payne's historic Melbourne Cup win aboard Prince Of Penzance in 2015 has been recognised by the Australian public as one of the greatest sporting moments of all time, capturing the News Corp Magic Moment prize at last night's Sport Australia Hall Of Fame Awards.
A nationwide vote was held to determine which of 20 famous moments would be elevated to the Hall Of Fame, joining such famous sporting achievements as Australia II's America's Cup win in 1983,  Cathy Freeman's 400m gold medal in Sydney and the night that Sydney won the right to host the 2000 Olympics in 1993.
There are also two other Melbourne Cup winners who have been named as historic moments in years past: Phar Lap, whose 1930 win is the oldest moment to have been recognised to date, and Damien Oliver's emotional victory aboard Media Puzzle in 2002.
They are the only racing moments on the list, once again highlighting the incomparable link between Australian sporting fans and the 'race that stops the nation'™.
The 2015 Melbourne Cup which saw Payne become the first female jockey to win Australia's greatest race  becomes the 19th moment to be recognised.
Payne's historic feat beat out 19 other achievements to be crowned this year's News Corp Magic Moment, including the historic third Melbourne Cup win of Makybe Diva in 2005.
An overwhelmed Payne paid tribute both to Prince Of Penzance, who now resides at Living Legends, as well her brother Stevie, who strapped the gelding at Flemington Racecourse six years ago.
"To win the 2021 Sport Australia Hall of Fame Moment was a huge surprise," Payne said.
"I was in shock when I was informed, as the moments were all so significant in Australia's sporting history.
"I was so happy to make it into the Top 10, and then to receive the public vote was just absolutely amazing.
"Apart from achieving a lifelong dream, the most special moment was sharing this with my brother Stevie. I was thrilled that the moment highlighted his celebrations - he was so excited. We have a unique bond, maybe that is why we won."
Victoria Racing Club (VRC) Chief Executive Officer Steve Rosich said that the public vote highlighted once more just how important the Lexus Melbourne Cup is to all Australians.
"As the first female jockey to win the great race, Michelle's Melbourne Cup win will never be forgotten and has quickly become an important milestone in Australian sporting history," Mr Rosich said.
"The fact that the 2015 Melbourne Cup edged out another famous winner in Makybe Diva demonstrates that the Cup continues to attract the attention of all sporting fans on a level beyond that of any other race. It is horse racing's bridge to the wider community.
"It is only fitting too that three of the 19 moments are from Melbourne Cups. The Melbourne Cup remains the race that stops the nation and, year after year, it continues to resonate.
"The VRC are proud custodians of Australia's greatest race and we couldn't be prouder of Michelle, Stevie and Prince Of Penzance."
Also finishing behind Payne's success in the public vote were a host of unforgettable moments: Ian Thorpe's 400m freestyle world record on the opening night of the 2000 Olympics in Sydney, the Oarsome Foursome's famous coxless fours gold medal in Barcelona in 1992, Norm Provan and Arthur Summons' muddy embrace that is immortalised in the NRL's premiership trophy each season, Debbie Flintoff-King's unbelievable burst to take the 400m hurdles right on the line in Seoul in 1988, Adam Scott's feat in becoming the first Australian to win Augusta's coveted green jacket when winning the US Masters in 2013, Lionel Rose's seemingly impossible victory over Fighting Harada to become the first Indigenous boxer to become world champion in 1968, Tony Lockett's record 1300th goal in 1999 and Alex Jesaulenko's iconic mark during the 1970 grand final.