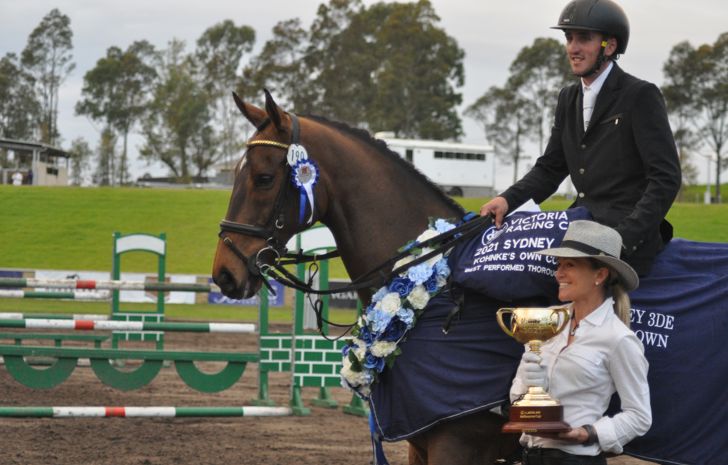 Victoria Racing Club returns to Sydney 3DE
22 April 2022
•
Written by
VRC
The Ariat Sydney International Three Day Event (Syd3DE) committee is delighted to announce the continued support of the Victoria Racing Club (VRC) in 2022.
Together Syd3DE and the VRC celebrate the success of the thoroughbred in eventing.
The VRC will sponsor a special prize for the Best Performed Thoroughbred in the Bates CCI4*-L and the Best Performed Thoroughbred in the Kohnke's Own CCI3*-L.
Each winner will take home a $1000 cash prize, presentation rug and a hospitality package for two at a feature Flemington Race Day.
The 2022 Lexus Melbourne Cup will be on site and available for photographs with attendees and competitors.
The depth of thoroughbred talent in eventing is strong. In 2021 the top three horses in the prestigious CCI4*- L class were thoroughbreds.
Australian eventing rose to world domination on the back of the thoroughbred - winning three consecutive Team Gold medals in 1992, 1996 and 2000 - a feat that is yet to be achieved by any other nation.
Thoroughbred horses that have won Olympic Gold for Australia include Salad Days (Laurie Morgan), Mirrabooka (Neale Lavis) Our Solo (Bill Roycroft), Kiwi (Andrew Hoy), Sunburst (Wendy Schaeffer), True Blue Girdwood (Phillip Dutton), Jeepster (Stuart Tinney) and House Doctor
(Phillip Dutton).
Mirrabooka (Neale Lavis), All Luck (Shane Rose) and Swizzle In (Andrew Hoy) have earned Olympic Silver medals for Australia.
Whilst Zhivago (Wayne Roycroft), Depeche (Brian Cobcroft), Warrathoola (Bill Roycroft), Regal Reign (Merv Bennett), Laurenson (Wayne Roycroft), Version (Bill Roycroft) and Hillstead (Denis Pigott) earned Australia Olympic Bronze medals.
Event President David Irwin said he values the ongoing support of the thoroughbred by the VRC.
"The VRC are pro-active in supporting horses that have finished their racing career. We gladly welcome them back to Syd3DE and thank them for their generosity and support," said Mr. Irwin.
"It's an honour to have the iconic Lexus Melbourne Cup returning to Sydney 3de. Last year we had a previous Melbourne Cup runner competing at the event. It's a wonderful thing to see horses thrive in their careers not once but twice," added Mr. Irwin.
VRC Chief Executive Officer Steve Rosich said the club was pleased to support the post-racing career of thoroughbreds in eventing.
"It's great to be able to support the Sydney International Three Day Event for the second year," Mr Rosich said.
"The VRC values the work that the equestrian community does to retrain thoroughbreds once they finish racing and to see them succeeding in high-level competition is a testament to their skill and versatility."
The Ariat Sydney 3DE will be held at the Sydney International Equestrian Centre from May 6 to 8 2022. Entry is free.