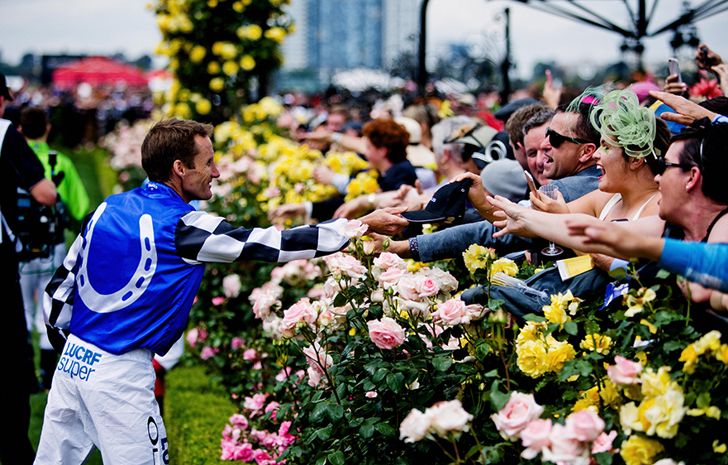 Victoria Racing Club reveals ticketing details for the 2021 Melbourne Cup Carnival
20 October 2021
•
Written by
VRC
The Victoria Racing Club (VRC) has today revealed the ticketing details for the 2021 Melbourne Cup Carnival after receiving formal approval for its COVID-safe event plan from the Victorian Government.
Traditionally Flemington Racecourse would host up to 100,000 patrons for each of the four days of the Melbourne Cup Carnival. This year the Lexus Melbourne Cup will host 10,000 racing fans as part of a Victorian Government event trial, with a further 10,000 patrons for Kennedy Oaks Day and Paramount+ Stakes Day if the 80 per cent double dose vaccination threshold is reached, as is currently forecast.
VRC members will receive the largest share of available tickets, with over 70 per cent of tickets (7,000) allocated to members. Owners of competing horses, VRC season corporate partners, sponsors and the general public have been allocated the balance of the remaining tickets, with all racegoers allocated a reserved seat under the approved event plan.
General public racegoers will enjoy reserved seating to watch the "race that stops a nation"™, with greater than five per cent (500) tickets available each day. The VRC will also acknowledge the inspiring and incredible efforts of our frontline workers, with further details to be shared in the coming days.
In line with the COVID-safe event plan approved by the Victorian Government, all patrons will have a reserved seat, with tickets for general public, including access to the Front Lawn, on sale for $120 – less than half the cost of a general public reserved seat in 2019. No general admission roaming tickets are available this year under the approved event plan.
Racegoers will be able to watch the action on the track from three dedicated spectator zones stretching along the course, with movement between the zones not permitted under the approved COVID-safe event plan. Other requirements for all racing fans include the need to be double vaccinated and show proof of vaccination upon entry to Flemington, wear a mask indoors and outdoors, and be seated when eating and drinking. These measures will ensure the safety of all patrons for the Victorian Government trial event. All of these event details are outlined at vrc.com.au.
VRC Chairman Neil Wilson said the Club was extremely grateful to host crowds at Flemington this year, acknowledging the responsibility to run the trial event on Lexus Melbourne Cup Day and demonstrate that Victoria can re-open safely.
"The VRC is incredibly proud that this year's Melbourne Cup Carnival is playing a role to revive major events in Victoria," Mr Wilson said.
"Over 4,000 jobs have been generated at Flemington alone by the staging of this year's event, supporting the events, hospitality and retail industries that have been so greatly impacted over the past 18 months.
"We hope that this year's Carnival can further help revitalise Victoria's economy, building on the $434 million in economic benefit generated by the event in 2019, the most recent Carnival at which we were able to host a crowd.
"With one in every two Australian adults tuning into the Lexus Melbourne Cup and a global audience reach of 750 million people in over 160 territories, we hope that Australia's original major event will signal the reopening of our city to the world."
For the racing fans that cannot be at Flemington during the Carnival, many of the successful at-home race day experiences that debuted last year will return, along with a number of exciting new innovations for 2021, ensuring that everyone, everywhere can revel in the spirit of Cup Week.
VRC CEO Steve Rosich said trying to get the right balance in ticket allocations given the limited capacity available for the Carnival was challenging.
"With less than 10 per cent of our usual capacity Melbourne Cup Carnival crowd for three of our four Carnival days, we were committed to providing priority access to our members who have supported the Club during the hardships of the last 18 months and ensure they had the opportunity to attend Australia's greatest racing carnival," Mr Rosich said.
"The loyalty and support of our members, owners and partners has been outstanding, and we can't wait to welcome racing fans back to Flemington and present world-class racing across the Melbourne Cup Carnival."
Tickets will go on sale to members from next Tuesday, 26 October via Ticketek in stages according to race day and on-course venue. General public tickets will go on sale on Friday 29 October.
The VRC has also had preliminary discussions with the Victorian Government about the prospect of hosting patrons for Penfolds Victoria Derby Day as an event trial, with forecasts indicating that the 80 per cent double dose threshold could be reached ahead of Lexus Melbourne Cup Day. Those discussions are ongoing.
Detailed information on ticket packages and on sale dates are available at vrc.com.au.