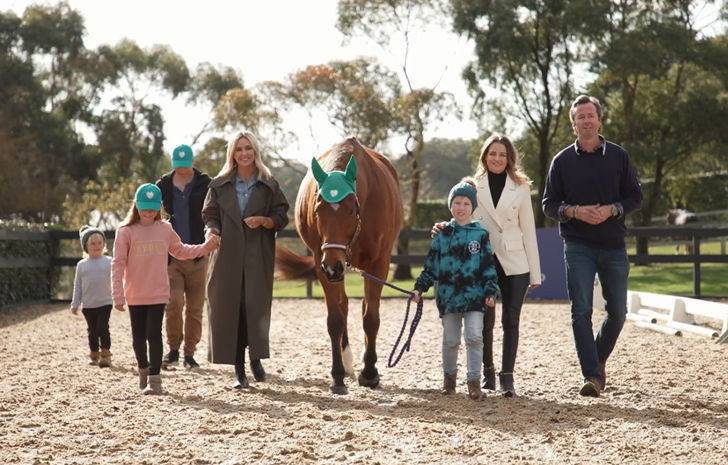 VRC announces new charity partner: CARM
2 March 2023
•
Written by
VRC
The VRC's new charity partner Child and Racehorse Movement (CARM) is a collaboration between the KIDS Foundation and Rehab4Rehab to create a unique and innovative mental health and wellbeing program for children and retired racehorses.
Through CARM, retired racehorses and kids share a journey together toward building strong, purposeful and beautiful lives.
CARM will come to life with a special activation in the Flemington Fareground on Australian Guineas Day, which will provide a calm place for children to come and connect with miniature ponies. CARM Ambassador Michelle Payne OAM – who has a special connection to Flemington as the first female jockey to win the Lexus Melbourne Cup – will also be on-course to participate in an interview on the Flemington Fareground stage and available for a meet and greet session in The CARM Place, while CARM volunteers will be selling branded merchandise to raise vital funds.
Read on to learn more about the CARM Ambassadors and the influence that horses have had on their lives.
HAMISH MCLACHLAN
There's a grainy, slightly washed-out photo in Sylvia McLachlan's Birregurra home of two smiley young lads yet to hit double figures in age sitting atop a pair of ponies, one white and one near Palomino.
It's a happy moment in time captured on the McLachlan family farm in Mount Pleasant in South Australia – happier still is that the moment has become a recurring one for the brothers in the picture, Hamish and Gillon McLachlan.
"The best thing about that photo is that both Gillon and I have similar shots of our kids on horses. History and horses seem to repeat in our family," McLachlan said.
Born into a farming family, the McLachlan children learned to ride as soon as they could hold themselves upright; they had to, a working day consisted of hours in the saddle droving and mustering sheep and cattle. If the kids couldn't ride, someone had to stay home to look after them.
"Mum spent her life on horses and she was a great rider – she rode for Australia in dressage. Once they get in your blood, they're in your blood," McLachlan said.
"The best thing about that photo is that both Gillon and I have similar shots of our kids on horses. History and horses seem to repeat in our family." - Hamish McLachlan
Soon the McLachlan boys were riding to school, a seven- or eight-kilometre trip each morning, before the horses were tied up in the neighbouring Elders livestock sales yard and saddles were slung over athletics hurdles in the sports shed.
Before he became the face of the Seven Network's sports coverage, McLachlan took a year after university to travel abroad. But instead of bedsits in Clapham Junction in London, he headed for Lexington, Kentucky and Newmarket, proper thoroughbred country where he could be around the animal he loved.
"They've always been a part of life and it was inevitable that Sophie (his wife) and I would eventually get some land so that our kids could have the same experience.
"Soph and I say the one thing we want to teach our kids is respect and kindness, and a lot of that is learned through a relationship with a horse.
"If a horse doesn't want to be ridden, it will never be ridden. You have to earn its trust and build a relationship over time, but once you've earned it, that animal will give you absolutely everything.
"That relationship has been so good for my kids, because they've learned that they can have an amazing impact on something so big and capable of such immense power, just by being calm and kind. It's an extraordinary bond."
JACQUI FELGATE
Media personality, podcast host and mother of two daughters with media personality husband Michael, Jacqui Felgate leads a busy life indeed.
There's little wonder then that she finds peace in the saddle.
"It is the biggest joy," she said.
"Being able to switch off from all the pressures of everyday life, not having to worry about looking at my phone, it's just you and the horse."
Felgate has ridden since she was a teenager and has always found the bond between horse and rider a unique one.
"I love being out in nature and the sound and smell of the horse. There is no better feeling," said Felgate.
"Now, with my life so crazy at work and with the kids a little older, I've made it a priority to make the time for riding every week and it's been such a great thing to do for my mental health. I like just plodding around at my own pace – I don't compete and I don't ever want to. I'm just a weekend hack, to be honest!
"Maddie rides, too. Initially, I got her into it to see if she would love it as much as I do.
"I love watching her ride. Children have remarkable balance and no fear. When she first cantered on her own she was giggling the whole time. It is priceless."
MICHELLE PAYNE
Michelle Payne was only five years old when she set her heart on winning a Melbourne Cup. At home on her family's property in Ballarat, she remembers intently watching the race and desperately wanting to win.
"I was obsessed with the Melbourne Cup. I'd sit and watch the race and pull out my eyelashes so I could make a wish that I'd win it one day. I still find it hard to believe that I've achieved that," said Payne.
"But I had no idea of what would happen to my life after winning. I crossed that finishing line and went back to the mounting yard to be interviewed and I still had no idea of the enormity of it. It was an absolute shock."
For the quiet, hardworking jockey from a family of other quiet, hardworking jockeys and trainers, the spotlight and expectations that came with her history-making ride were sometimes difficult to navigate.
In the middle of the chaos, Payne's haven was the 40-acre property next door to her Dad's farm in Ballarat. She bought it with her brother, Stevie, in 2013, and it's here that she's focused on the next stage of her career as a trainer.
"I grew up in the country, love the lifestyle and there's nothing like being out in the fresh air with the horses. It doesn't feel like a job to me and working with Stevie is a lot of fun."
Becoming a trainer was also always a long-term plan. Having worked with and for some of Australia's and the world's most respected trainers, Payne has developed a wealth of knowledge and experience that she now uses as a trainer.
Michelle was also part of Channel Ten's Melbourne Cup Carnival broadcast team. From her position in the mounting yard, Payne casts her expert eye over the horses and shares her insights with viewers at home.
"I love seeing those champion horses in the flesh and noticing the little details, and sharing that information."
System.Web.HttpException (0x80004005): Error executing child request for handler 'System.Web.Mvc.HttpHandlerUtil+ServerExecuteHttpHandlerAsyncWrapper'. ---> System.NullReferenceException: Object reference not set to an instance of an object.
   at ASP._Page_Views_Partials_googleAd_cshtml.Execute() in C:\home\site\wwwroot\Views\Partials\googleAd.cshtml:line 4
   at System.Web.WebPages.WebPageBase.ExecutePageHierarchy()
   at System.Web.Mvc.WebViewPage.ExecutePageHierarchy()
   at System.Web.WebPages.WebPageBase.ExecutePageHierarchy(WebPageContext pageContext, TextWriter writer, WebPageRenderingBase startPage)
   at System.Web.Mvc.RazorView.RenderView(ViewContext viewContext, TextWriter writer, Object instance)
   at System.Web.Mvc.BuildManagerCompiledView.Render(ViewContext viewContext, TextWriter writer)
   at Umbraco.Web.Mvc.ProfilingView.Render(ViewContext viewContext, TextWriter writer) in D:\a\1\s\src\Umbraco.Web\Mvc\ProfilingView.cs:line 25
   at System.Web.Mvc.ViewResultBase.ExecuteResult(ControllerContext context)
   at System.Web.Mvc.ControllerActionInvoker.InvokeActionResult(ControllerContext controllerContext, ActionResult actionResult)
   at System.Web.Mvc.ControllerActionInvoker.InvokeActionResultFilterRecursive(IList`1 filters, Int32 filterIndex, ResultExecutingContext preContext, ControllerContext controllerContext, ActionResult actionResult)
   at System.Web.Mvc.ControllerActionInvoker.InvokeActionResultFilterRecursive(IList`1 filters, Int32 filterIndex, ResultExecutingContext preContext, ControllerContext controllerContext, ActionResult actionResult)
   at System.Web.Mvc.ControllerActionInvoker.InvokeActionResultFilterRecursive(IList`1 filters, Int32 filterIndex, ResultExecutingContext preContext, ControllerContext controllerContext, ActionResult actionResult)
   at System.Web.Mvc.ControllerActionInvoker.InvokeActionResultFilterRecursive(IList`1 filters, Int32 filterIndex, ResultExecutingContext preContext, ControllerContext controllerContext, ActionResult actionResult)
   at System.Web.Mvc.ControllerActionInvoker.InvokeActionResultFilterRecursive(IList`1 filters, Int32 filterIndex, ResultExecutingContext preContext, ControllerContext controllerContext, ActionResult actionResult)
   at System.Web.Mvc.ControllerActionInvoker.InvokeActionResultWithFilters(ControllerContext controllerContext, IList`1 filters, ActionResult actionResult)
   at System.Web.Mvc.Async.AsyncControllerActionInvoker.<>c__DisplayClass3_6.<BeginInvokeAction>b__4()
   at System.Web.Mvc.Async.AsyncControllerActionInvoker.<>c__DisplayClass3_1.<BeginInvokeAction>b__1(IAsyncResult asyncResult)
   at System.Web.Mvc.Async.AsyncResultWrapper.WrappedAsyncResult`1.CallEndDelegate(IAsyncResult asyncResult)
   at System.Web.Mvc.Async.AsyncResultWrapper.WrappedAsyncResultBase`1.End()
   at System.Web.Mvc.Async.AsyncControllerActionInvoker.EndInvokeAction(IAsyncResult asyncResult)
   at System.Web.Mvc.Controller.<>c.<BeginExecuteCore>b__152_1(IAsyncResult asyncResult, ExecuteCoreState innerState)
   at System.Web.Mvc.Async.AsyncResultWrapper.WrappedAsyncVoid`1.CallEndDelegate(IAsyncResult asyncResult)
   at System.Web.Mvc.Async.AsyncResultWrapper.WrappedAsyncResultBase`1.End()
   at System.Web.Mvc.Controller.EndExecuteCore(IAsyncResult asyncResult)
   at System.Web.Mvc.Controller.<>c.<BeginExecute>b__151_2(IAsyncResult asyncResult, Controller controller)
   at System.Web.Mvc.Async.AsyncResultWrapper.WrappedAsyncVoid`1.CallEndDelegate(IAsyncResult asyncResult)
   at System.Web.Mvc.Async.AsyncResultWrapper.WrappedAsyncResultBase`1.End()
   at System.Web.Mvc.Controller.EndExecute(IAsyncResult asyncResult)
   at System.Web.Mvc.Controller.System.Web.Mvc.Async.IAsyncController.EndExecute(IAsyncResult asyncResult)
   at System.Web.Mvc.MvcHandler.<>c.<BeginProcessRequest>b__20_1(IAsyncResult asyncResult, ProcessRequestState innerState)
   at System.Web.Mvc.Async.AsyncResultWrapper.WrappedAsyncVoid`1.CallEndDelegate(IAsyncResult asyncResult)
   at System.Web.Mvc.Async.AsyncResultWrapper.WrappedAsyncResultBase`1.End()
   at System.Web.Mvc.MvcHandler.EndProcessRequest(IAsyncResult asyncResult)
   at System.Web.Mvc.MvcHandler.System.Web.IHttpAsyncHandler.EndProcessRequest(IAsyncResult result)
   at System.Web.Mvc.HttpHandlerUtil.ServerExecuteHttpHandlerAsyncWrapper.<>c__DisplayClass3_0.<EndProcessRequest>b__0()
   at System.Web.Mvc.HttpHandlerUtil.ServerExecuteHttpHandlerWrapper.<>c__DisplayClass5_0.<Wrap>b__0()
   at System.Web.Mvc.HttpHandlerUtil.ServerExecuteHttpHandlerWrapper.Wrap[TResult](Func`1 func)
   at System.Web.Mvc.HttpHandlerUtil.ServerExecuteHttpHandlerWrapper.Wrap(Action action)
   at System.Web.Mvc.HttpHandlerUtil.ServerExecuteHttpHandlerAsyncWrapper.EndProcessRequest(IAsyncResult result)
   at System.Web.HttpServerUtility.ExecuteInternal(IHttpHandler handler, TextWriter writer, Boolean preserveForm, Boolean setPreviousPage, VirtualPath path, VirtualPath filePath, String physPath, Exception error, String queryStringOverride)
   at System.Web.HttpServerUtility.ExecuteInternal(IHttpHandler handler, TextWriter writer, Boolean preserveForm, Boolean setPreviousPage, VirtualPath path, VirtualPath filePath, String physPath, Exception error, String queryStringOverride)
   at System.Web.HttpServerUtility.Execute(IHttpHandler handler, TextWriter writer, Boolean preserveForm, Boolean setPreviousPage)
   at System.Web.HttpServerUtility.Execute(IHttpHandler handler, TextWriter writer, Boolean preserveForm)
   at System.Web.HttpServerUtilityWrapper.Execute(IHttpHandler handler, TextWriter writer, Boolean preserveForm)
   at System.Web.Mvc.Html.ChildActionExtensions.ActionHelper(HtmlHelper htmlHelper, String actionName, String controllerName, RouteValueDictionary routeValues, TextWriter textWriter)
   at System.Web.Mvc.Html.ChildActionExtensions.Action(HtmlHelper htmlHelper, String actionName, String controllerName, RouteValueDictionary routeValues)
   at Our.Umbraco.DocTypeGridEditor.Web.Extensions.HtmlHelperExtensions.RenderDocTypeGridEditorItem(HtmlHelper helper, IPublishedElement content, String editorAlias, String viewPath, String previewViewPath, Boolean isPreview)
   at ASP._Page_app_plugins_doctypegrideditor_render_DocTypeGridEditor_cshtml.Execute() in C:\home\site\wwwroot\app_plugins\doctypegrideditor\render\DocTypeGridEditor.cshtml:line 34
   at System.Web.WebPages.WebPageBase.ExecutePageHierarchy()
   at System.Web.Mvc.WebViewPage.ExecutePageHierarchy()
   at System.Web.WebPages.WebPageBase.ExecutePageHierarchy(WebPageContext pageContext, TextWriter writer, WebPageRenderingBase startPage)
   at System.Web.Mvc.RazorView.RenderView(ViewContext viewContext, TextWriter writer, Object instance)
   at System.Web.Mvc.BuildManagerCompiledView.Render(ViewContext viewContext, TextWriter writer)
   at Umbraco.Web.Mvc.ProfilingView.Render(ViewContext viewContext, TextWriter writer) in D:\a\1\s\src\Umbraco.Web\Mvc\ProfilingView.cs:line 25
   at System.Web.Mvc.HtmlHelper.RenderPartialInternal(String partialViewName, ViewDataDictionary viewData, Object model, TextWriter writer, ViewEngineCollection viewEngineCollection)
   at System.Web.Mvc.Html.PartialExtensions.Partial(HtmlHelper htmlHelper, String partialViewName, Object model, ViewDataDictionary viewData)
   at System.Web.Mvc.Html.PartialExtensions.Partial(HtmlHelper htmlHelper, String partialViewName, Object model)
   at ASP._Page_Views_Partials_grid_editors_Base_cshtml.Execute() in C:\home\site\wwwroot\Views\Partials\grid\editors\Base.cshtml:line 20