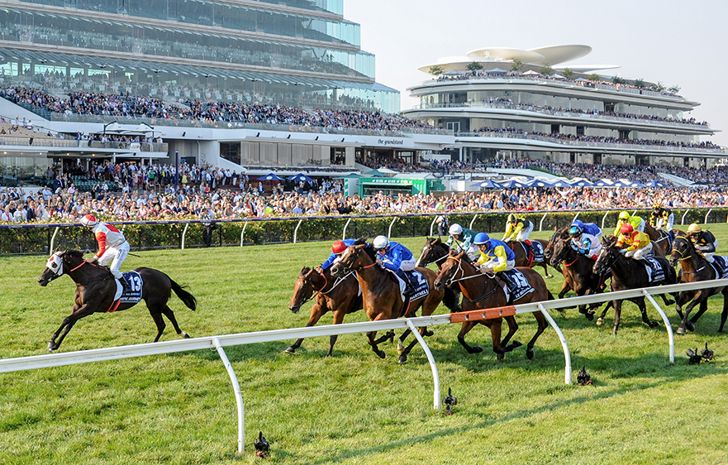 What a journey
15 March 2022
•
Written by
VRC
Mystic Journey was the inaugural winner of the All-Star Mile in 2019 at Flemington. Now, in 2022, the broodmare is honoured with her own race on All-Star Mile Race Day.
Adam Trinder had just stepped off a plane from Tasmania to Adelaide and had scarcely had time to pick up his bags from the carousel before his phone rang.
He had landed to scope out the yearling talent ahead of the Adelaide Magic Millions sale. There was work to do and plans to make for a busy three days ahead, but the subject of this conversation was Mystic Journey so there was ample time to talk.
"Any time is a good time to talk about Mystic Journey," he said.
Trinder and his bonny filly shocked the racing world to win the inaugural $4 million All-Star Mile in 2019. Australian racing had a curious new race to debate and a new darling to celebrate in the aftermath.
"What an amazing day it was, what an amazing fortnight really," said Trinder.
Excited by the concept of the All-Star Mile, Trinder and owner Wayne Roser had campaigned hard to get Mystic Journey a place in the All-Star Mile but had fallen short when votes were tallied. Unfazed, they pressed on to the Group 1 Australian Guineas hopeful that the winner might be afforded a wild card spot in Victoria's newest $4 million race.
"And the total focus had always been the Guineas anyway. The All-Star Mile was on our minds but the race we had come across to win was the Guineas," he recalled.
On a searingly hot Melbourne day the decision was made to bring all races on Australian Guineas day forward to escape the heat. Not that the weather worried Mystic Journey who won the Group 1 feature as she liked, proving her quality and staking her claim for one of the wild card spots for the All-Star Mile.
"In those moments after the Guineas I remember thinking that she'd be in, they had to give her a spot," Trinder recalled.
"We'd won a Group 1 in Melbourne before lunch and that was something in itself, but I couldn't help thinking ahead. How would she recover? Who else was in the field? I had that next challenge in the back of my mind."
Some of Australia's best horses, Hartnell, Alizee and Happy Clapper were amongst the 15-horse field, but by the time Trinder had finished celebrating the Australian Guineas that night, Mystic Journey had become the headline act.
The dominance of her Guineas win was one thing, but her obscure rise to prominence was another altogether. This was an ordinarily bred $11,000 yearling trained by a former star jumps jockey. There was no Waterhouse, Freedman or Maher in charge here, no big-name stallion on her pedigree page. Mystic Journey and Trinder were genuine everyday heroes.
"We were excited but guarded. We knew she would run well, but to what sort of level? Hartnell, Alizee, you're talking about some of the best horses in the country and here we are ready to take them on – it was surreal."
If the week leading up to the All-Star Mile was surreal, the day itself was a whirlwind by Trinder's own recollection.
A wide barrier was a body blow pre-race, but a rough race and a luckless run with the filly hung out wide on the course surely dealt the final blow as Trinder watched the race through gritted teeth.
"I'd effectively conceded defeat after about 500m, there was no way in my mind that she could possibly win at that point. She was so deep, no cover, it was enough to get you beaten in a maiden let alone a $4 million race."
But Mystic Journey obviously hadn't read the script.
Approaching the 400m Trinder's filly began to tag up into the race. By the 250m she was presenting like a contender, looming large with a furlong to run.
"And then all of a sudden she was off and gone. I couldn't quite believe it, it was an incredible performance from a three-year-old filly that was fully fit and at the very top of her game," Trinder said.
Trinder, Roser and friends retired to a local teppanyaki restaurant in Moonee Ponds to celebrate the win and toast their good fortune – not to mention the small fortune their filly had just amassed across two unforgettable weeks at Flemington.
It was headline grabbing stuff and it caught the attention of one of the world's biggest breeding operations, Japan's Northern Farm owned by the revered Yoshida family.
"They had followed her story and they made contact not long after (the All-Star Mile). We raced on but when we announced her retirement, Northern Farm put an offer to Wayne to buy her, and off she went to Japan to join one of the best broodmare bands in the world," said Trinder.
Mystic Journey was covered for the first time in early March by Japanese Derby winner Kizuna. The resultant offspring will be a prized addition to the Yoshida family racing team in seasons to come, with Trinder watching on with interest from afar.
"To think that our little filly from Tassie took on the big guns, beat them then commanded international attention, it's all quite humbling really. We're all excited to see what her future holds."
System.Web.HttpException (0x80004005): Error executing child request for handler 'System.Web.Mvc.HttpHandlerUtil+ServerExecuteHttpHandlerAsyncWrapper'. ---> System.NullReferenceException: Object reference not set to an instance of an object.
   at ASP._Page_Views_Partials_googleAd_cshtml.Execute()
   at System.Web.WebPages.WebPageBase.ExecutePageHierarchy()
   at System.Web.Mvc.WebViewPage.ExecutePageHierarchy()
   at System.Web.WebPages.WebPageBase.ExecutePageHierarchy(WebPageContext pageContext, TextWriter writer, WebPageRenderingBase startPage)
   at System.Web.Mvc.RazorView.RenderView(ViewContext viewContext, TextWriter writer, Object instance)
   at System.Web.Mvc.BuildManagerCompiledView.Render(ViewContext viewContext, TextWriter writer)
   at Umbraco.Web.Mvc.ProfilingView.Render(ViewContext viewContext, TextWriter writer) in D:\a\1\s\src\Umbraco.Web\Mvc\ProfilingView.cs:line 25
   at System.Web.Mvc.ViewResultBase.ExecuteResult(ControllerContext context)
   at System.Web.Mvc.ControllerActionInvoker.InvokeActionResult(ControllerContext controllerContext, ActionResult actionResult)
   at System.Web.Mvc.ControllerActionInvoker.InvokeActionResultFilterRecursive(IList`1 filters, Int32 filterIndex, ResultExecutingContext preContext, ControllerContext controllerContext, ActionResult actionResult)
   at System.Web.Mvc.ControllerActionInvoker.InvokeActionResultFilterRecursive(IList`1 filters, Int32 filterIndex, ResultExecutingContext preContext, ControllerContext controllerContext, ActionResult actionResult)
   at System.Web.Mvc.ControllerActionInvoker.InvokeActionResultFilterRecursive(IList`1 filters, Int32 filterIndex, ResultExecutingContext preContext, ControllerContext controllerContext, ActionResult actionResult)
   at System.Web.Mvc.ControllerActionInvoker.InvokeActionResultFilterRecursive(IList`1 filters, Int32 filterIndex, ResultExecutingContext preContext, ControllerContext controllerContext, ActionResult actionResult)
   at System.Web.Mvc.ControllerActionInvoker.InvokeActionResultFilterRecursive(IList`1 filters, Int32 filterIndex, ResultExecutingContext preContext, ControllerContext controllerContext, ActionResult actionResult)
   at System.Web.Mvc.ControllerActionInvoker.InvokeActionResultWithFilters(ControllerContext controllerContext, IList`1 filters, ActionResult actionResult)
   at System.Web.Mvc.Async.AsyncControllerActionInvoker.<>c__DisplayClass3_6.<BeginInvokeAction>b__4()
   at System.Web.Mvc.Async.AsyncControllerActionInvoker.<>c__DisplayClass3_1.<BeginInvokeAction>b__1(IAsyncResult asyncResult)
   at System.Web.Mvc.Async.AsyncResultWrapper.WrappedAsyncResult`1.CallEndDelegate(IAsyncResult asyncResult)
   at System.Web.Mvc.Async.AsyncResultWrapper.WrappedAsyncResultBase`1.End()
   at System.Web.Mvc.Async.AsyncControllerActionInvoker.EndInvokeAction(IAsyncResult asyncResult)
   at System.Web.Mvc.Controller.<>c.<BeginExecuteCore>b__152_1(IAsyncResult asyncResult, ExecuteCoreState innerState)
   at System.Web.Mvc.Async.AsyncResultWrapper.WrappedAsyncVoid`1.CallEndDelegate(IAsyncResult asyncResult)
   at System.Web.Mvc.Async.AsyncResultWrapper.WrappedAsyncResultBase`1.End()
   at System.Web.Mvc.Controller.EndExecuteCore(IAsyncResult asyncResult)
   at System.Web.Mvc.Controller.<>c.<BeginExecute>b__151_2(IAsyncResult asyncResult, Controller controller)
   at System.Web.Mvc.Async.AsyncResultWrapper.WrappedAsyncVoid`1.CallEndDelegate(IAsyncResult asyncResult)
   at System.Web.Mvc.Async.AsyncResultWrapper.WrappedAsyncResultBase`1.End()
   at System.Web.Mvc.Controller.EndExecute(IAsyncResult asyncResult)
   at System.Web.Mvc.Controller.System.Web.Mvc.Async.IAsyncController.EndExecute(IAsyncResult asyncResult)
   at System.Web.Mvc.MvcHandler.<>c.<BeginProcessRequest>b__20_1(IAsyncResult asyncResult, ProcessRequestState innerState)
   at System.Web.Mvc.Async.AsyncResultWrapper.WrappedAsyncVoid`1.CallEndDelegate(IAsyncResult asyncResult)
   at System.Web.Mvc.Async.AsyncResultWrapper.WrappedAsyncResultBase`1.End()
   at System.Web.Mvc.MvcHandler.EndProcessRequest(IAsyncResult asyncResult)
   at System.Web.Mvc.MvcHandler.System.Web.IHttpAsyncHandler.EndProcessRequest(IAsyncResult result)
   at System.Web.Mvc.HttpHandlerUtil.ServerExecuteHttpHandlerAsyncWrapper.<>c__DisplayClass3_0.<EndProcessRequest>b__0()
   at System.Web.Mvc.HttpHandlerUtil.ServerExecuteHttpHandlerWrapper.<>c__DisplayClass5_0.<Wrap>b__0()
   at System.Web.Mvc.HttpHandlerUtil.ServerExecuteHttpHandlerWrapper.Wrap[TResult](Func`1 func)
   at System.Web.Mvc.HttpHandlerUtil.ServerExecuteHttpHandlerWrapper.Wrap(Action action)
   at System.Web.Mvc.HttpHandlerUtil.ServerExecuteHttpHandlerAsyncWrapper.EndProcessRequest(IAsyncResult result)
   at System.Web.HttpServerUtility.ExecuteInternal(IHttpHandler handler, TextWriter writer, Boolean preserveForm, Boolean setPreviousPage, VirtualPath path, VirtualPath filePath, String physPath, Exception error, String queryStringOverride)
   at System.Web.HttpServerUtility.ExecuteInternal(IHttpHandler handler, TextWriter writer, Boolean preserveForm, Boolean setPreviousPage, VirtualPath path, VirtualPath filePath, String physPath, Exception error, String queryStringOverride)
   at System.Web.HttpServerUtility.Execute(IHttpHandler handler, TextWriter writer, Boolean preserveForm, Boolean setPreviousPage)
   at System.Web.HttpServerUtility.Execute(IHttpHandler handler, TextWriter writer, Boolean preserveForm)
   at System.Web.HttpServerUtilityWrapper.Execute(IHttpHandler handler, TextWriter writer, Boolean preserveForm)
   at System.Web.Mvc.Html.ChildActionExtensions.ActionHelper(HtmlHelper htmlHelper, String actionName, String controllerName, RouteValueDictionary routeValues, TextWriter textWriter)
   at System.Web.Mvc.Html.ChildActionExtensions.Action(HtmlHelper htmlHelper, String actionName, String controllerName, RouteValueDictionary routeValues)
   at Our.Umbraco.DocTypeGridEditor.Web.Extensions.HtmlHelperExtensions.RenderDocTypeGridEditorItem(HtmlHelper helper, IPublishedElement content, String editorAlias, String viewPath, String previewViewPath, Boolean isPreview)
   at ASP._Page_app_plugins_doctypegrideditor_render_DocTypeGridEditor_cshtml.Execute()
   at System.Web.WebPages.WebPageBase.ExecutePageHierarchy()
   at System.Web.Mvc.WebViewPage.ExecutePageHierarchy()
   at System.Web.WebPages.WebPageBase.ExecutePageHierarchy(WebPageContext pageContext, TextWriter writer, WebPageRenderingBase startPage)
   at System.Web.Mvc.RazorView.RenderView(ViewContext viewContext, TextWriter writer, Object instance)
   at System.Web.Mvc.BuildManagerCompiledView.Render(ViewContext viewContext, TextWriter writer)
   at Umbraco.Web.Mvc.ProfilingView.Render(ViewContext viewContext, TextWriter writer) in D:\a\1\s\src\Umbraco.Web\Mvc\ProfilingView.cs:line 25
   at System.Web.Mvc.HtmlHelper.RenderPartialInternal(String partialViewName, ViewDataDictionary viewData, Object model, TextWriter writer, ViewEngineCollection viewEngineCollection)
   at System.Web.Mvc.Html.PartialExtensions.Partial(HtmlHelper htmlHelper, String partialViewName, Object model, ViewDataDictionary viewData)
   at System.Web.Mvc.Html.PartialExtensions.Partial(HtmlHelper htmlHelper, String partialViewName, Object model)
   at ASP._Page_Views_Partials_grid_editors_Base_cshtml.Execute()