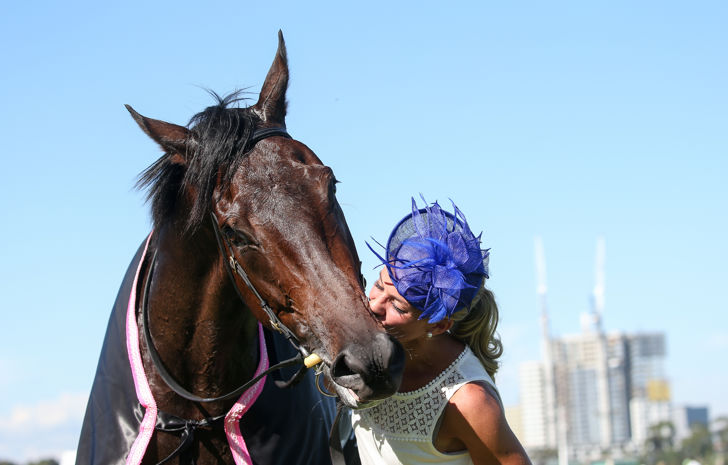 What came next for Hey Doc
25 February 2022
•
Written by
Sarah Marinos
Retired Australian Guineas winner Hey Doc is learning to take life at a slower pace in the Victorian countryside.
There was just something about Hey Doc that caught trainer Tony McEvoy's eye. He first saw the yearling at the 2015 Inglis Melbourne Premier Yearling Sale and bought him for $85,000.
"Dad just loved Hey Doc. He stood out," recalled Calvin McEvoy.
"Some people might have thought we were mad paying $85,000 then – but that turned out to be a bargain!"
Under the watchful eyes of Tony and Calvin McEvoy, Hey Doc became a champion and before he retired in July last year. He had four Group 1 wins, including the 2017 Australian Guineas.
That race was an especially sweet victory for the McEvoys because it was the first win under the McEvoy Mitchell Racing banner and Tony McEvoy's first Group 1 win as a trainer in his own right.
"Dad won Group 1s previously but after going out on his own, Hey Doc was his first winner and he was my first Group 1 winner, too," said Calvin.
"He was a good horse to train – very strong and we knew he had a lot of talent straightaway."
Hey Doc's achievements on the track are all the more impressive considering he came back from a number of significant injuries and lengthy breaks away from racing.
"At one point he pulled a muscle in his chest and took some time to come good. He also had fetlock problems that we had to monitor. He had a few long breaks and to come back and be as good as he was every time shows his strength and determination," said Calvin.
In April last year, Hey Doc ran his last race in the RN Irwin Stakes at Morphettville. He finished eighth and the McEvoys decided it was time for him to retire after winning more than $3 million in prizemoney.
"He was training well but there were a couple of races when he didn't perform as well as we expected. So, we chatted with the ownership group and everyone agreed that Hey Doc had been a marvellous horse but he'd lost the desire to race. He'd obviously decided that he'd done enough and we respected that," said Calvin.
"He was an amazing horse and we shared an unbelievable journey with him. Now I want to find another horse just like him!"
Hey Doc already had a willing new owner keen to offer him a home. Pauline Liston of Three Bridges Thoroughbreds had been discussing Hey Doc's future with friend and part-owner of the horse, Adrian Hall. Located in Eddington, a 90-minute drive from Melbourne Airport, and with about 1,600 acres of paddocks, pastures and wide-open spaces, the horse stud became Hey Doc's next destination.
"I enjoy the challenge of teaching horses off the track and I'm good at teaching a horse to trust me. You can't give an off the track horse to anyone because they take time to settle down," said Liston.
"When he first arrived, he didn't want to know me and it took a month before he was glad to see me. Now we are mates.
"At the start he was excited and full of energy and when I rode him, I could feel his heart pumping. If you asked him to canter, he went into a canter but he really wanted to go into a gallop – he's taken a while to realise you can chill and go slow!
"I have a cross-country course around the farm and a river runs through the property, too. When we rode along the paddocks, we got chased by the yearling colts and he had to learn to listen to me and ignore them. Eventually I could ride him around the farm and the other horses would gallop past and he'd deal with that.
"Then I started jumping him over poles on the ground and he'd sweat because that stressed him. When I first took him to the river, he didn't want to go in at all and it took me 20 minutes to get him into the water. By the third day he waltzed in and was quite happy. It just takes time."
Pauline rides several times a week and her next challenge for Hey Doc is to help him get over his fear of the cows on the property. She's also taught him a new way of keeping his face clean!
"He hated his head being hosed and it took three months for him to accept me putting water over his face. Later I learned he used to have his head washed with a face washer but I couldn't reach him to do that, so he's got used to the hose now," said Liston.
"I love jumping and I might take him for jumping lessons but I don't have a lot of time to compete – I have six grandchildren who I spend as much time with as possible. But it is very rewarding when a horse like Hey Doc learns to trust you, does what he is told and enjoys that. He's a great horse with a lot of spirit and energy and I just want him to be healthy and happy."
An important person in Hey Doc's life while he was with the McEvoys was Camille Piantoni, his strapper. She has visited Hey Doc at his new home.
"Camille absolutely loved Hey Doc and rode him every day," said Calvin. "He wasn't the easiest horse to ride but they had a bond. Sometimes you just connect with a certain horse and that's what happened for Camille and Hey Doc. The two of them had a great partnership and shared a great journey."
Pauline says seeing Camille reunite with Hey Doc in his new home was highly emotional.
"As soon as she saw him in the stable, she was a blubbering mess – and so was I!" she says.
System.Web.HttpException (0x80004005): Error executing child request for handler 'System.Web.Mvc.HttpHandlerUtil+ServerExecuteHttpHandlerAsyncWrapper'. ---> System.NullReferenceException: Object reference not set to an instance of an object.
   at ASP._Page_Views_Partials_googleAd_cshtml.Execute() in C:\home\site\wwwroot\Views\Partials\googleAd.cshtml:line 4
   at System.Web.WebPages.WebPageBase.ExecutePageHierarchy()
   at System.Web.Mvc.WebViewPage.ExecutePageHierarchy()
   at System.Web.WebPages.WebPageBase.ExecutePageHierarchy(WebPageContext pageContext, TextWriter writer, WebPageRenderingBase startPage)
   at System.Web.Mvc.RazorView.RenderView(ViewContext viewContext, TextWriter writer, Object instance)
   at System.Web.Mvc.BuildManagerCompiledView.Render(ViewContext viewContext, TextWriter writer)
   at Umbraco.Web.Mvc.ProfilingView.Render(ViewContext viewContext, TextWriter writer) in D:\a\1\s\src\Umbraco.Web\Mvc\ProfilingView.cs:line 25
   at System.Web.Mvc.ViewResultBase.ExecuteResult(ControllerContext context)
   at System.Web.Mvc.ControllerActionInvoker.InvokeActionResult(ControllerContext controllerContext, ActionResult actionResult)
   at System.Web.Mvc.ControllerActionInvoker.InvokeActionResultFilterRecursive(IList`1 filters, Int32 filterIndex, ResultExecutingContext preContext, ControllerContext controllerContext, ActionResult actionResult)
   at System.Web.Mvc.ControllerActionInvoker.InvokeActionResultFilterRecursive(IList`1 filters, Int32 filterIndex, ResultExecutingContext preContext, ControllerContext controllerContext, ActionResult actionResult)
   at System.Web.Mvc.ControllerActionInvoker.InvokeActionResultFilterRecursive(IList`1 filters, Int32 filterIndex, ResultExecutingContext preContext, ControllerContext controllerContext, ActionResult actionResult)
   at System.Web.Mvc.ControllerActionInvoker.InvokeActionResultFilterRecursive(IList`1 filters, Int32 filterIndex, ResultExecutingContext preContext, ControllerContext controllerContext, ActionResult actionResult)
   at System.Web.Mvc.ControllerActionInvoker.InvokeActionResultFilterRecursive(IList`1 filters, Int32 filterIndex, ResultExecutingContext preContext, ControllerContext controllerContext, ActionResult actionResult)
   at System.Web.Mvc.ControllerActionInvoker.InvokeActionResultWithFilters(ControllerContext controllerContext, IList`1 filters, ActionResult actionResult)
   at System.Web.Mvc.Async.AsyncControllerActionInvoker.<>c__DisplayClass3_6.<BeginInvokeAction>b__4()
   at System.Web.Mvc.Async.AsyncControllerActionInvoker.<>c__DisplayClass3_1.<BeginInvokeAction>b__1(IAsyncResult asyncResult)
   at System.Web.Mvc.Async.AsyncResultWrapper.WrappedAsyncResult`1.CallEndDelegate(IAsyncResult asyncResult)
   at System.Web.Mvc.Async.AsyncResultWrapper.WrappedAsyncResultBase`1.End()
   at System.Web.Mvc.Async.AsyncControllerActionInvoker.EndInvokeAction(IAsyncResult asyncResult)
   at System.Web.Mvc.Controller.<>c.<BeginExecuteCore>b__152_1(IAsyncResult asyncResult, ExecuteCoreState innerState)
   at System.Web.Mvc.Async.AsyncResultWrapper.WrappedAsyncVoid`1.CallEndDelegate(IAsyncResult asyncResult)
   at System.Web.Mvc.Async.AsyncResultWrapper.WrappedAsyncResultBase`1.End()
   at System.Web.Mvc.Controller.EndExecuteCore(IAsyncResult asyncResult)
   at System.Web.Mvc.Controller.<>c.<BeginExecute>b__151_2(IAsyncResult asyncResult, Controller controller)
   at System.Web.Mvc.Async.AsyncResultWrapper.WrappedAsyncVoid`1.CallEndDelegate(IAsyncResult asyncResult)
   at System.Web.Mvc.Async.AsyncResultWrapper.WrappedAsyncResultBase`1.End()
   at System.Web.Mvc.Controller.EndExecute(IAsyncResult asyncResult)
   at System.Web.Mvc.Controller.System.Web.Mvc.Async.IAsyncController.EndExecute(IAsyncResult asyncResult)
   at System.Web.Mvc.MvcHandler.<>c.<BeginProcessRequest>b__20_1(IAsyncResult asyncResult, ProcessRequestState innerState)
   at System.Web.Mvc.Async.AsyncResultWrapper.WrappedAsyncVoid`1.CallEndDelegate(IAsyncResult asyncResult)
   at System.Web.Mvc.Async.AsyncResultWrapper.WrappedAsyncResultBase`1.End()
   at System.Web.Mvc.MvcHandler.EndProcessRequest(IAsyncResult asyncResult)
   at System.Web.Mvc.MvcHandler.System.Web.IHttpAsyncHandler.EndProcessRequest(IAsyncResult result)
   at System.Web.Mvc.HttpHandlerUtil.ServerExecuteHttpHandlerAsyncWrapper.<>c__DisplayClass3_0.<EndProcessRequest>b__0()
   at System.Web.Mvc.HttpHandlerUtil.ServerExecuteHttpHandlerWrapper.<>c__DisplayClass5_0.<Wrap>b__0()
   at System.Web.Mvc.HttpHandlerUtil.ServerExecuteHttpHandlerWrapper.Wrap[TResult](Func`1 func)
   at System.Web.Mvc.HttpHandlerUtil.ServerExecuteHttpHandlerWrapper.Wrap(Action action)
   at System.Web.Mvc.HttpHandlerUtil.ServerExecuteHttpHandlerAsyncWrapper.EndProcessRequest(IAsyncResult result)
   at System.Web.HttpServerUtility.ExecuteInternal(IHttpHandler handler, TextWriter writer, Boolean preserveForm, Boolean setPreviousPage, VirtualPath path, VirtualPath filePath, String physPath, Exception error, String queryStringOverride)
   at System.Web.HttpServerUtility.ExecuteInternal(IHttpHandler handler, TextWriter writer, Boolean preserveForm, Boolean setPreviousPage, VirtualPath path, VirtualPath filePath, String physPath, Exception error, String queryStringOverride)
   at System.Web.HttpServerUtility.Execute(IHttpHandler handler, TextWriter writer, Boolean preserveForm, Boolean setPreviousPage)
   at System.Web.HttpServerUtility.Execute(IHttpHandler handler, TextWriter writer, Boolean preserveForm)
   at System.Web.HttpServerUtilityWrapper.Execute(IHttpHandler handler, TextWriter writer, Boolean preserveForm)
   at System.Web.Mvc.Html.ChildActionExtensions.ActionHelper(HtmlHelper htmlHelper, String actionName, String controllerName, RouteValueDictionary routeValues, TextWriter textWriter)
   at System.Web.Mvc.Html.ChildActionExtensions.Action(HtmlHelper htmlHelper, String actionName, String controllerName, RouteValueDictionary routeValues)
   at Our.Umbraco.DocTypeGridEditor.Web.Extensions.HtmlHelperExtensions.RenderDocTypeGridEditorItem(HtmlHelper helper, IPublishedElement content, String editorAlias, String viewPath, String previewViewPath, Boolean isPreview)
   at ASP._Page_app_plugins_doctypegrideditor_render_DocTypeGridEditor_cshtml.Execute() in C:\home\site\wwwroot\app_plugins\doctypegrideditor\render\DocTypeGridEditor.cshtml:line 34
   at System.Web.WebPages.WebPageBase.ExecutePageHierarchy()
   at System.Web.Mvc.WebViewPage.ExecutePageHierarchy()
   at System.Web.WebPages.WebPageBase.ExecutePageHierarchy(WebPageContext pageContext, TextWriter writer, WebPageRenderingBase startPage)
   at System.Web.Mvc.RazorView.RenderView(ViewContext viewContext, TextWriter writer, Object instance)
   at System.Web.Mvc.BuildManagerCompiledView.Render(ViewContext viewContext, TextWriter writer)
   at Umbraco.Web.Mvc.ProfilingView.Render(ViewContext viewContext, TextWriter writer) in D:\a\1\s\src\Umbraco.Web\Mvc\ProfilingView.cs:line 25
   at System.Web.Mvc.HtmlHelper.RenderPartialInternal(String partialViewName, ViewDataDictionary viewData, Object model, TextWriter writer, ViewEngineCollection viewEngineCollection)
   at System.Web.Mvc.Html.PartialExtensions.Partial(HtmlHelper htmlHelper, String partialViewName, Object model, ViewDataDictionary viewData)
   at System.Web.Mvc.Html.PartialExtensions.Partial(HtmlHelper htmlHelper, String partialViewName, Object model)
   at ASP._Page_Views_Partials_grid_editors_Base_cshtml.Execute() in C:\home\site\wwwroot\Views\Partials\grid\editors\Base.cshtml:line 20
Next race day