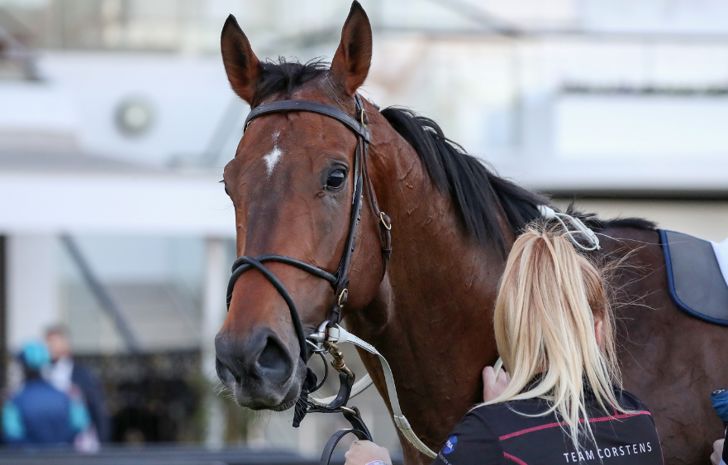 Written in the stars for The Astrologist
26 May 2023
•
Written by
Michael Manley
Connections of The Astrologist are hoping for exciting results from the gelding's mission in the UK, where the main aim is the Group 1 Queen Elizabeth II Jubilee Stakes (1200m) at Royal Ascot on June 24 where he will clash with fellow Aussie, Artorius. Despite finishing down the track in his first English run in the Group 2 Duke Of York Stakes (1200m) on 17 May, he'll line up for the Group 3 John of Gaunt Stakes (1400m) on June 10 before the main event. We look back at where it all began.
When the hammer fell at $150,000 on a Zoustar colt from the mare Aquada at the 2018 Gold Coast yearling sale, Nathan Bennett's first thoughts turned to selling down what was the most expensive horse his fledgling syndication business had signed for.
Little did he know that the horse he had just bought would change the direction of his business and his life and take the former tradie and his growing group of supporters on the sort of journey that most could only dream of.
When he bought The Astrologist, racehorse syndication was Bennett's passion project, a hobby business more than anything else, but the future held a much bigger plan for him.
"I still had my electrical and air conditioning business when I bought him, I think he was about the seventh horse I bought under Bennett Racing so those were very much our first steps forward," said Bennett.
"As he's gotten bigger and better so has the business. He's been unreal for us. He's made a lot of people happy and hopefully he continues to do so for a while yet."
The Astrologist is the sort of racehorse that every owner wants to race and that every syndicator dreams of buying. He's tough, incredibly consistent, and has his share of spunk. But most importantly, he's fast.
"He's a bit of a show off and he knows he's pretty good. Troy (Corstens, trainer) reckons the horse thinks he owns the stable, he's the big boy in town," said Bennett.
And to his owners, The Astrologist is the big boy in town. The ownership group is a melange of die-hard supporters from self-confessed lucky owner and recent part-owner of Melbourne Cup winner Gold Trip Sonney Roth to 1% shareholders in any one of the six syndicate groups that make up the shareholding.
"The best thing is that so many good friendships have come together because of this horse," said Bennett.
"He's brought a lot of people together. At one stage one of the minor shareholders had to sell his share for financial reasons, a group of young blokes in their early twenties saw the share on Inglis Digital and bought it. Well, they've brought new life to the group and have had the time of their lives."
As well as the joy of watching their horse, the owners have enjoyed watching their bank accounts swell as The Astrologist has accumulated over $2.1 million in prizemoney. His biggest payday came late in 2022 when he won the inaugural running of the $1.5 million Gold Rush in Perth.
But it is hard to argue that the horse is at his best anywhere other than the Flemington straight and when trainer Troy Corstens discovered The Astrologist's liking for the track, circles began to be drawn around some of Australia's most cherished sprint races.
"He's won three times down the straight and has been placed in Group races, but obviously going close to winning the Newmarket in 2022 was a highlight," said Bennett.
The Astrologist returned to Flemington this autumn for redemption in the Yulong Stud Newmarket Handicap where he finished sixth, but it did launch an exciting mission to Dubai later in March after receiving an invitation to contest the USD$1.5 million Al Quoz Sprint, a race famously won by Queensland speedball Buffering in 2016.
"I never dreamt of having a runner at a meeting like the Dubai World Cup, but that's the reality now," said Bennett.
In an exciting finish piloted by Damian Lane, The Astrologist was beaten by a head in the Group 1 race, looking like the winner just before the winning post.
Bennett fought back tears post-race, telling Racing.com, "He's such a superstar this horse. He's so tough, so honest. We nearly pulled it off. We've flown the Aussie flag pretty well. I couldn't be prouder of our team, couldn't be prouder of the horse, couldn't be prouder of Leon and Troy Corstens and their team."
The brilliant run saw Royal Ascot's Nick Smith make a beeline to Nathan Bennett after the race, extending the official invitation to England, where conenctions are hoping that elusive Group 1 win will be reallised.