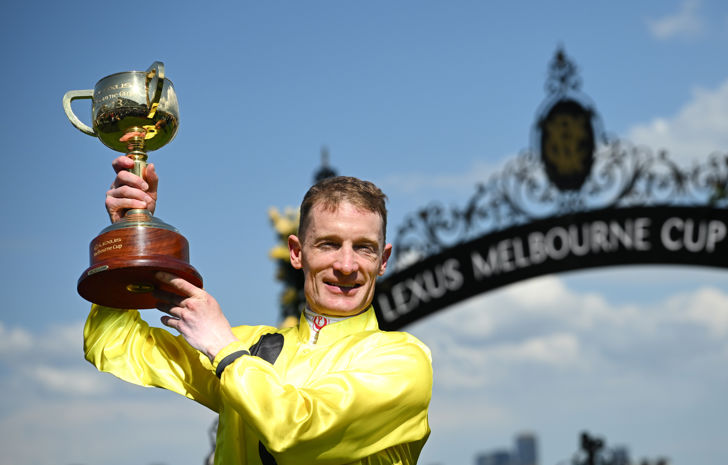 Zahra in good company with the late, great, Harry White
8 November 2023
•
Written by
VRC
It is just over a year since champion jockey Harry White passed away in October 2022, at the age of 78. The Australian Racing Hall of Fame inductee and four-time Melbourne Cup winning jockey was a master on the track. He was also the last jockey to win two consecutive Melbourne Cups on different horses, until Mark Zahra's triumph in this year's Lexus Melbourne Cup.
White, who once stated, "I came into racing a nobody … and I left in the same way," was a humble man, as nothing could be further from the truth.
He was apprenticed to Tony Lopes, the famous Flemington-based trainer who trained out of Chicquita Lodge. He was the son of 1943 Caulfield Cup-winning jockey, Harry White (Snr) and by his own admission, very green early. 
"I rode Alpino at 100/1 in my first race at Flemington … and it won! It was unbelievable.
"I really didn't know where the finishing post was, but I knew it couldn't be too far away as I went down the Flemington straight. I was only 15 years of age," explained White. 
In those early years, White found himself in and out of trouble with the stewards receiving a number of suspensions along the way, but eventually settled down, following his chance meeting with soon to be wife, Lauris. It was Lauris who proved the ultimate influence for this prodigy to maximise his potential.
Over 2100 race winners later, the rest is history. He rode 200 feature race wins with 60 at Group 1 level. Four Melbourne Metropolitan premierships; two Caulfield Cups; a Cox Plate; five Australian Cups and three Newmarket Handicaps … the list goes on. 
But for White, there would be one race which would stand alone – the Melbourne Cup.
In 24 rides, White rode the race winner four times. No jockey in the 163-year history has ever won more. It's a record he shares with turf legend Bobbie Lewis. It was at his eighth ride in the race that White would first strike Cup success, with Think Big. And it would be courtesy of a unique partnership with the ultimate Cup legend, J.B 'Bart' Cummings. Three of White's four Cup victories would be for Bart, the astute South Australian who could spot talent when he saw it. And it wasn't just equine! Harry's relaxed and often laconic approach suited stayers and suited Bart. That's why Bart kept going back to the affable rider.
Think Big in 1974 proved to be the first for the dynamic combination, defeating stablemate Leilani, followed by another Cup victory 12 months later with the same horse. It was here that White's Cup Day legacy became folklore. Asleep in the jockeys' room as the horses entered the mounting yard, White was woken by the course doctor. White said, "I'm in this", which became misinterpreted as, "I'll win this". After letting the horse relax for the first 2000 metres, White's confidence grew as the race progressed further. At the top of the straight, he only had a couple of runners to get past and soon enough, destiny was met. Two Cups in two years. The third horse in Cup history to win back-to-back Cups. And of course, a very happy course doctor who backed the Cummings-trained galloper at 33/1. 
A regular connection with another iconic Cup-training figure in George Hanlon allowed White to secure the 1978 Melbourne Cup aboard Arwon. The unusual horse name referenced, albeit spelt backwards, the small NSW township of Nowra. Nowra was also home to 1861 and 1862 Cup winner, Archer, the inaugural victor in the Melbourne Cup.
White would again make it back-to-back wins in the 1979 Cup. Following an epic battle down the Flemington straight, White on Hyperno narrowly outstayed long-time rival Roy Higgins on the Tommy Hughes trained, Salamander. Long-time friend, Midge Didham finished a close margin behind on Red Nose, third.
White's impact at Flemington and staying races didn't rest only with the Melbourne Cup. He secured five Duke of Norfolk Stakes (3200m – now the Andrew Ramsden Stakes) winners as well. Adding five Australian Cups and three Newmarket Handicaps victories to the CV, White's Flemington legacy is enduring. He also rode five winners at Flemington on 4 October, 1980. He was connected with many of the greats of the modern era including Think Big, Arwon, Ming Dynasty, Sobar and Rubiton.
In his later years, White downsized from his 500-acre Gisborne property that he bought back in the 1980s. He was most generous in setting up the Harry White Trust distributing much-needed funds across the racing industry to those in need. His long-time friends Peter 'Crackers' Keenan and John Didham were there continuously throughout his retirement years, and attended to the everyday needs of the champion hoop. White is survived by sons Dean and Brent and daughter, Karen. 
White generously donated his entire racing collection to the VRC in 2012. It is only fitting that today, the winning Melbourne Cup jockey's presentation whip be called the Harry White Whip. It is presented each year to the winning Melbourne Cup rider. 
White was a feared competitor on the track but a much-loved gentleman off it.