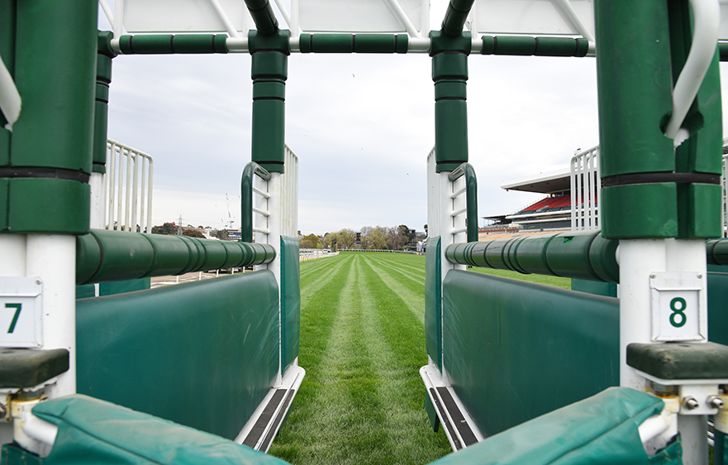 A calm start
25 May 2022
•
Written by
Patrick Bartley
Behind the barriers before a race can be tense, but a barrier blanket can keep flighty horses calm and focused. Black Caviar and Winx are examples of just how effective they can be.
If racing enthusiasts ever want to experience the tension and stress before a horse race in Australia, they should be at the barrier stalls two minutes before a race.
Those two minutes can be life changing.
Through the years, horsemen have created tools designed to iron out a horse's behavioural issues that, if left unattended, would become deeply ingrained in the mind of a strong-willed thoroughbred.
Monty Roberts, also known as the 'horse whisperer' designed a piece of equipment to help the horse by protecting their vulnerable areas and keeping a horse calm when starting a race. 
This double-carpeted blanket that fits behind the saddle and drapes over the hips is called the barrier blanket. It is an aid for horses that are wary of going into the stalls, experience restlessness when their rump or flanks brush against parts of the framework.
Paul Didham, a former jockey and son of Melbourne Cup-winning rider 'Midge' Didham, took over as Racing Victoria's senior starter in 1993.
"The barrier blanket came along just as I was starting out. In my experience they have helped, and it seems sometimes it's been an aid to mares (more than) than colts and geldings.
"Black Caviar was a bit tricky at the gates until she was fitted with a barrier blanket, and then she went away to have an unbeaten career.
"Winx also had the blanket on for a few starts … it just calms them down.  Sometimes mares don't like the upright next to them in the gate, so it helps them just be a little bit relaxed before the gates open," he said.
Flemington trainer Mike Moroney who successfully holds down two major stables in New Zealand and Australia, is also an advocate for the barrier blanket. Over their careers, trainers like Moroney experience many sleepless nights with a horse that has become a barrier rogue or just sensitive to the process of jumping away from the gates.
Other trainers believe that missing the start over a thousand metres or 3200 metres can be detrimental to a horse's chances of winning.
Moroney and trainers throughout New Zealand and Australia have embraced the barrier blanket as they see this component as the answer to hours and hours of trial-and-error of methods that really work.
"Nothing's more important than the start of a race, and if we can get an aid to horses that are a little reluctant to go into the barriers, well and good.
"It's an easier way than old-fashioned methods and you can see they don't find the barrier stalls a problem," he said.
"It means that we don't spend hours each day trying to turn their habits in a different direction. You've got to be careful, you can't make them sick of the process, you've just got to coach them and that's where the barrier blanket comes in. It's not offensive to wear, it's not overly heavy, it just slips on and slips off. And in some cases it's saved more than one career of some very, very good horses."
According to Didham, the barrier blanket is one method that can turn horses' habits around to cope better with the starting process.
Often behind the barriers, horses are in a circle with barely a word from the jockeys being uttered.
In fact apart from requests for the adjusting of a girth or a mouthful of water, nothing else can be heard, except for some of the younger horses who will gnaw on the bit of the bridle in anticipation of the race.
"Anything we can do to help horses jump properly is a great advantage.  These days jockeys are so well informed on how the race will be run. Who will lead, who won't, who's got pace and who hasn't. They are armed with everything except sometimes a Plan B.
"They've only got to miss the start by half a length and your pre-race strategy goes out the window. 
"With the barrier blanket, it's put on before the race, they walk slowly in with it and it's then clipped to the side of the gate. When the starter releases the field, the blanket just slips off."
With so much at stake, having a clean start regardless of the distance of the event is absolutely crucial, and can be life changing. Just ask Peter Moody and Chris Waller.