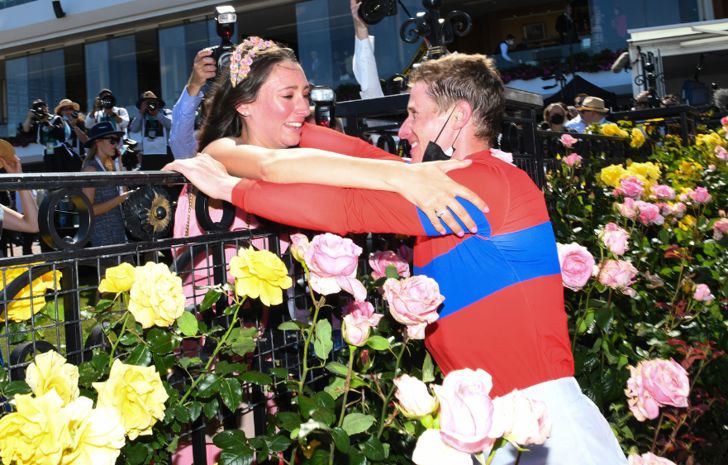 A fine balance for Katelyn Mallyon
16 September 2023
•
Written by
Danny Russell
She was known for her composure and balance in the saddle as a jockey, and now Katelyn Mallyon has found a very happy medium indeed.
Retired Group 1 jockey Katelyn Mallyon is a key figure on the Channel 7 Horse Racing presentation bench where she provides valuable insights from a jockey's perspective and keen form analysis. She also still works as a form analyst for Punters.com.au and balances all of this with being partner to champion jockey James McDonald and mother to baby Evie.
She has been out of the saddle for almost five years and is not returning. "I didn't want to continue riding for a long period of time. I wanted to ride out my apprenticeship and that was it," she said. "I wanted to buy a house and move on with the media – I always had ambitions to do that – but I continued on being a senior jockey because I was going so well out of my apprenticeship."
Mallyon had a very successful riding career. She made history by becoming the first female to win the Victorian Apprentice title in 2011/12. Then she became the first female jockey to ride a Group 1 winner at Moonee Valley aboard Silent Sedition in the 2017 William Reid Stakes. On top of that, she rode in the 2016 Melbourne Cup and twice in the Caulfield Cup (a race her grandfather, Mick Mallyon, won three times).
Then she fell in love with a brash young Kiwi who was setting the Sydney riding ranks alight. The relationship blossomed and so did McDonald's career – he would go on to win the 2021 Melbourne Cup on Verry Elleegant and the 2022 Cox Plate on Anamoe.
"It is a very taxing profession," Mallyon said, "I had my first ride when I was 16, I left school, put my heart and soul into it for eight years, had a few falls, and I am very happy that I am well now and living life as best I can.
"I have Evie and a family. Everything has worked out beautifully."
Mallyon, 29, is content. She loves presenting for Channel 7, working alongside legendary sports broadcaster Bruce McAvaney. She adores caring for her family – McDonald and baby Evie.
And now she is exploring a new passion – being an owner. She has two horses with her father, Brett Mallyon, who operates as a hobby trainer out of Mitch Beer's Albury stables.
"Being a hobby trainer, Dad can only train for the family and we have two horses. I am halfies with Mum," Mallyon said. "I ring him up every day and ask how they are going and he's like, 'Let me train them, will you'.
"It's been fun, especially because we haven't invested in anything too expensive. "We spent $6000 on Galbalan in September last year and he has earned nearly $40,000 in prizemoney," she said.
Embracing motherhood with ease, Mallyon attributes her smooth transition to the support of her family network, which plays an instrumental role in balancing her work and family commitments. "I went back to work for five weeks over autumn because it was going pretty smoothly with Evie and will go back to work in the spring for Channel 7," Mallyon said. "I love being a part of that team – next to Bruce, Richo and Em. I love being at the big carnivals and around all the good horses, the jockeys and the trainers. I can switch on to work mode on Saturdays knowing that I've got James' mum or my mum helping."
As she looks ahead to the future, she remains open to new opportunities and potential international ventures with James, but for now, they are content in Australia.
"You don't know what's around the corner, do you? With James, we are pretty open to things like Hong Kong and Europe. But obviously, you make those decisions as you go. He's pretty happy and content right now in Australia, focusing on that."
Feeling fortunate and content, Mallyon rarely looks back. She relishes her current pursuits and delights in watching James achieve greatness as a jockey, while also cheering for her brother Andrew and cousin Jordan in their own riding endeavours.
Having cherished her time as a jockey and garnered immeasurable experiences from the sport, Mallyon feels privileged and grateful for the life she now leads.
"I loved being a jockey and I got as much out of it as I could ever have wished for."