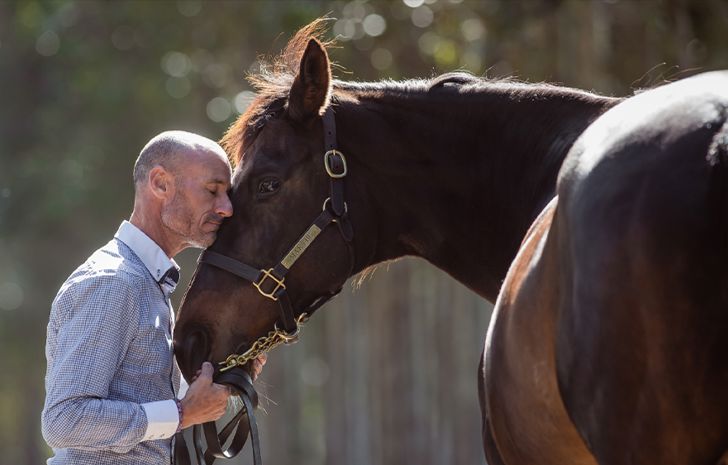 Makybe Diva – From champion to legend
14 September 2023
•
Written by
VRC
Makybe Diva may never have become the household name if not for the purchase of famed mare, Tugela.
Croatian-born Port Lincoln tuna fisherman Tony Santic enlisted the services of John Foote Bloodstock to purchase an American-bred broodmare. The mare was in foal to Irish Derby winner Desert King and was knocked down at 60,000 Guineas at the 1998 Tattersall's December Mare Sale at Newmarket, UK.
The resultant filly was offered for sale as a weanling, but failed to attract a bid. Not knowing what to do with the young horse, Santic had her sent to Australia with her mother.
The unusual name of the three-time Melbourne Cup winning mare was derived by taking the first two letters from each of the names of employees at Tony's Tuna, owned by Tony Santic in Port Lincoln at the time – Maureen, Kylie, Belinda, Diane, and Vanessa.
Little did they know the impact that name would have on the fabric of Australia's time-honoured race.
After settling in, Makybe Diva was sent to trainer David Hall. She didn't make her racetrack debut until July 2002 when she finished fourth in a Benalla maiden. People really started to take notice when she won her next six starts, ending with success in the Werribee Cup and the Queen Elizabeth Stakes during the 2002 Melbourne Cup Carnival.
Winning the 2002 Queen Elizabeth Stakes (with Luke Currie aboard) automatically qualified the mare for the 2003 Melbourne Cup, so her trainer was able to spend the next 12 months preparing her. It was then that the legend began. It was also the start of the great relationship between Makybe Diva and her champion jockey, Glen Boss.
In the 2003 Cup, he brought the mare through the field with an uninterrupted run. In 2004, when she changed stables and joined the Lee Freedman team after Hall accepted an invitation to train in Hong Kong, Boss showed incredible courage to take the rails run on a wet track. And in the last of her memorable Cup wins in 2005, he had her perfectly placed throughout.
The jockey has admitted that he can still become emotional when his favourite racehorse is mentioned. The Makybe Diva period of his life not only changed him, but brought so much enjoyment to his family.
"She took me to world notoriety by winning three Melbourne Cups, and she clearly gave me the greatest thrills I have experienced on a racetrack.
"From the first time I was legged aboard her until I slipped off her for the final time after winning that last Melbourne Cup, she was the ultimate professional that refused to give in," he said.
Boss believes that Makybe Diva's bravery and determination mixed with her untold talent made for one of the greatest racehorses of her time.
"This was a racehorse not only of immense ability, but a beautiful nature who just wanted to please you," he recalled.
Hours after her third Melbourne Cup, it was announced that Makybe Diva would be retired from racing. She finished with a record of 36 starts for 15 wins, four seconds, three thirds and $14,526,685 in prizemoney.
Makybe Diva is arguably the best stayer to have won the Lexus Melbourne Cup. There have been many who would fall into that bracket for discussion including the likes of Phar Lap (1930) and Carbine (1890) but for one horse to find a way to win three Melbourne Cups is something extraordinary. Archer (1861-62), Peter Pan (1932 and 1934), Rain Lover (1968-69) and Think Big (1974-75) are the only other horses to win multiple Melbourne Cups.
Afforded the luxury of three consecutive ten-out-of ten rides by Australian Racing Hall of Fame inductee, Glen Boss, Makybe Diva broke all records along the way. She was the only horse to win the Cup three times and the greatest weight carrier for a mare in the history of the race.
Eleven individual mares have won the Melbourne Cup dating as far back as Acrasia (1904). Of those eleven, Empire Rose (1988, 53.5kg) was the highest weight carried until Makybe Diva came along. In the second (2004) of her three Cup victories, Makybe Diva would successfully break Empire Rose's record, carrying 55kg to victory.
This would ultimately be broken the following year when she carried 58kg to win in extraordinary circumstances. As legendary racecaller Greg Miles famously said, "a champion becomes a legend!"
Unusually, Makybe Diva would win by 1¼ lengths in each of her three Cup victories.
Makybe Diva was inducted into the Australian Racing Hall of Fame in 2006 and later elevated to Legend status in 2010. After several years at stud, she has enjoyed a life nurturing the next generation.
In 2007, following her extraordinary feats of 2003-2005, the VRC Committee renamed the Craiglee Stakes, a weight-for-age event over 1600 metres, in the mare's honour. The race achieved Group 1 status in 2013.
Of her eight foals to race, six have been winners. She retired from motherhood in 2020 and is yet to leave progeny anywhere near the same class as herself but, if history follows form, watch out for progeny from her daughters. Genetics is an inexact science and stellar performers can often skip a generation.
In 2020, Makybe Diva was on course parading before the running of the 2020 Lexus Melbourne Cup with her owner Tony Santic and jockey Glen Boss, leading her around the Flemington mounting yard. The only thing missing was her adoring fans as no patrons were permitted on course due to the pandemic.
Now aged 25, Makybe Diva enjoys retirement at Makybe Racing & Breeding in Gnarwarre, just west of Geelong in Victoria, founded by her owner, Tony Santic.
---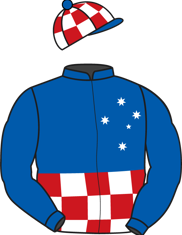 MAKYBE DIVA (GB)
25yo Bay Mare
Foaled  21 March 1999 (Great Britain)
Sire  Desert King (IRE)
Dam  Tugela (USA) (Riverman (USA))
Trainers  David Hall (2002-04), Lee Freedman (2004-05)
36 Starts – 15 Wins – 4 Seconds – 3 Thirds
Prizemoney  $14,526,685
STAKES PERFORMANCES
WON     Group 1 Melbourne Cup 3200m (2003, 2004, 2005)
WON     Group 1 Sydney Cup 3200m (2004)
WON     Group 1 Australian Cup 2000m (2005) *Course record time
WON     Group 1 Tancred Stakes 2400m (2005)
WON     Group 1 WS Cox Plate 2040m (2005)
WON     Group 2 Queen Elizabeth Stakes 2500m (2002)
WON     Group 2 Turnbull Stakes 2000m (2005)
WON     Group 2 Memsie Stakes 1400m (2005)
WON     Listed Werribee Cup 2000m (2002)
2ND       Group 1 Caulfield Cup 2400m (2004)
2ND       Group 2 Feehan Stakes 1600m (2004, 2005)
2ND       Group 2 St George Stakes 1800m (2005)
3RD        Group 1 Ranvet Stakes 2000m (2004)
3RD        Group 1 Tancred Stakes 2400m (2004)
3RD        Group 3 Carlyon Cup 1600m (2004)
HONOURS
Australian Racehorse of the Year (2005, 2006)
Australian Champion Stayer (2004, 2005, 2006)
Australian Champion Filly and Mare (2005)
Australian Middle-Distance Champion (2006)
Timeform rating: 129
Australian Racing Hall of Fame (2006)
Race named in her honour: Makybe Diva Stakes (formerly Craiglee Stakes)