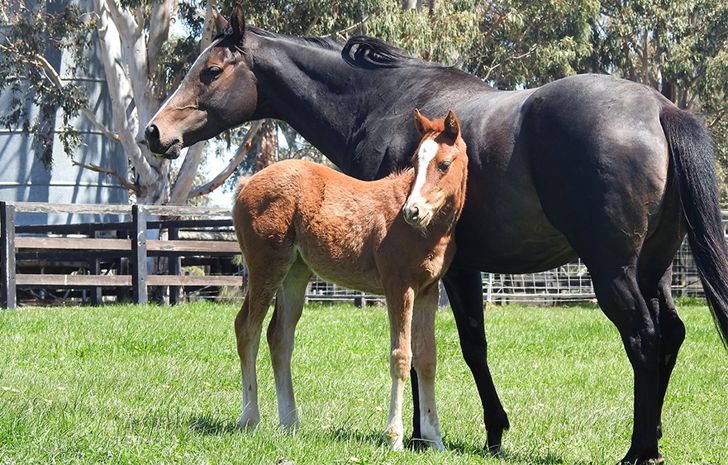 A fresh start
7 June 2022
•
Written by
Sarah Marinos
Horses in the Ellerton Racing stable are enjoying the best of both worlds at a well-equipped city facility and a sprawling property in the shadow of the Macedon Ranges.
There's something in the atmosphere at Yungaburra. You can almost taste the fresh air and, driving through the gates, life takes on a decidedly slower pace. Within days of arriving at the 1,000-acre property, horses that have spent the past few weeks racing around tracks at high speed begin to relax and take things a little easier.
Meanwhile, horses getting ready for competition are put through a carefully-designed pre-training program to build their fitness and stamina and get them race ready. But they do that preparation surrounded by the breathtaking natural surroundings of the Macedon Ranges.
Ellerton Racing took over the exclusive lease of Yungaburra in February, shortly after the parting of ways between trainers Mathew Ellerton and Simon Zahra. For more than 12 years, the successful duo were a force to be reckoned with in the racing world, but announced the amicable end of their partnership in December last year.
Mathew wished Simon Zahra all the best in his new racing endeavours and said, "I couldn't have done it without him," he said, and Simon was equally appreciative and proud of the achievements the two had enjoyed as a team.
They claimed a string of high-profile successes – only a year after combining their expertise they won the Golden Slipper, the world's richest two-year-old race with Crystal Lily. Later they won the 2018 VRC Oaks and the Oakleigh Plate in the same year. In 2021, talented sprinter Zoutori won the Newmarket Handicap.
Mathew Ellerton and his teams at Yungaburra and Flemington are now focused on continuing that winning streak, says Racing Manager, Matt Tillett. Key to the plans for success are the two different environments at Flemington and the Macedon Ranges and Mathew Ellerton's hands-on approach to training every horse in his care.
"Mathew is the first one at the stable every morning and he handles every one of his horses personally – he knows each one intimately," said Tillett.
"In just over two months we've had 21 winners, which is an amazing start, and we have a lot of exciting horses coming through. Any one of our two-year-olds could be the next star."
Ellerton Racing runs like a well-oiled machine, with the 40-strong stable complex at Flemington and the regional property located in prime thoroughbred country working hand-in-hand.
Operations at Yungaburra are led by accomplished horseman Ian Macpherson, who spent 15 years as a trainer at Randwick, worked as a bloodstock consultant for Inglis and had a small stud farm at Bowral.
Macpherson and his partner now own a property a few kilometres down the road from Yungaburra and he has a long-standing friendship with Ellerton and Tillett.
"They wanted someone to run and organise their pre-training outfit and we had moved to the area – it was a perfect fit," said Macpherson.
"My job is to condition the horses so they are ready for Mathew to press the button. They are in our system for four to six weeks and during that time we're building a foundation. The horses do a lot of slow work to gradually build their muscles and to get rid of excess fat. We condition them, get them used to working in pairs or threes, get them up to pace work and Mathew takes over from there."
Days at Yungaburra start at 5.30am when horses are fed and checked. The handful of selected riders arrive just before 7am with horses put through their paces by about 11am. They are worked again in the afternoon before settling down for the night.
Macpherson says the atmosphere in the Macedon Ranges is instantly conducive to getting great performances from the 30-plus horses at the property.
The recently upgraded facilities also provide him with everything that he and his team need to support horses to work at their best. A 2,000m sand track with an uphill gradient is a key feature of the property and there are six day-yards and 30 spacious boxes. The track is meticulously maintained every day.
Yungaburra has an impressive history and a reputation for creating winners.
Caulfield Cup, Blue Diamond and Golden Slipper winners have been bred, born and reared on the property. Ellerton Racing has high hopes of building on that reputation.
"It's an amazing property with a fantastic climate, great soil and undulating paddocks. The amount of space we have available there is almost limitless," said Tillett.
Ellerton has been using Yungaburra for more than a decade for spelling and pre-training, but after the property was recently upgraded to become a fully registered racing facility, Ellerton Racing took over the exclusive lease. The training centre is now only for horses in the Ellerton Racing stable.
"They start their preparation in the country and then come to Flemington. That's where they get fit and when their fitness level reaches a certain point they come to the city. Within about four weeks, they're ready for a jump out," said Tillett.
"We have a very efficient operation and that is partly because the horses do so well at Yungaburra. If certain horses prefer the relaxed country environment, we let them stay in work there through their whole preparation."
"We also send horses there to freshen up and to get them out of the hustle and bustle of Flemington. There can be 600 horses working at Flemington every morning, so going up to the country property is like giving horses a spell."
Macperhson is enthusiastic about the country property and the very different atmosphere surrounding the place.
"There are kangaroos, fresh air and when the horses are here, they are at ease. It desensitises them," he said.
"When they come out from the city stables, they take a day or two to adjust and switch off, but you can feel that happen. You ride them and can feel that they are more relaxed.
"We also have a good physiotherapist who visits once a week to help with the horses and we have good riders working with them who are passionate horse people. All those things in combination help create healthy, happy horses."
After decades of working with horses, Macpherson has lost none of his enthusiasm for the job.
"For me, the reward comes with seeing the transition of a horse from when it first arrives. Gradually you develop it and you use your expertise to judge when it is ready for the next step.
"Every horse is different, and you learn from each of them. Our goal is to get a horse from A to B and when you achieve that, that is always a buzz."
"We have some lovely two and three-year-olds coming into the system and I've no doubt that they will make themselves known around the traps."