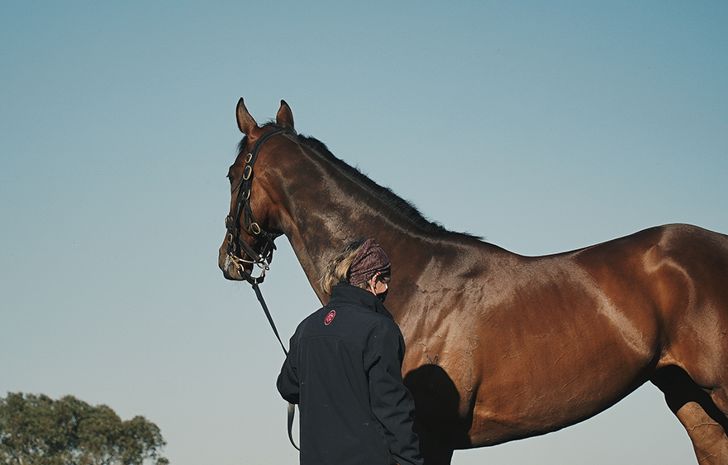 A horse's best friend
22 October 2021
•
Written by
Sarah Marinos
As a trackwork rider and stablehand, Mel Ryan gets up close and personal with a lot of horses, and she wouldn't have her working day any other way. For the past 15 years, Ryan has been a stalwart of Leon and Troy Corstens' Malua Racing stables at Flemington.
Mel Ryan has experienced a number of highlights at Flemington, but the 2020 Victoria Derby that saw Johnny Get Angry cross the finishing line ahead of the pack is a stand-out.
While the horse was trained by former North Melbourne premiership coach Denis Pagan, Corstens' Flemington stables have had an important hand in Johnny Get Angry's success. Troy Corstens found Johnny Get Angry and picked him as a potential top performer and Mel works closely with the Derby winner.
"He is one of my favourites. I rode him a few times as a yearling and he had character – he was a bit naughty. We bonded and as he matured, he turned a corner and became an honest, hardworking horse. He's a pleasure to ride," said Ryan.
"I see a lot of what I do as a trackwork rider being about building a horse's confidence and helping to educate them about what their job is. You and the horse are a team and while you don't get along with every horse, Johnny Get Angry is always ready for cuddles and scratches. I go in his box and his long giraffe neck comes over my shoulder because he wants me to scratch his chin. Or I'm down the back of the box cleaning out and he walks backwards towards me because he wants his bum scratched!"
Like many people in racing, Ryan grew up around horses from a young age. Ponies, pony club and eventing were part of her week from the time she could walk.
"My aunty and uncle were hobby trainers up at Kyneton and I rode there first. I did end up getting a job in a bank after leaving school but horses and riding were always my passion and I wanted to ride trackwork for a living and breed some horses of my own," she said.
Eventually she left the bank to focus solely on trackwork and found her way to the Corstens' stables.
Living in regional Victoria means getting up about 2.30am to be at Flemington by 4am. Ryan checks the horses in her care, gives them any veterinary treatments on the schedule and is on her first horse and on track by 5am. When she finishes trackwork around 8am she then organises the stables.
She reels off a number of horses that have won a special place in her heart. Awesome Rock is another favourite and Ryan says it was 'heartbreaking' when he won the Australian Cup at Flemington in 2016 only to have the result reversed in the stewards room. The win was instead given to Preferment.
"I had a lot to do with Awesome Rock since he was broken in. I took him to his race meetings and rode him a lot. He always tried so hard and it was heartbreaking when the race was taken away from him, but you can't argue with the stewards," she said.
But that heartbreak was eased by Johnny Get Angry's Derby win last year. Ryan had strapped another horse before the Derby that ended up running second. That horse was being swabbed in the vet's room so Ryan watched the win on the TV screen there.
"I said from a long way out that he'd go well in that Derby. He was still learning his trade but the further he went, the better he went," said Ryan.
"I was jumping up and down in the vet's room shouting, 'Go Johnny, go!' It was an amazing moment. It was a fairytale because Denis was still learning and the horse had a foot issue only a few weeks earlier. Then to win the Derby – you couldn't have written that script."
This Carnival, Ryan also has hopes for a couple of other horses she works with – Swats That, New York Baby and two-year-old colt, Idris.
"I'm hoping Swats That gets a bit of luck. She deserves to win a good Group race. She's a nice horse but pretty feisty and a bit hot-headed at times. She's a natural runner – you just have to keep her calm, so when she has a tantrum, I wait patiently for her to settle down and then we just get on with the work."